Best Places to Stay in Krakow, Poland
In this post, we will analyze the best places to stay in Krakow, featuring cost of travel and tips to visit this amazing city in Southern Poland

Krakow exhales the beauty of Polish history and culture through its streets and alleys. The former capital of Poland preserves some of the country's most unique cultural treasures in its also dynamic and vibrant center.
Tourism in Krakow: Overview
Krakow has a flavor for almost every type of tourist. If you like architecture, It has one of the most preserved old towns in Poland. The city also offers excellent nightlife options, featuring great restaurants, cafes and clubs.
The city's surroundings have also unique attractions worth visiting, such as the Wieliczka Salt Mine. Finally, Auschwitz and its eerie location is just 65 kilometers from the Krakow city center.
Cost of Travel in Krakow
Even if the number of tourists in Krakow is constantly increasing, the city remains quite affordable. A budget day in Krakow starts from 25 euros per person upwards, including food and accommodation.
For those with a more flexible budget, anything above 60 euros per person will give you the best of Krakow, including excellent restaurants and reasonably priced hotels.
Any amount above 100 euros a day will already provide you an extremely refined experience in Krakow.
Best Months to Visit Krakow
Krakow has a relatively mild climate year round, being the winter months the only exception. Since the city has a strong influx of tourists, some specific months and occasions should be avoided.
From late March to May the temperature is mild, and the city is not as crowded as it is in summer. The same applies to September and October, when the golden autumn leaves give the city a romantic and quaint aspect. These months have a moderate influx of tourists, which pushes accommodation prices down.
Early December can be also a great idea, as you will be able to experience the Christmas Market. However closer to Christmas itself the city is once again pretty crowded.
Best Places to Stay in Krakow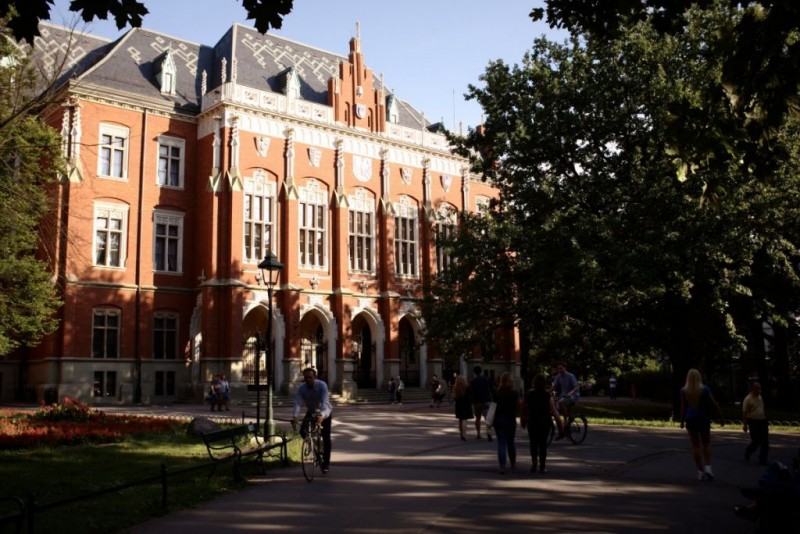 Below there are three locations to be considered for a stay in Krakow. The Krakow Old Town is the most obvious choice. The Jewish Quarter (Kazimierz) is also a great option. Finally, the area near the train station (Krakow Glowny) can be handy depending on your travel arrangement.
Krakow Old Town
The Old Town of Krakow (Stare Miasto) has a unique architectural beauty and an exciting choice of cultural and gastronomic activities. It also has accommodations for all types of budget, from dorm beds to luxurious properties.
It is definitely a good choice as you will be at a walking distance to the very best of Krakow. However, it can be quite noisy during the evening depending on your accommodation and room.
lick here to check accommodation options in the Krakow Old Town on Booking.com
Kazimierz
The Jewish Quater (Kazimierz) has a wide variety of affordable restaurants and bars. It is also relatively close to the Old Town, roughly 2 kilometers or a 15 minute walk from Kazimierz.
Click here to check accommodation options in the Kazimierz District on Booking.com
Finally the Train Station (Krakow Glowny) should be also considered if you are travelling by train to Krakow. It is attached to Galeria Krakowska, one of the biggest shopping malls in Poland. It is also very centrally located, being just 5-7 minutes from the old town by foot.
Click here to check accommodation options near the Krakow Train Station on Booking.com