Where to Stay in Grenoble? Let's check the best areas to stay in Grenoble, a beautiful and exciting French city at the foot of the alps
Do you want to know where to stay in Grenoble? This city offers a number of interesting attractions and can be a great place to start a ski trip in the alps or visiting Switzerland, Italy and France.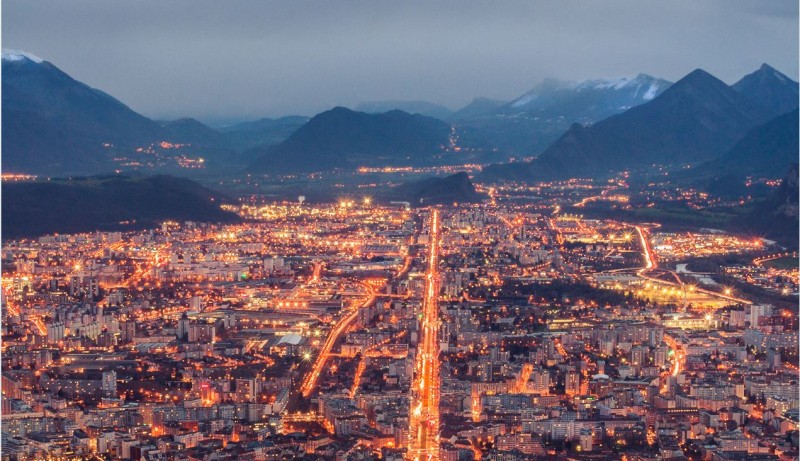 Grenoble is the gateway to the French alps and has one of the most beautiful skylines in France. Let's check the best areas to stay in this quaint European city.
Tourism in Grenoble: Overview
France is one of the most visited countries in the world, and Grenoble's geographical location contributes for a high number of visitors to this French city.
The city is located on the Southeastern part of France, close to interesting cities like Chamonix, Annecy, Geneva and Lyon. The city is also relativey close to Italy, and not too far from the famous Cote d'Azur in Southern France.
Grenoble also attracts thousands of French and foreign students per year, to its conceited universities. The medium sized city has a beautiful architecture, and an exciting cable-car (Téléphérique de Grenoble), overlooking the city and the alps surrounding it.
Getting to Grenoble can be slightly complicated, and expensive, depending on where you are coming from. The Grenoble Airport is the closest, but has a limited amount of flight offers. You can also fly to Lyon or Geneva, and continue to Grenoble by train or driving.
Getting to Grenoble by train is certainly the most comfortable and scenic way to visit the city. This is especially true for those traveling with the iconic French TGV train.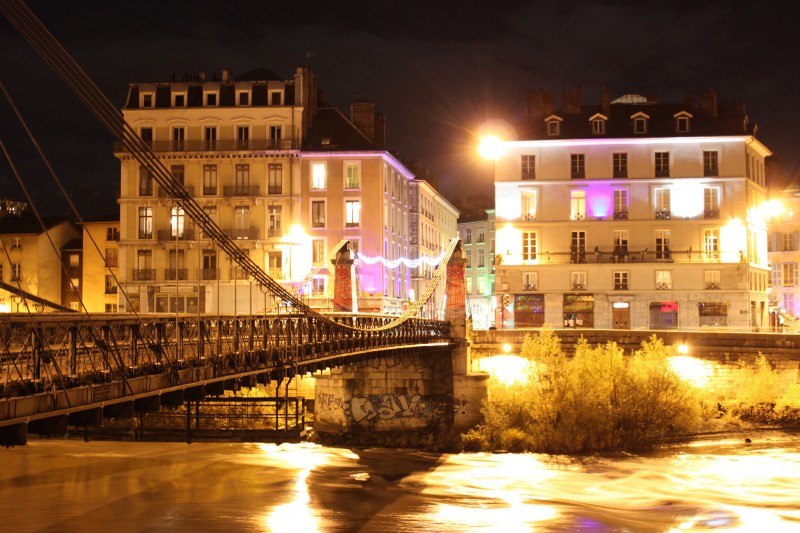 Where to Stay in Grenoble
The best places to stay in Grenoble are close the Grenoble Train Station (Gare de Grenoble) and in the city center (old town), close to the Victor Hugo Square (Place Victor Hugo) and Grenette Square (Place Grenette).
Grenoble Train Station
The area around the railway station is ideal if you are visiting by train. This area is also pretty central, and at a walking distane to most attractions in Grenoble.
Grenoble Old Town
The old town of Grenoble, notably near the Victor Hugo and Grenette Square are ideal if you are staying in Grenoble for more than one day. This area offers a great variety of restaurants, cafés and bars and has a beautiful architecture.
Budget Accommodation in Grenoble – €
Residhotel Grenette – a great value for the money at the heart of Grenoble center.
ibis Grenoble Gare – an excellent affordable hotel overlooking the River Isere and the surrounding mountains.
Reasonably Priced Accommodation in Grenoble – €€
Novotel Grenoble Centre – a great hotel right next to the Grenoble Railway Station.
ibis Styles Grenoble Centre Gare – an excellent choice in between the train station and the old town.
Luxurious Hotels in Grenoble – €€€
Park Hotel Grenoble – MGallery by Sofitel – an excellent high-end hotel in Grenoble.
Le Grand Hôtel Grenoble – located in the center of Grenoble, this luxurious hotel is just 10 m to the Place Grenette.
Cost of Travel in Grenoble
Grenoble is a rather expensive city to visit, both in terms of transport and accommodation. France is one of the most visited countries in Europe, and the accommodation industry is well developed.
Public transport in Grenoble is rather expensive and not very flexible. For that reason, it is advisable to stay in the center. Many bus lines tend to stop running quite early.
France is the land of high-end gastronomy, and Grenoble has many restaurants, cafés and brasseries. A full meal start from 10 euros, but can cost considerably more depending on the restaurant style. There are a few food options under 10 €.
Best Months to Visit Grenoble
Grenoble has four, very defined seasons, with hot summers and cold winters. Despite the city itself not to be in a very high altitude (241 meters), the influence of the mountains on the city's climate is quite strong.
The city experiences warm to hot summers, with temperatures easily soaring above 30 C during the months of July and August. Due to surrounding mountains, the heat can be quite unpleasant at times in Grenoble.
Winter in Grenoble is certainly beautiful. While snowfall is not so frequent in the city, the mountains around Grenoble are often white during most of the time during Winter. The Grenoble Christmas Fair (Marché de Noël) gives a quaint atmosphere to the city, and is definitely worth visiting if you visit the city in December.
If you are traveling around this region, check the best places to stay in Geneva and where to stay in Nice.