Where to Stay in Warsaw Poland, Old Town, Ochota
In this post we have listed the best places to stay in Warsaw analyzing the cost of travel and months to visit the Polish capital
Warsaw is the capital of Poland is one of the most dynamic cities in Central Europe. Often underrated, the city offers a great variety of activities. It is in fact, comparable to Berlin or Prague if you like nightlife and eating out.
Tourism in Warsaw: Overview
Warsaw is a vibrant metropolis with a population of roughly 1.7 inhabitants. It has a very generous public transport network, including metro, trams and buses. However, Warsaw doesn't attract as many tourists as cities like Budapest or Vienna. What could be reason for this?
There are two possible circumstances that render Warsaw less attractive then other Central European cities.
The first reason is its geographical location. As its located in Central Poland, Warsaw is not as easily accessible as Prague or Krakow. That is especially true if you are travelling by train. Nowadays however, with high penetration of low cost airlines in the EU, flying to Warsaw became accessible and easy.
The second reason is that most of its historical buildings have been destroyed during the Second World War. Warsaw still has an Old Town but its far less impressive than those in Tallinn, Krakow or Bruges.
Cost of Travel in Warsaw
Even if Warsaw is one of the most visited cities in Europe, the costs are not necessarily low. Since it's the capital of Poland and its economic centre, the city gathers a lot of domestic and international business visitors.
When compared to the cost of travel in Western Europe, Warsaw is still extremely affordable. That is especially true if you are coming from Germany, Scandinavia or the UK.
You can expect a budget of 30-40 euros per day for a budget traveler. Food is delicious in Warsaw and extremely cheap. If you like Asian food, there are many Vietnamese budget restaurants offering delicious dishes for as low as 2 euro.
A reasonable daily budget would be between around 50-70 euros. That covers private accommodation, decent meals in most restaurants and a wide range of activities. Any budget above 100 euro per day can guarantee a rather luxurious experience in Warsaw.
Best Areas to Stay in Warsaw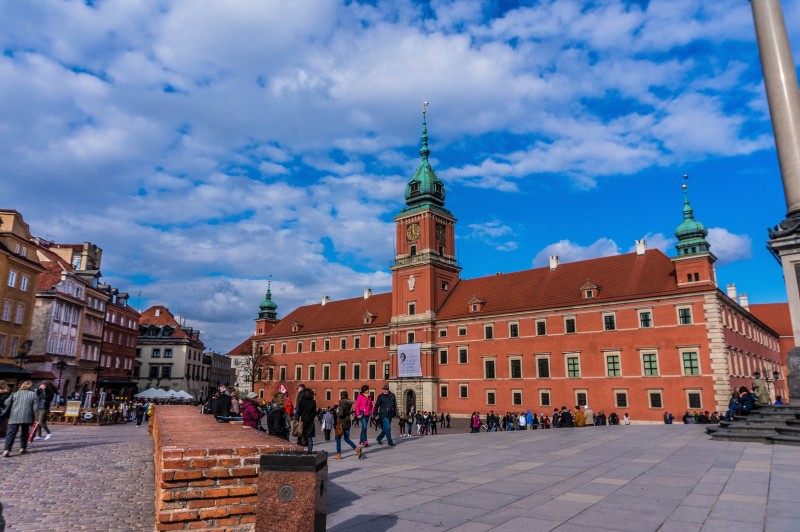 Warsaw is rather spread out, unlike most Central European capitals. This means that you will need to use public transport or a car to get around and enjoy the city to the fullest.
There are three areas which I would recommend in Warsaw. The Old Town, the area around the Warsaw Central Railway Station, and the Aleja Krakowska area in the district of Ochota / Mokotów.
Old Town
The Warsaw Old Town (Stare Miasto) is the obvious choice for staying in any European city, as its the center of culture and nightlife. Warsaw has a pretty compact old town, but its rather picturesque and beautiful. There is a decent choice of affordable and tasty restaurants in the area.
Click here to check accommodation options in Warsaw Old Town on Booking.com
Warszawa Centralna – Railway Station
The Warsaw Central Railway Station is one of the main points of arrival into the city. As the name says is has a pretty central location and its extremely well connected.
If you are arriving by air, there is a direct train from the Warsaw Chopin airport to the main station running frequently.
Click here to check accommodation options near the Warsaw Central Railway Station on Booking.com
Aleja Krakowska – Ochota / Mokotów
Finally, a less obvious area for a stay in Warsaw would be the surrounding of the Aleja Krakowska. This is an artery avenue connecting Warsaw to the Krakow.
The area in the district of Ochota and Mokotów is very calm and offer a number of cheap eats, supermarkets. It is also an excellent option if you are flying into Warsaw, as its quite close to the airport. A taxi fare from this area to the main airport building takes 5 to 10 minutes and is extremely affordable.