Are you thinking of travelling or working in Connecticut? Let's take a closer look at the average and minimum salary in Connecticut.
This article is a comprehensive guide on minimum and average wages in Connecticut. Find out why the Nutmeg State is one of the wealthiest places to live in the United States.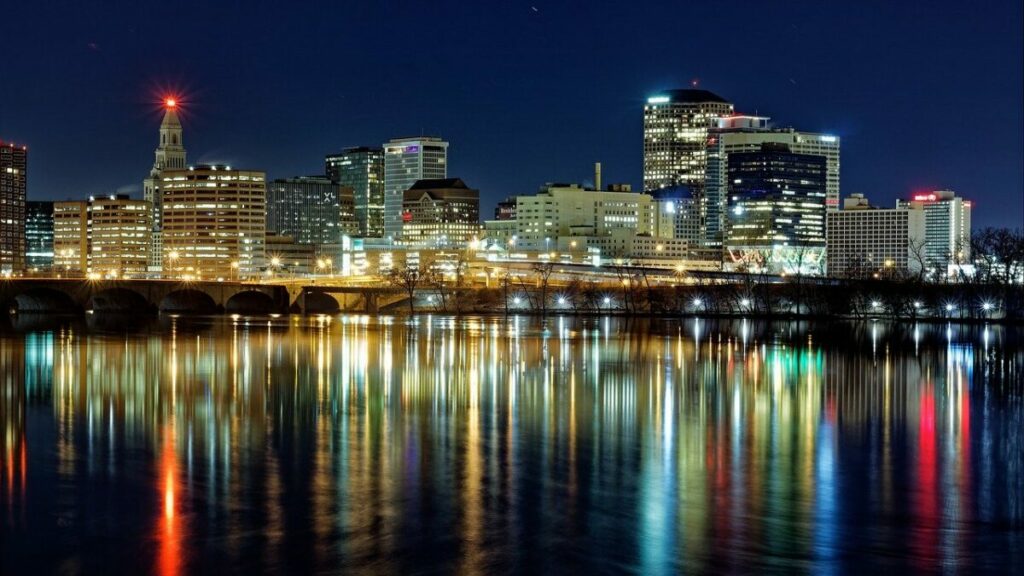 The state is home to one of the most respected universities in the world – Yale, and it's also considered to be one of the most authentic states when it comes to tourism. It's sometimes seen as a gateway to New England but visit outside of the fall and you'll be impressed by the history and culture of 3rd smallest state – at least by area anyway! The capital is Hartford, but the city of Bridgeport has a larger population.
Connecticut's average cost of living is slightly above the national average. However, to be honest, it's not that much higher. The biggest dent in your wallet will be made by utilities, which are 18.5% higher than the national average. However, housing and groceries are less than 10% above the national average. Health costs are actually lower than the US national average!
Bear in mind that the cost of living does vary across the state. Stamford, Norwalk, and Greenwich are the most expensive places to live in Connecticut, while Milford, Fairfield, and Stratford are much cheaper.
Minimum Salary in Connecticut
The minimum wage in Connecticut is currently $11 USD per hour, which came into force on the 1st October 2019. Later this year, in September 2020, it will increase to $12 USD. It will gradually rise to $15 USD per hour by June 2023. Connecticut's current minimum wage of $11 USD is substantially higher than the federal minimum wage of $7.25 USD per hour. There are disparities between gender here, with 60% of those earning the minimum wage in Connecticut women.
Average Salary in Connecticut
The median annual income in Connecticut is $76,348 USD. This is quite a bit higher than the US national average of $61,937 USD. However, there's a huge disparity between the average male and female salary.
If you're male, you'll be earning on average $91,981 USD annually. This number drops hugely for women – just $65,608. Although it's still above the national average, it's more than $26,000 lower than the average male wage.
The biggest employers include elementary & secondary schools, restaurants and food services, and construction. However, the highest paying sectors include securities, commodities, funds, trusts, and other financial investments, with an average of income of over $220,000.
The Constitution State has long been a base for the financial services industry. The next best-paid sectors are nondepository credit & related activities, then sugar and confectionery products.
Connecticut Economic Outlook
Connecticut's economic outlook is good. From a population of 3,573,000, the workforce was 1.73 million in 2018. This number isn't expected to fluctuate too much, as Connecticut's population growth is minimal.
Before 2018, the economy contracted but since then, it has grown in both years – by 0.4% in 2019 and 0.2% in 2020. Several Connecticut manufacturers and industries are expanding in a number of fields. Submarine construction will increase at the Groton shipyard. The economy is also expanding with Ensign-Beckford in the aerospace sector, and the high-tech giant Infosys, which has opened a technology hub in Hartford. In the coming years, this $21 million USD investment will boost the economy with at least 1,000 new jobs.
Overall, the economic future looks bright for Connecticut!
Interesting Resources for Working and Living Abroad
Are you considering to work and live abroad, temporarily or permanently? Below are some resources that might be useful for you around the web:
World Nomads: this company provides travel insurance in most countries around the world. It might be a good option if you going for a long travel.
Booking.com: Booking.com is the best choice for finding accommodation for your next trip, with a wide variety of choices for all types of travelers.
Jetradar: The best place to compare flights for your next trip.
You may also want to check our website guides:
Train Travel Guide: in our railway travel guide, you will learn how to choose and ride the most scenic train routes around the world. Travel always in the most comfortable way with optimal prices to enhance your travel experience.
Work Abroad Guide: Learn how to find a job and employment requirements in different countries. From the initial job search, to bargaining salaries, this guide will help you to find job in most countries around the world. It also covers about remote work and TEFL jobs.