Whether you're a traveler or an expat, the minimum and average salary in Alabama will help you understand the economic reality of the Yellowhammer State.
Check the data for average and minimum wage in Alabama in 2021.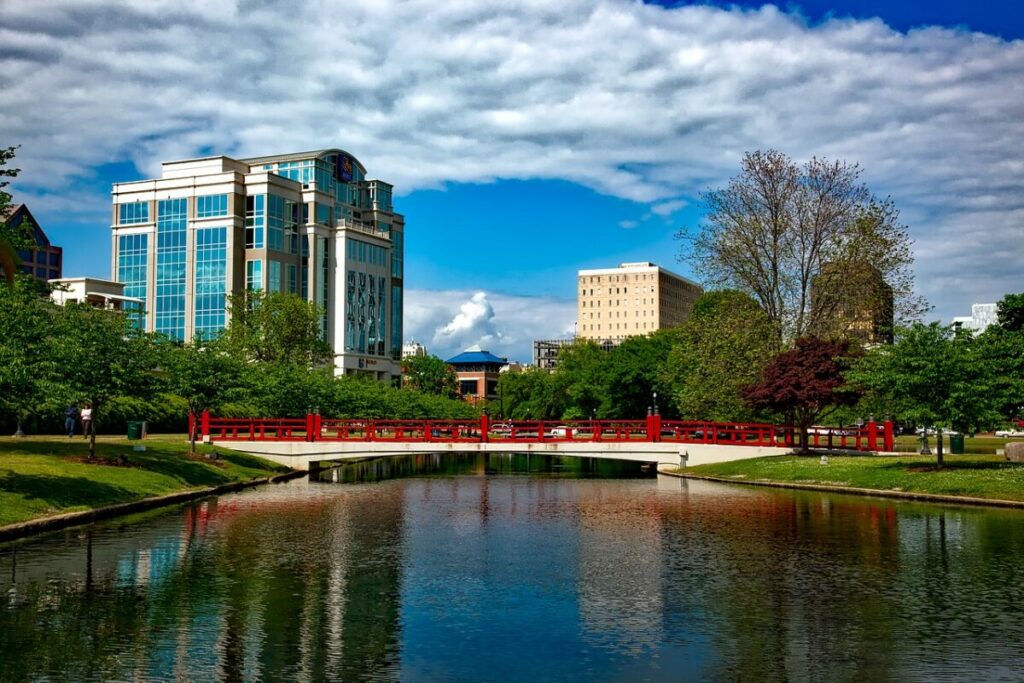 Hidden in the deep south of the United States, Alabama is a charming state. It offers national parks aplenty, gorgeous beaches, and that famous southern hospitality. Its history is rich but often a point of contention. Indeed, the state is most famous for the Civil Rights Movement above all else.
The cost of living is relatively low in Alabama, it is below the national average in many categories. In fact, it's one of the cheapest places in the entire US for housing, which is good news for potential expats! Three of Alabama's cities, Mobile, Montgomery, and Huntsville are ranked in the cheapest 25 cities to live in the USA.
If you can look past the history of Alabama, it's an excellent destination for tourism. And, thanks to its cost of living, a good place if you're planning to relocate.
Minimum Wage in Alabama
Alabama is one of just 5 states that doesn't have a state minimum wage law. So, the minimum salary of Alabama is equal to the federal minimum wage across the United States, $7.25 per hour. Although that may seem low, it's enough to live in certain areas.
In the 20th century, Alabama was largely an agricultural economy. However, it has invested in aerospace, healthcare, and several heavy industries. In these fields, you can expect to earn more than the national minimum wage. Depending on job and skillset, an ex-patriate may receive a different salary. This may also depend on whether you're self-employed or not.
In February 2016, the state passed a legislation to prevent municipalities from raising their locality's minimum wage. This legislation voided a law to raise the minimum wage to $10.10 in Birmingham.
Average Salary in Alabama
The minimum wage has been the same since 2009 and it doesn't look like that will change anytime soon. However, the average salary in Alabama makes for better reading.
Across all jobs in the state, the average annual salary is over $39,000. It's ranked 37th out of all 50 states for the average salary. This equates to around $18 as an average hourly rate, much higher than the minimum wage. Because there's such a wide range in salaries in Alabama, what you can expect to earn depends massively on your expertise and field of work.
The medical field is one of the most respected and best-paid areas in Alabama. 9 of the top 10 highest paying jobs are in that, with obstetricians, gynaecologists, and surgeons being the best paid. The other job in the top 10 best paid jobs is Chief Executive.
Alabama Economic Outlook
In 2018, Alabama's economy grew by exactly 2%. And it's more good news for 2019! Although it's a little less, by the end of the year it is expected to have increased by another 1.9%.
Alabama's population was 4.8 million in 2010 but is predicted to have increased by 300,000 people in 2030. Despite this, the working age population is expected to decrease by 1.3%. That's more than 40,000 people!
Even though the state's economy is growing, Alabama has a poverty rate of 18%. This is around 50% higher than the national average.
Interesting Resources for Working and Living Abroad
Are you considering to work and live abroad, temporarily or permanently? Below are some resources that might be useful for you around the web:
World Nomads: this company provides travel insurance in most countries around the world. It might be a good option if you going for a long travel.
Booking.com: Booking.com is the best choice for finding accommodation for your next trip, with a wide variety of choices for all types of travelers.
Jetradar: The best place to compare flights for your next trip.
You may also want to check our website guides:
Train Travel Guide: in our railway travel guide, you will learn how to choose and ride the most scenic train routes around the world. Travel always in the most comfortable way with optimal prices to enhance your travel experience.
Work Abroad Guide: Learn how to find a job and employment requirements in different countries. From the initial job search, to bargaining salaries, this guide will help you to find job in most countries around the world. It also covers about remote work and TEFL jobs.