Average and minimum salary in Zurich, Switzerland. Data and information about wages and jobs in Switzerland
If you considering moving to Europe, the average and minimum wage in Zurich, Switzerland are useful data to analyze the economics of this highly wealthy nation.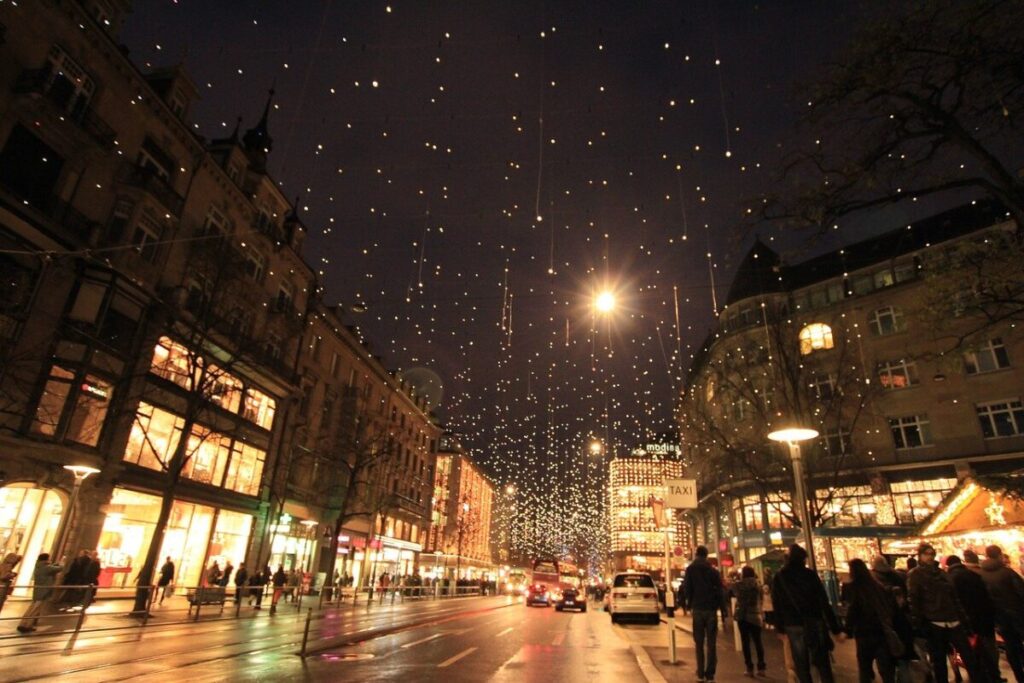 Zurich is the largest city in Switzerland, a wealthy country in Europe which is not part of the European Union and has its own currency, the Swiss Franc. Known for its extreme wealth, chocolates, cheese and watches, Switzerland offers some of the highest salaries in the world.
Minimum Salary in Zurich, Switzerland
As of 2023, there is no minimum wage in Zurich, Switzerland. Minimum wages in Switzerland are either decided by collective agreements. However, Switzerland is divided in Cantons and they have the freedom to decide whether they want to have minimum wages or not. Geneva for example has a minimum wage of 23 CHF per hour, which is just short of 4000 CHF per month (gross).
As a reference basis, the minimum wage in Zurich, Switzerland ranges from 3500 to 4000 CHF for hotel and gastronomy workers (gross per month) as of 2023. You can read more about it here (in French).
Salaries in Zurich and in the whole of Switzerland are higher than in most of its neighbors (except Liechtenstein). This applies to both nominal values and salary growth per year. Wages and the cost of living in Switzerland are considerably higher than in France, Germany and Italy.
Average Salary in Zurich, Switzerland
The average salary in Zurich, Switzerland is among the highest in the country, together with the cantons of Basel and Geneva. All regions of Switzerland are pretty wealthy. The cantons of Valais and Uri are among those with the lowest income per capita in the country.
Currently the net average wage in the Zurich, Switzerland is of approximately 6000 Swiss francs per month. It is considerably more than the collective agreements per sector for minimum wage as of 2023.
Here are some average wages per profession in Zurich, Switzerland (gross) per month:
| Job in Zurich, Switzerland | Average salary per month (gross in CHF) |
| --- | --- |
| Hospitality Industry | |
| Hotel receptionist salary | 4500 CHF / month |
| Cleaner (hotel, restaurant) | 3950 CHF / month |
| Cook / Chef | 4500 CHF / month |
| Waiter | 3800 CHF / month |
| Restaurant / Hotel Manager | 6700 CHF / month |
| Information Technology Industry | |
| IT Analyst | 7000 CHF / month |
| Data Scientist | 7700 CHF / month |
| Frontend Developer | 6500 CHF / month |
| App Software Developer (Android) | 7200 CHF / month |
| Python Developer | 7500 CHF / month |
| Full Stack Developer | 7900 CHF / month |
| Project Manager | 7500 CHF / month |
| Engineering and Logistic Industry | |
| Driver (car / van) | 4500 CHF / month |
| Civil Engineer | 6900 CHF / month |
| Architect | 6000 CHF / month |
| Mechanical Engineer | 7000 CHF / month |
| Warehouse Manager | 5600 CHF / month |
| Healthcare Industry | |
| Nurse | 4300 CHF / month |
| Doctor (GP) | 8600 CHF / month |
| Dentist | 7800 CHF / month |
| Pharmacist | 7200 CHF / month |
| Finance Industry | |
| Accountant | 6400 CHF / month |
| Lawyer | 8900 CHF / month |
| Real Estate Agent | 5700 CHF / month |
| Sales Representative | 5200 CHF / month |
| Financial Manager | 9000 CHF / month |
| Media and Marketing Jobs Industry | |
| Designer | 5300 CHF / month |
| Journalist | 6400 CHF / month |
| Photographer | 4700 CHF / month |
| Translator | 6100 CHF / month |
Zurich, Switzerland Economic Outlook
Switzerland has one of the strongest economies in Europe, with high standards of living and lower taxes than its neighbors. The overall Swiss resident is wealthier than the average European resident, even when compared to other wealthy nations such as Germany or Austria. While growth is not stark in Switzerland currently, the country still enjoys a very comfortable position in global economic rankings.
Zurich is one of the best cities to live not only in Europe, but in the world. It is a safe city, with a number of important companies having offices and headquarters in its central area. On the downside, Zurich is an extremely place to live, even if salaries are high, you will need to focus on your career to be able to save a significant amount of money per month.
If you are traveling to Switzerland you want to check some of our guides to the country. Check the best places to stay in Zurich here.
Interesting Resources for Working and Living Abroad
Are you really considering to work and live abroad, temporarily or permanently? Below are some resources that might be useful for you around the web:
World Nomads: this company provides travel insurance in most countries around the world, and it might be a good option if you going for a long travel.
Jetradar: search for flights and compare prices with Jetradar.
Booking.com: Booking.com is the best choice for finding accommodation for your next trip, with a wide variety of choices for all types of travelers.
You may also want to check our website guides:
Train Travel Guide: in our railway travel guide, you will learn how to choose and ride the most scenic train routes around the world, always in the most comfortable way with optimal prices to enhance your travel experience.
Dating Guide: our dating guide will help you not only to find love but to understand the social customs of each country. It will also help you to avoid dating scams around the internet and find people really interested in honest relationships.
Work Abroad Guide: Learn how to find a job and employment requirements in different countries. From the initial job search, to bargaining salaries, this guide will help you to find job in most countries around the world. It also covers about remote work and TEFL jobs.