Average and minimum salary in Ljubljana, Slovenia. Data and information about wages and jobs in Slovenia
The average and minimum wages in Ljubljana are helpful data to understand the dynamics of this relatively young European nation. This post is ideal for expats willing to relocate and understand the job market conditions in the country.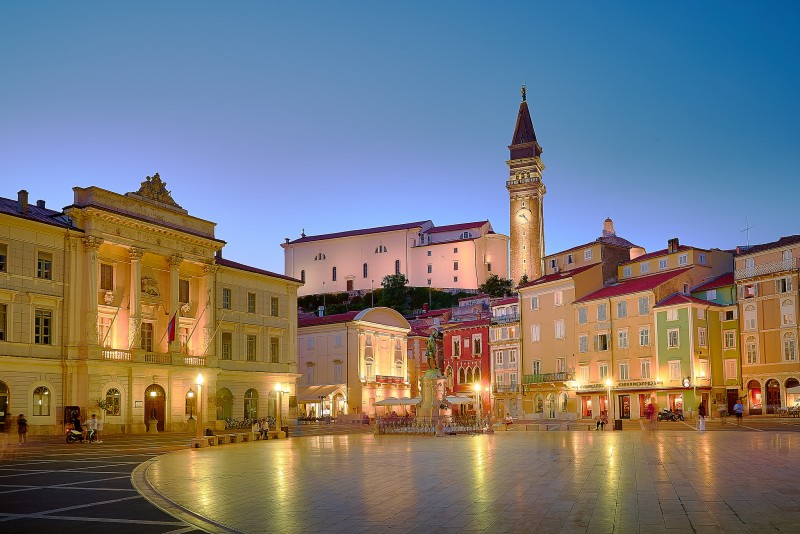 Slovenia is probably one of the former Yugoslavian countries with the most thriving economic history is very successful. Today it is a country with the stable and prosperous economy. This was most noticeable during the period between 1995-2008, and it is the first among new European Union countries to accept the Euro as its currency.
The factors that contribute to its economic success are good infrastructure and highly educated workforce. Also, it is important to mention that it is the major transportation crossroad in Central Europe.
Slovenia is also a member of the Organisation for Economic Co-operation and Development since 2010, with its primary industries being agriculture, forestry, and fishing. Slovenia's trade is mostly oriented towards its European Union partners and other Western countries. Ljubljana, the country's capital and largest city, is also the wealthiest in this small alpine nation.
Minimum Salary in Ljubljana, Slovenia
There are no high variations between the minimum and average wages in Ljubljana, as in Slovenia as a whole. As of 2023 the minimum salary in Ljubljana is of 800 euros net and 1000 euros (gross) per month. Regionally, it is a much higher figure compared to its neighboring country Croatia.
Also, the minimum wage includes full-time work (8 hours per day). The minimum salaries are mostly among occupations such as sales retail and some services positions. The minimum wage in Slovenia is in accordance with the Minimum Wage Act. Slovenia has a relatively low percentage of workers on minimum wage, however the average wage in Ljubljana is not that high either.
More info can be found on data.si (in Slovenian).
Average Salary in Ljubljana, Slovenia
As previously stated Slovenia and its capital city of Ljubljana have a pretty stable economy. The average wages in Slovenia vary greatly depending on the position and field. Legal, marketing and management jobs are among highest paid.
The average salary in Ljubljana is of around 1300 euros net as of 2023. Slovenia has the highest minimum salary in the Balkan region and also among former Yugoslavia countries.
Slovenia is not much of an expat hub, unlike its neighboring Austria or Hungary. However, there are many positions available in technology related fields, such as IT and data analysis.
Here are some average wages per profession in Ljubljana, Slovenia (net) per month:
| Job in Ljubljana, Slovenia | Average salary per month (net in EUR) |
| --- | --- |
| Hospitality Industry | |
| Hotel receptionist salary | 900 euros / month |
| Cleaner (hotel, restaurant) | 800 euros / month |
| Cook / Chef | 1300 euros / month |
| Waiter | 900 euros / month |
| Restaurant / Hotel Manager | 1900 euros / month |
| Information Technology Industry | |
| IT Analyst | 1900 euros / month |
| Data Scientist | 2300 euros / month |
| Frontend Developer | 1600 euros / month |
| App Software Developer (Android) | 2000 euros / month |
| Python Developer | 2300 euros / month |
| Full Stack Developer | 2900 euros / month |
| Project Manager | 2500 euros / month |
| Engineering and Logistic Industry | |
| Driver (car / van) | 900 euros / month |
| Civil Engineer | 1800 euros / month |
| Architect | 1800 euros / month |
| Mechanical Engineer | 1900 euros / month |
| Warehouse Manager | 1500 euros / month |
| Healthcare Industry | |
| Nurse | 1200 euros / month |
| Doctor (GP) | 2500 euros / month |
| Dentist | 2200 euros / month |
| Pharmacist | 1300 euros / month |
| Finance Industry | |
| Accountant | 1600 euros / month |
| Lawyer | 1900 euros / month |
| Real Estate Agent | 1500 euros / month |
| Sales Representative | 1100 euros / month |
| Financial Manager | 2300 euros / month |
| Media and Marketing Jobs Industry | |
| Designer | 1400 euros / month |
| Journalist | 1200 euros / month |
| Photographer | 1100 euros / month |
| Translator | 1000 euros / month |
Economic Outlook in Ljubljana, Slovenia
Ljubljana is the economic and most important center of Slovenia. The most important economic sectors are petrochemicals and food processing. Also, pharmacy sector is not far behind. Other fields include construction, finance, banking, transport, skilled trades and services and tourism.
Even if the Economy of Slovenia is not showing a strong growth in recent years, it is still in a relatively comfortable position. Unemployment is relatively slow and the country has one of the best standards of living among those who joined the EU in the past decades.
Most non-tech related jobs in Slovenia will require a good knowledge of the Slovenian language. However, if you are working with IT or other high tech fields, there are less language requirements. Many of these jobs are available for English or German speakers.
If you are coming to Slovenia you may want to check our guide on the best places to stay in Ljubljana. For those visiting the country by train, you can read more about trains to Ljubljana.
Interesting Resources for Working and Living Abroad
Are you really considering to work and live abroad, temporarily or permanently? Below are some resources that might be useful for you around the web:
World Nomads: this company provides travel insurance in most countries around the world, and it might be a good option if you going for a long travel.
Jetradar: search for flights and compare prices with Jetradar.
Booking.com: Booking.com is the best choice for finding accommodation for your next trip, with a wide variety of choices for all types of travelers.
You may also want to check our website guides:
Train Travel Guide: in our railway travel guide, you will learn how to choose and ride the most scenic train routes around the world, always in the most comfortable way with optimal prices to enhance your travel experience.
Dating Guide: our dating guide will help you not only to find love but to understand the social customs of each country. It will also help you to avoid dating scams around the internet and find people really interested in honest relationships.
Work Abroad Guide: Learn how to find a job and employment requirements in different countries. From the initial job search, to bargaining salaries, this guide will help you to find job in most countries around the world. It also covers about remote work and TEFL jobs.