How to get from Bangkok to Phuket? Let's have a look at the different ways to travel between the Thai capital and Phuket, including bus, train and flights
Are you in the Thai capital and want to get to Phuket? This article is going to guide you through your available options to get from Bangkok to Phuket. Let's analyze the advantages of all options, including traveling by bus, train or catching a flight.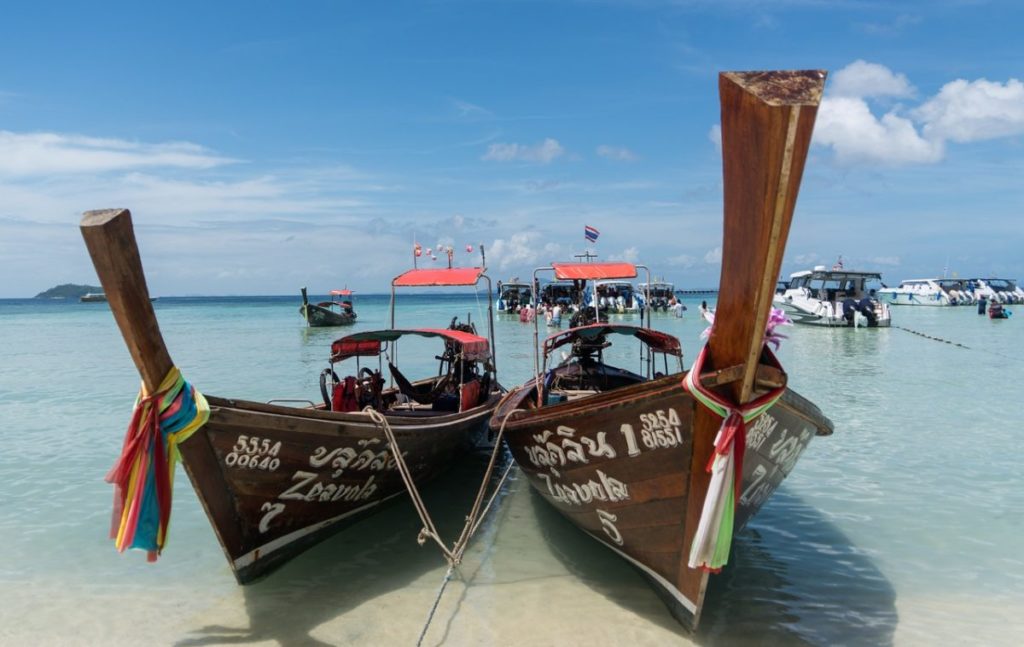 Bangkok to Phuket: The Route
There's a good chance you will land in Bangkok upon starting your adventure in South east Asia. The capital of Thailand is a major transport hub in Southeast Asia, and Bangkok receives through its two airports, the highest influx of visitors in all of the ASEAN countries.
Phuket is the biggest island in Thailand and receives many tourists flocking to this destination to enjoy the beautiful beaches and exciting night life. Phuket is usually a good starting point to adventure on to other islands and areas that are in the southern region of Thailand.
The island gives also name to the province of Phuket and its biggest city (Phuket Town). Phuket however offers many other smaller towns and paradise beach locations. The distance between Bangkok and Phuket is around 860 km.
There are various ways in which you can travel from Bangkok to Phuket. The fastest is flying, but you can also take a bus, or travel partially by train and then continue by bus or a transfer.
Bangkok to Phuket by Bus
The first option is by bus, which is usually the cheapest option to travel from the Thai capital to the island of Phuket. The bus is quite a long journey and will be 12-14 hours depending on the company, the traffic and the driver.
Considering the length of the journey make sure if you get a good company with comfortable buses and a lot of leg room. When buying a ticket online you will have the offer of getting an express or a VIP ticket. The VIP ticket will offer more comfort and leg room, for a slightly more expensive ticket.
Another advantage of taking the bus is that most of scheduled trips are night buses. This can be pretty useful if you are a budget traveler in Thailand.
To catch most buses leaving from Bangkok to Phuket, you will need to go to the Southern Bus Terminal (Sai Tai Mai).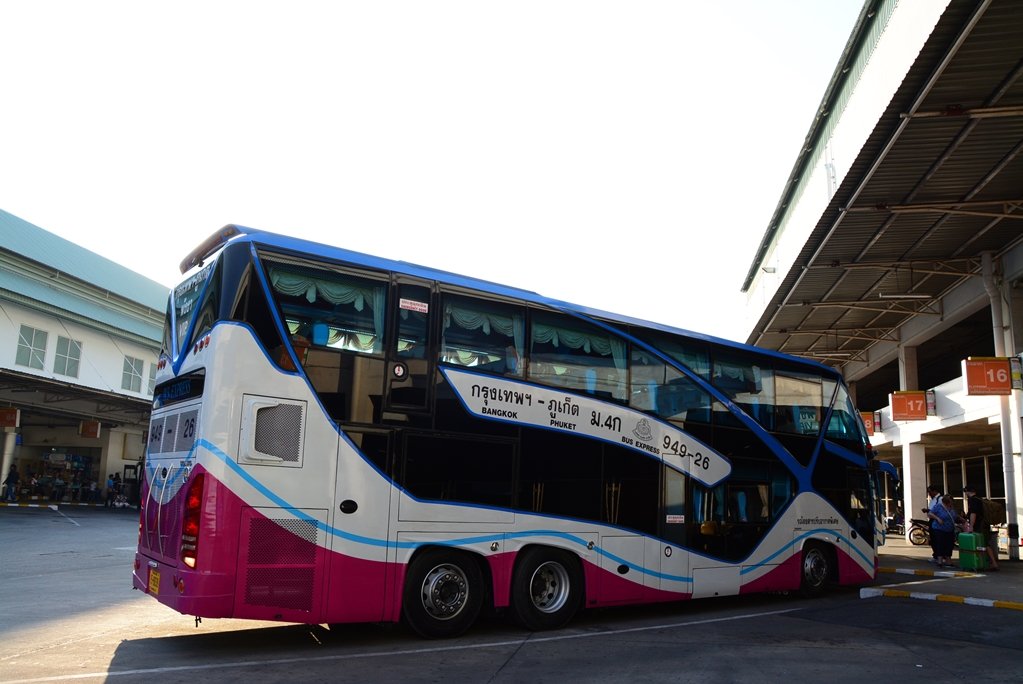 How to Buy Bus tickets from Bangkok to Phuket
Buying online at Bookaway will be your best bet, but you could also go to the Southern Bus Terminal in person to purchase them. Either option will work, but I prefer to have my seat reserved for such a long journey. Especially because the Southern Bus Terminal is a bit of a trip in its own to get to.
Here is a search bar for all transport options from Bangkok to Phuket:
Bangkok to Phuket by Train
There is no direct train to Phuket. You can get a train from Bangkok's Hua Lamphong Railway Station to Surat Thani and then a bus or minivan from there. I don't think this is a very viable option because the price of the train and bus or minivan is going to be more expensive than just taking the bus and is likely to be more expensive some flights.
I would highly advise against this route of transportation for the amount of time the train and bus will take and the amount of money you will spend. Unless there is something you desperately want to see or do in Surat Thani or on the way to Phuket. If you are a train enthusiast this might be an option, though.
Where to buy Train tickets from Bangkok to Phuket
You may buy them online at Bookaway or show up at the Hua Lamphon Railway Station and buy them. If you are taking this route then showing up in person is fine, but always comes with more of a risk if travelling on the same day.
Bangkok to Phuket by Plane
Flying from BKK to Phuket is going to be the fastest and best available option. Depending on the company and how early you book your trip, flying will cost you roughly the same as travelling by bus. The flight time is around 1.5 hours.
I think this is the best value for money and time. Even if you consider the time you will get to one of the two airports in Bangkok, or getting from Phuket Airport to your accommodation, you will still save a lot of time. If you choose of the low cost airlines operating in Thailand prices will be similar than travelling by bus. If you choose other airlines like Thai Airways, flying will be significantly more expensive than the bus.
Once your arrive at the Phuket airport, you will need to take a minivan or taxi to where your hotel is located, which will likely be in the Patong area. There are supposed to be some sort of meter taxis available. But every time I've been to Phuket, I am unable to get them for some mysterious reason. The best valued transportation that I have found was taking a shared minivan for 200 baht. This is quite expensive but all taxis were in the 1000 baht range.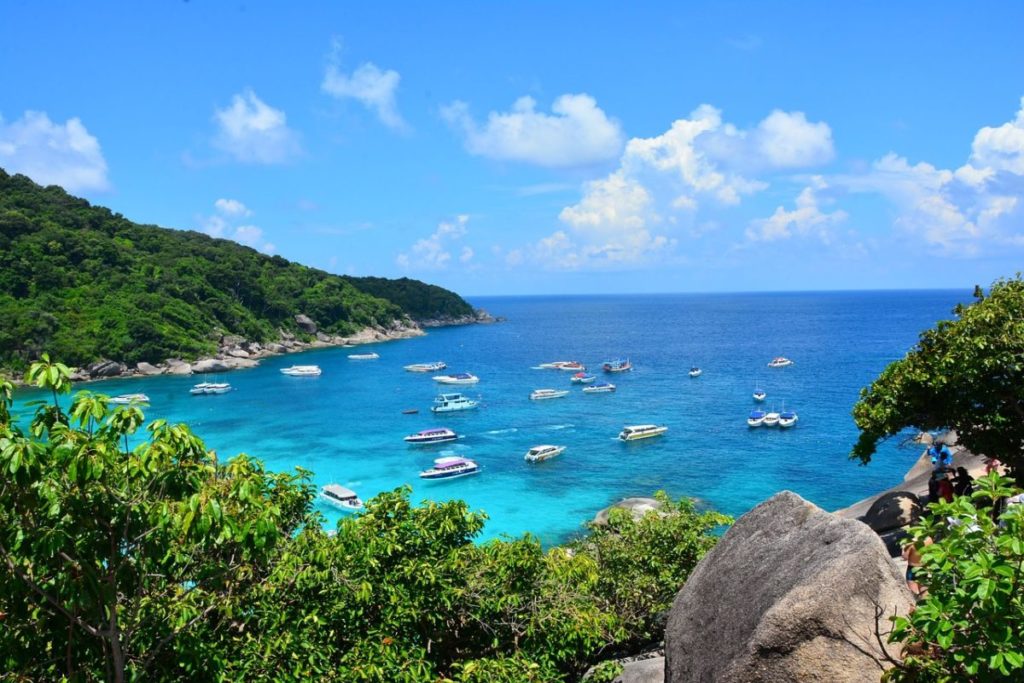 Where to buy Plane tickets from Bangkok to Phuket
I would head on over to Jetradar and see what deals you can grab. You can compare prices for flights departing from the Suvarnabhumi and the Dong Mueang Airport. Low cost airlines usually operate from the Don Mueang Airport so it is likely that the cheapest flights will be departing from this airport.
Hotels in Bangkok
Thanabhumi – an option offering great value for the money in one of the best areas to stay in Bangkok, just a short walk to the Khao San Road.
ibis Styles Bangkok Khaosan Viengtai – an excellent choice with a unique decoration close to the Khao San Road.
Hotels in Phuket
Novotel Phuket Phokeethra – a great hotel in a central location in Phuket Town.
Ritsurin Boutique Hotel – another excellent option to stay in Phuket Town.
Other Resources for Traveling in Thailand
If you are traveling from Bangkok to Phuket you may want to check some of our other Thailand and Southeast Asia guides. Check where to stay in Bangkok, if you are visiting the Thai capital for a few days. You can also check our post on how to travel from Bangkok to Chiang Mai and how to travel from Bangkok to Koh Samui.
Are you already in Thailand or planning to visit it soon? Leave your thoughts in the comment box below.