The best areas to stay in Geneva are listed in this guide to visitors to the biggest and most important city in the French speaking of Switzerland
If you are coming to French part of Switzerland, you should probably consider the best areas to stay in Geneva. These easily accessible districts are close to most of the city's attractions and are ideal for all types of visitors to Switzerland. Learn more below about its districts and choose where to stay in Geneva.
Tourism in Geneva: Overview
Despite its rather small population, Geneva is one of the most influential cities in Europe. It hosts a number of international institutions such as the World Trade Organization, and many United Nation related organizations. While Zurich is the biggest city of Switzerland and mostly a German speaking, Geneva is mostly French speaking, in a country with three main languages (French, Italian and German).
Visitors often come to the city for business, but the city is also a great place for relaxing and sightseeing. The Lake Geneva and the alps offer breathtaking views, and the city has a number of beautiful parks to walk around.
The city is also a great place for shopping, but that applies mostly to luxury brands. Even if VAT is lower in Switzerland than in most of the EU, the Swiss Franc has been quite strong for the past years, and many Swiss residents cross the borders for shopping. However, if you do buy goods in Switzerland you can probably get tax refunds before you come back home.
Geneva might also be your starting point if you are coming to Switzerland for winter sports. You can reach some of the best ski resorts in the world from Geneva, including Verbier and Chamonix (France).
Cost of Travel in Geneva
Switzerland is of the richest nations in the world, and the cost of travel in Geneva reflects the country's wealth. Geneva also hosts a number of important international organizations, which influence the hotel prices as well.
Getting to Geneva is affordable, mainly if you coming from another European country. Low cost carriers operate in the Cointrin airport, as well as most major European airlines.
The city is also very well connected by train lines, mostly to France and domestic lines. If you are coming from France, there are direct TGV trains from Paris, which connect the cities in about 3 hours.
If you are coming by car, you will have easy access to smaller villages around the lake and up in the mountains. Car rentals in Germany are slightly cheaper than in Switzerland, while in France prices are overall similar.
Best Areas to Stay in Geneva, Switzerland
Below we have some of the best places to stay in Geneva, including the City Centre, the Old Town (Vielle Ville). If you want to know where to stay in Geneva, probably one of these three areas will be suitable.
City Center
The city center is probably the best area to stay in Geneva for most types of tourists. It has great transport connections and also offers the best choices in terms of restaurants.
Click here to check accommodation options in the the City Center on Booking.com
The Rue du Marché and Rue du Rhône are two parallel streets that one should consider, especially if you want to buy Swiss branded products. You can find watch stores from brands like Piaget, Blancpain and Omega in these streets. This area is quite expensive but easily accessible if you are staying in other parts of the city.
Reasonably Priced Accommodation in Geneva City Centre
Hotel Les Arcades – A great choice in one of the best places to stay in Geneva. Good breakfast and quite close to the Cointrin train station.
Hotel International & Terminus – Another great option to stay in the center of Geneva, with easy access to public transport.
Luxurious Hotels in City Centre
Hotel Beau Rivage Geneva – One of the most sumptuous hotels in the city, overlooking the Lake Geneva.
Hotel d'Angleterre – the Hotel d'Angleterre is one of the most traditional hotels in the city centre, its refined rooms are ideal for a luxurious stay in Geneva.
Old Town
The old town in Geneva (Vielle Ville) is picturesque and pleasant, a great place for history and architecture enthusiasts. The little alleys around the Saint Pierre Cathedral are magnificent and it also gathers a number of art galleries and antique shops.
It can be a great place for a romantic stay in Geneva, however the old town is quite hilly, so it can be tiring to walk uphill.
Reasonably Priced Accommodation in the Old Town
Hotel Central – An relatively affordable option to stay very close to most historical buildings in the Geneva Old Town.
Luxurious Hotels in the Old Town
Les Armures – A great choice to stay in the old town, just a short walk from the Saint Pierre Cathedral.
Hôtel Métropole Genève – the Hôtel Métropole Genève is an elegant and refined accommodation option in the city.
Geneva Train Station – Genève-Cornavin to Rue des Pâquis
The area around the train station is one of the best places to stay in Geneva, mainly for those coming by train for a shorter stay in the city. It offers more affordable accommodation and is extremely convenient to walk around.
From the Cornavin station to the Rue des Pâquis, you will find all types of shops, selling products from all around the world.
Best Months to Visit Switzerland
Geneva hosts a number of international events year-round, so there is always something interesting happening. Probably the most famous even is the Geneva Motor Show, gathering the latest models in the global car industry. The motor show takes place annually in March, and usually brings a high influx of tourists.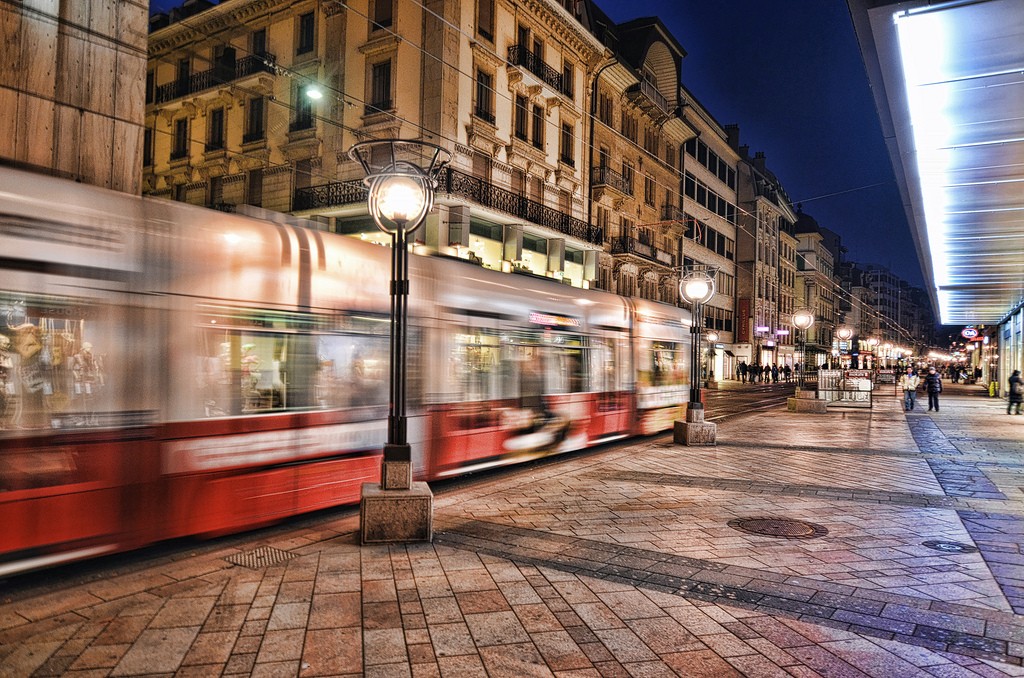 Another important event held in the city is the Fêtes de Genève, which happens in every year in August. The festival has a number of activities including music concerts and a grand firework display over Lake Leman.
Geneva has a rather pleasant climate during most of the year. It has a temperate climate, and despite its proximity to the alps, winters are mildly cold. The city has four defined seasons and autumn is the wettest. The city has a relatively high influx of visitors year round, due to its highly international profile, but summer months are the busiest.
Other Resources to Travel in Switzerland
For those traveling to Switzerland, you may also check some of our other guides to the country. Check our post on the best areas to stay in Zurich and where to stay in Basel.