The best places to stay in Nice are explained in this article, which also features cost of travel and the best months to visit the French Riviera
France is not only about Paris and the Eiffel Tower. If you want to know where to stay in Nice, this post will guide you through the best areas in one of the most beautiful cities in the world.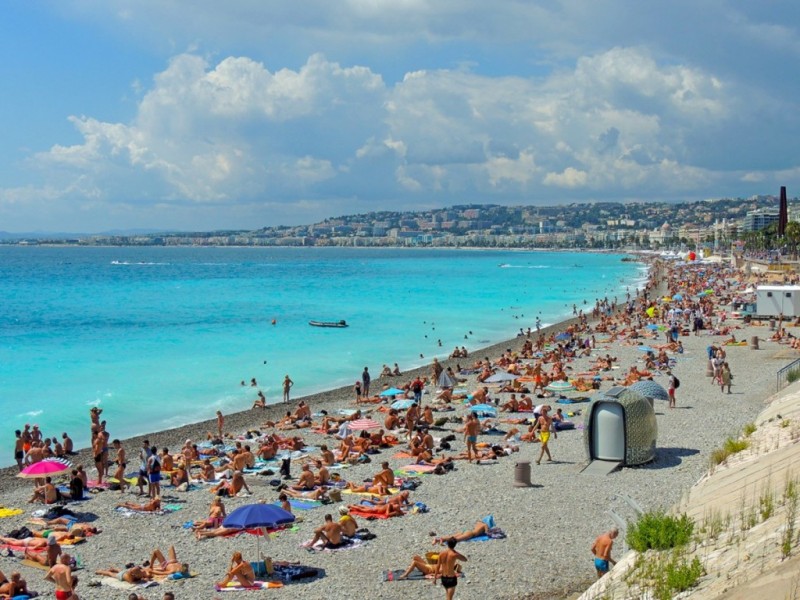 Nice's location is on the south coast of France, and it is the second biggest French city on the Mediterranean. Nice is a very popular summer holiday destination not only for French people.
Tourism in Nice: Overview
Just 13km away from Monaco, Nice airport is the gateway for those who want to enjoy the luxurious principality. For those who prefer stay in Nice, it worth to go to Monaco for a day trip.
You can either rent a car or take the train, which cost €9. But it is not only Monaco, with more than 5km of beach, with a turquoise blue sea and rocks instead of sand, the coast of Nice has a lot of Beach Clubs, bars and restaurants among other attractions.
If you are flying to Nice you can find the cheapest flights on Jetradar.
Nice is one of the most iconic cities in France. It is famous for its glamorous Promenade des Anglais and it is a great place to start a trip in Cote d'Azur (French Riviera). Besides the beach, there are also museums and galleries to visit. The historic city centre has a wide variety of restaurants and cafes.
Best Places to Stay in Nice
Nice is beautiful and safe from the beginning to the end of the Promenade des Anglais. However, the best area to stay in Nice is near the Massena Museum, where you have plenty of restaurants, bars, cafés. This area is also where to the well-known Hotel Negresco, the most famous hotel of the city is located.
Most attractions in Nice are at a walking distance from the Promenade des Anglais. If you are coming to the city by train, you may consider to stay in Nice in the area of the train station (Nice-Ville Train Station). This area is more affordable as it is located on a less touristy area.
Budget Accommodation in Nice – €
Meyerbeer Beach – a budget option offering dorm beds and private rooms in Nice.
Reasonably Priced Accommodation in Nice – €€
Hotel De La Mer – an excellent choice to stay close to the Promenade des Anglais.
Hôtel Régence – an excellent hotel at the very center of Nice.
Luxurious Hotels in Nice – €€€
Hyatt Regency Nice Palais de la Méditerranée – one of the most luxurious accommodation options at the art of the Vieux Lyon area.
Hotel Negresco – one of the most traditional hotels in Southern France.
Cost of Travel in Nice
For those who want to enjoy the summer on the French beach you have to keep in mind that the cost can be high. The price to spend a day at the beach club which includes only sunbeds and umbrella costs in high season around € 20 per person. At the seaside restaurants for example, a main course cost between €20 up to €30.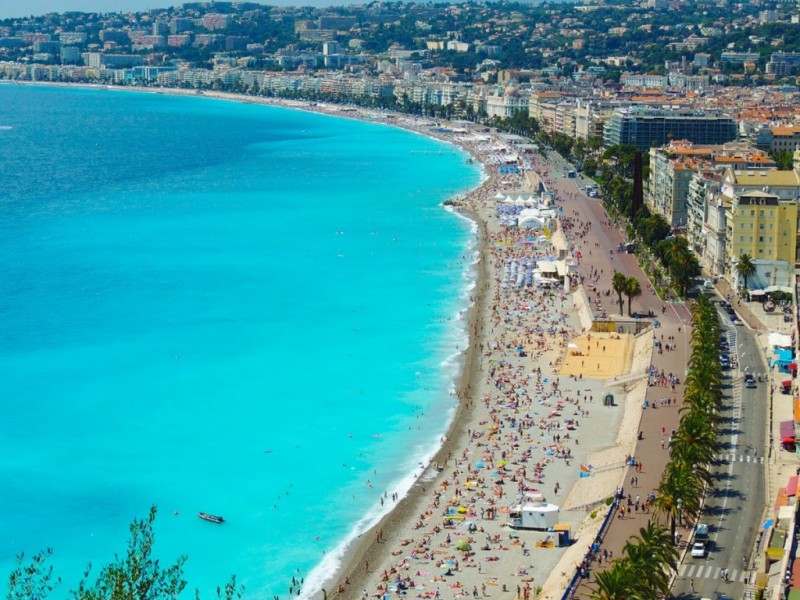 However, if the budget is reduced there is always a way to enjoy and not spend that much.
Take your own beach towel and do not use the beach clubs. Also at the mealtimes choose for restaurants that are not in front of the sea. In the city centre for example, there are many options of good restaurants, most of Italian cuisine, where the main dish costs around € 12.
Best Months to visit Nice
Nice is beautiful at any time of year, but of course the high season for tourism is between June and September during the European summer. During this time the temperature can reach above 30 degrees Celsius.
Spring and Autumn can also be a good option, as the temperatures are still very inviting for outdoor activities (especially in May and June). Winter can be rather cold, but the temperatures in Nice are still way above average for most cities in Western Europe.
Other Resources for Traveling in France
If you are traveling to France you may want to check our guides on where to stay in Grenoble and the best places to stay in Lyon. You may also want to check our Monaco guide. Finally, check how to travel from Nice to Eze.