Check our the best places to stay in Brasov, featuring a guide to this city in Transylvania, one of the most beautiful regions of Romania
Looking to explore the natural beauty of Transylvania? The perfect place to start is probably Braşov. Here you can easily explore the city and its surrounding area that is just filled with history.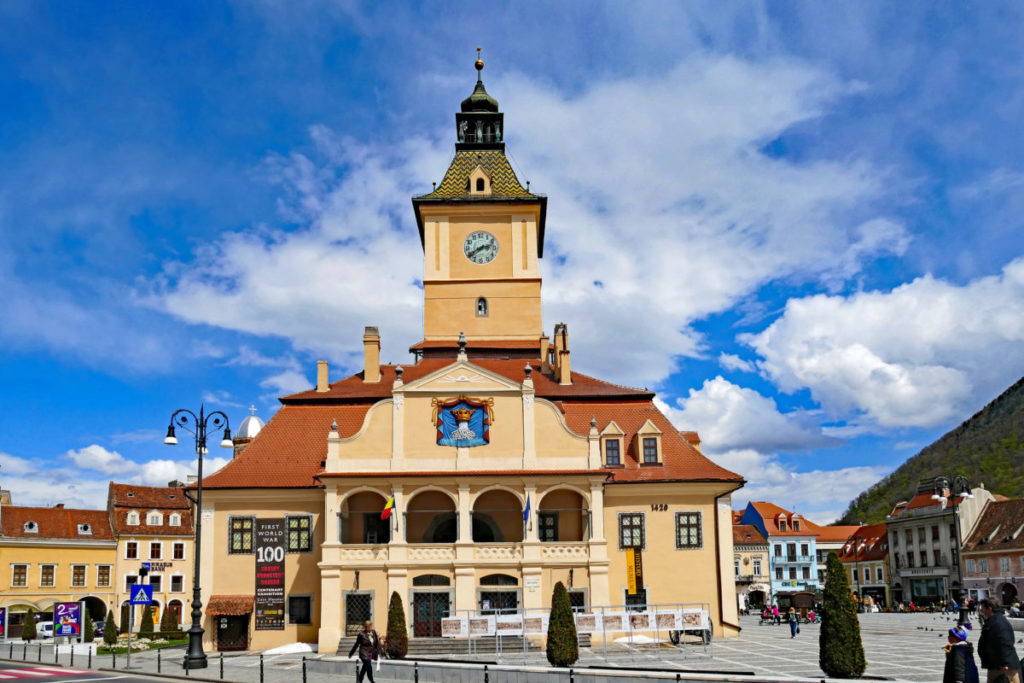 Being in the middle of Romania, it might surprise you that up until the beginning of the 20th century, the majority of the population was made up of Transylvanian Saxons. This adds to the already mix of ethnic Hungarians and Romanians to create a very interesting blend of cultures.
Whatever kind of activity you are most interested in, Brasov will cater to your needs. Hiking, skiing or sight-seeing, you won't leave from Brasov disappointed.
Tourism in Brasov: Overview
Brasov was first founded in 1211 by Teutonic Knights which fortified an already existent village. Settlers came in from all over Germany and parts of France. Here you will find many different old fortifications dating back to the middle ages, with Poarta Ecaterina and Poarta Schei being open to the public. Another important landmark is the Black Church, a gothic style monument, built in 1477. It got its name due to a fire in 1689, causing the smoky look.
Brasov is also a hub for winter sports in Romania. Several resorts, ranging from economy to luxurious are in the near vicinity of the city. Go to Predeal to give its five major ski runs a try. Visit Poiana Brasov so you can stay in different luxurious hotels and enjoy the classy slopes.
Getting to Brasov is not a difficult affair. You can get good deals with Tarom or low-cost companies like Wizz Air, Ryan Air or Blue Air that will land in Bucharest or Sibiu and grab a train for another 2 hour trip. If you want to compare and book flights to Romania, check Jetradar.
If you are looking at a more relaxed setting, away from the hustle and bustle of the city or the touristy feel of the mountain resorts, then you can simply enjoy a number of hikes that take you up and down the surrounding Carpathian Mountains.
Best Places to Stay in Brasov, Romania
Whatever you want to do during your stay, the best places to stay in are generally concentrated within either the city center (the old town) or in Poiana Brasov. Depending on what you want to experience, one will offer something over the other.
Old Town (Centrul Vechi)
The best place to stay in Brasov if you are looking to sight-see or explore the surrounding wilderness is in the Old Town. Here you will be able to sample different tastes of culture and entertain yourself in the many restaurants and clubs.
Wherever you look, you will see the influence of both the German residents of old or the more recent Hungarian inhabitants, many times even intertwined. Venture out of the city center, and you'll start seeing the communist buildings erected after 1945 mixing with the very specific Romanian architecture from the interwar period and the more modern buildings of the 21st century.
Brasov's old town is also the perfect place to eat hearty meals as traditional Austro-Hungarian mix with Romanian food. The result is an explosion of taste provided in big plates. Wash it down with "palinca", the local drink, and you will guarantee a very enjoyable couple of hours.
Poiana Brasov
If you are looking at the best of what Romania offers in terms of winter sports, then the neighborhood of Poiana Brasov is your pick. Joining you will be tourists from all over Europe and the world.
Don't worry though! You will not be left wanting as a plethora of restaurants offer a nice distraction from the high-quality slopes. Romanians consider tourists here as high-class, so you will find the best in everything.
Budget Accommodation Options in Brasov, Romania
JugendStube Hostel – a great hostel in the old town, one of the best places to stay in Brasov.
Casa Dealul Melcilor – a cozy option at a walking distance to most attractions of the old town.
Reasonably Priced Accommodations in Brasov, Romania
Drachenhaus – a great option to enjoy the old town of Brasov.
Casa Wagner – an excellent option on the Council Square (Piata Sfatului), in one of the best locations to stay in the old town of Brasov.
Luxurious Accommodation in Brasov, Romania
Kronwell Brasov Hotel – a splendid hotel right next to the Brasov Train Station.
Cost of Travel in Brasov
You will get better rates in Brasov compared to bigger cities in Romania like Bucharest or Cluj or most larger European cities. However, it offers options to accommodate any type of wallet. With a budget of €50-70 per day you can provide yourself enough funds to explore and get a taste of the city.
Public transport is cheap, you can generally use taxis or hop on buses for a couple of euros each way. Brasov in itself is not a very big city so depending on where your accommodation is, the most important landmarks should be in walking distance.
Otherwise, renting a car is another option in case you want to be more mobile, for that you can compare prices on RentalCars.com. Buses are indeed cheap, but it sometimes is a risky affair to tourists as not all companies offer great services.
Best Months to Visit Transylvania
The best thing is that you have year-round activities in Brasov. Disregarding a couple of rainy months where your stay may suffer a bit. Bear in mind that Brasov is a mountain city, so the weather will be chillier than most of Romania. Temperatures of -20 Celsius degrees in the winter are pretty common. During the summer rarely go over 30 degrees Celsius.
If you are looking to go skiing, the best time is from December to mid-March. However, December offers a great Christmas market with authentic Romanian traditions mixed with Saxon and Hungarian ones.
If you are more inclined to enjoy the city or hiking, the perfect time is from May to September. The weather will be more pleasant, with warmer temperatures and less rain.
Other Resources for Traveling in Romania
Finally, if you are traveling to Romania don't miss some of our other guides to the country. Check how to travel by railways in our trains from Brasov article, or where to stay in Bucharest. For those considering moving to Romania, check the cost of living in Bucharest.