The article will provide you with brief analysis of the best places to stay in Jakarta and cost of travel in the Indonesian capital
This guide on where to stay in Jakarta is an amazing resource if you are visiting Indonesia's capital, one of the biggest city in Southeast Asia, with a population of 10 milion people and a metro area with 30 million inhabitants.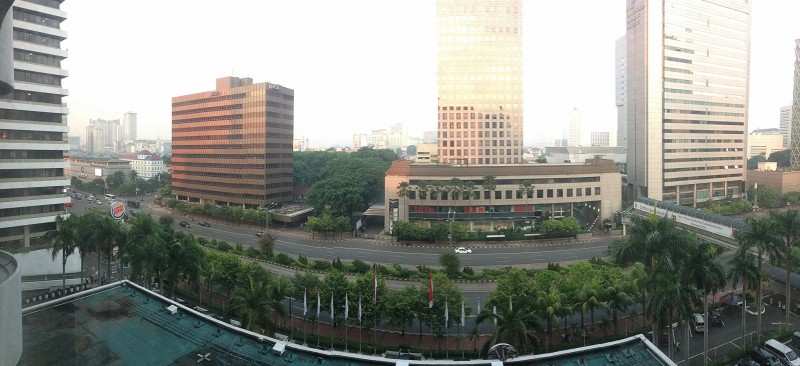 Jakarta. Photo by millrJakarta is the capital and most populous city of Indonesia, and it sits on the northwest side of the island of Java. Indonesia, a country famous because of its beaches, volcanos, breathtaking nature and wildlife is also a country of rich history and traditions as well as ethnic diversity.
Its vibrant capital of Jakarta, the center of Indonesia's economy and culture is its best representative. Although some may say that downfalls of such big city are heavy traffic and air pollution, Jakarta is just more than that. On your first visit, you will learn about people' friendliness, their flavored foods and delights, as well as unique architecture.
Tourism in Jakarta
Jakarta is the most important visitors hub of Indonesia. It is transit point of the country since all transportation systems lead from here. Jakarta International Airport (Soekarno-Hatta) serves a number of international and domestic flights.
There are so many things you can see in Jakarta, from colonial architecture, religious and cultural buildings to modern shopping malls, amusement parks, cafes, and restaurants.
Jakarta also offers a variety of festivals and events throughout the year. When in Jakarta you must visit National Monument, Istiqlal mosque, National Museum of Indonesia, Taman Mini Indonesia, Wayang Museum, Jakarta History Museum, and Jakarta Cathedral.
Make sure you also visit one of few city's parks such as Lembang Park and Suropati Park to enjoy long morning walks.
Best Places to Stay in Jakarta
Jakarta is the largest city in Indonesia and one of the biggest in Southeast Asia. Thus, you will need careful planning before your trip. Getting around can be tricky, so you need to choose an area of the city that fits your needs.
Below we have some of the best places to stay in Jakarta, including Kemang and the area near the Fatahillah Square. Those are probably the best areas stay in the Indonesian capital, but considering the city's size, it offers a lot of interesting areas with its own peculiarities.
Kemang
Kemang is a beautiful area in the city, very often recommended to tourists. It is a place where you can find a lot of trendy bars, small cafes, and bustling nightlife. This area has a good reputation also among expats living in Jakarta. You can also easily find western style restaurants here.
There are a lot of restaurants and shops in the main streets of Kemang which will definitely make your stay in Jakarrta more interesting. This area is also family friendly if you are traveling with your kids.
One of the things you may not like is that it is quite crowded area and congested with traffic. Also, if you prefer nightlife, there are few clubs in Kemang you should try.
Kemang is probably the best place to stay in Jakarta if you are coming for a short visit in the Indonesian capital.
Fatahillah Square
If you are a traveler who wants to experience a taste of colonial time, the area around the Fatahillah Square is the best place to stay in Jakarta. This is the home of numerous museums such as Jakarta History Museum, Museum of Fine Art and Ceramic, and Wayang Museum.
Also near this area, you can find the Ancol recreational park, Mangga Dua and Glodok (Chinatown). You can find a lot of small shops selling souvenirs. Also on the main square, you can rent beautifully decorated bikes and enjoy your ride. If you enjoy food and your trip takes you to the city in March, don't miss its food festival.
Budget Accommodation in Jakarta
The Packer Lodge – a great affordable option in the Kemang area, one of the best places to stay in Jakarta. It features capsules and also rooms, as well as a shared kitchen.
Bold Hotel Jakarta – a budget option in the Taman Sari area, ideal for its coziness, cleanliness and location.
Reasonably Priced Accommodation in Jakarta
Ibis Styles Jakarta Mangga Dua – a great hotel if you want to stay in one of the best areas for shopping in Jakarta.
YELLO Hotel Harmoni – certainly one of the most beautiful interior designs for an reasonably priced hotel in all of Indonesia.
Luxurious Hotels in Jakarta
Four Seasons Hotel Jakarta – a sumptuous hotel, part of the renowned Four Seasons Hotels and Resorts chain.
Grand Hyatt Jakarta – one of the most luxurious properties in Indonesia, right at the heart of the Indonesian capital.
Cost of Travel in Jakarta
Most travelers consider Indonesia as a quite cheap country to travel. The budget traveler can expect to spend around 30 euros for food, accommodation, and transportation. The prices of hotels vary so one can find hotels ranging from 15 to 350 euros per night.
Definitely, the location and the quality of service will dictate the price. Although there are not many hostels, backpackers and budget travelers can choose some very decent and affordable hotels.
The entrance fees for the majority of the city's attractions are not expensive. For instance fee for National Monument and Museum Nasional is less than 1 euro.

Transportation in the capital is also quite cheap and the taxi from the airport will cost you between 4-8 euros.
Also if you follow locals and eat what they eat you can really save some extra money. Jakarta is famous because of its street food, so you can find a variety of local food there.
Best Months to visit Indonesia
The climate in the capital of Indonesia is tropical, which means it has warm weather and quite constant temperatures all year around. The lowest temperatures through the day are around 25°C to 31°C. Although there are no typical seasons, you can think of rainy and dry season.
If you want to have a pleasant stay and enjoy outdoor activities try to avoid period from October to May. Although temperatures are always high, a large amount of rain during these months may affect your plans. January is the wettest month with an average rainfall of 400 mm.
According to tourists, the best months to visit are from June to September. Although temperatures are not much different between dry and wet season, unexpected rain will not spoil your plans.
Make sure you visit some of the numerous festivals such as Java Jazz Festival in March, Jakarta Food and Fashion Festival in May. Also, the International Kite Festival in July, Independence day in August, Jakarta Soulnation Festival in September, and Jakarta International Film Festival in December are worth visiting.
Other Resources for Travelling in Southeast Asia
If you are travelling around Southeast Asia you might want to check some of our other guides to the region. Check where to stay in Singapore and the best places to stay in Manila.