Where to stay in Naples? Check our the best places to stay in Naples, one of the most beautiful cities in Italy also known for its Italian name, Napoli
Traveling to Southern Italy? In this guide we will analyze the best areas to stay in Naples, and guide you through this Southern Italian city, famous for its chaotic charming streets and delicious cuisine.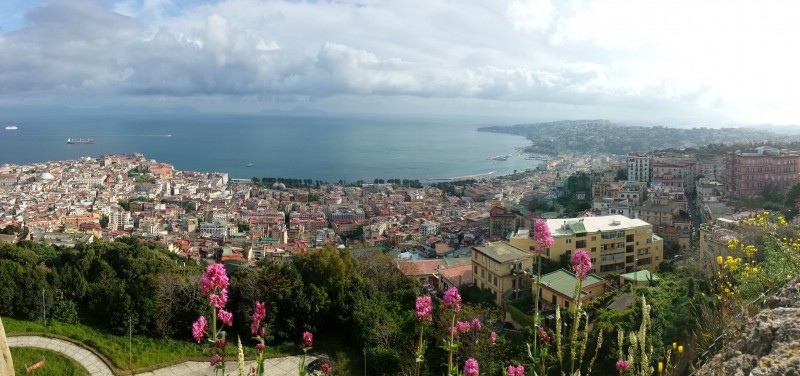 Castel Sant'Elmo, Napoli. Photo by Antonio Manfredonio
Naples, originally known as Napoli, is a city where you'll find a wide range of activities. Historical sites, beaches, amazing food, night clubs, museums, everything is available.
Naples is a city divided into 21 different zones and is located on thesouthwest coast of Italy. Unlike Northern Italian cities, Naples is a bit more chaotic and exuberant. People in here tend to be more cheerful and Napoli is definitely brighter and more colorful than other Italian cities.
The capital of the Campania region is one of the biggest and most diverse cities in Italy. If you're looking for the best Margherita pizza, Naples has it. If you're looking for beautiful views, Naples has it too. Historical sites? Plenty of them. If you want an ancient volcano, surprisingly, Naples has it. The best neighborhoods to stay in Naples will allow you to enjoy every bit of this amazing place.
If you are travelling by bus in Europe, book your tickets using Flixbus. If you are flying, compare and book tickets using Jetradar. For those using the train, buy train tickets on Trainline.
Tourism in Napoli: Overview
Naples is a great starting point if you want to explore more of Italy. From Naples, you can take direct trains to Rome, Pescara, and Bari, which are also beautiful destinations. You can get to those places in just 2 hours(with the fastest trains), so you can enjoy the day and return by night.
Naples is a very walkable city and the places of interest are relatively near to each other. Public transport, however, is the best option to get to them. Among the places you should visit, there are Cappella Sansevero, Capodimonte Museum, Castel Nuovo, Santa Chiara, Palazzo Reale, the Duomo, and some other churches and palaces.
Still, historic sites are not the only options in Naples, and you can also spend a day at beautiful beaches. Since Naples its a coastal city, you'll find lots of them to choose from. And if you want to check its surroundings, you can visit the Mount Vesuvius and Pompeii: Campania's most visited sites.
Best Places to Stay in Napoli
Naples is located in the Campagnia, a southern region in Italy. It is a very big city, one of the most populated ones in the country. This is a city with lots of economic activities and a great city for students. So, it is important for you to know where to stay so you can easily visit all the interesting sites without having to spend too much time moving to the center of the city.
Centro Storico
Centro Storico stands for historical center in Italian, and this is the mosty privileged area to stay in Naples. Maybe you spend a bit more in accommodation, but a lot less in transportation. Plus, it is a very beautiful area featuring a combination of Medieval and Renaissance styles.
Centro Storico has very good restaurants, boutiques, swimming pools, spas. It is a great place to stay if you're looking for comfort, since it has lots of amenities.
Posillipo and Chiaia
This is one of the most desired spots from Naples. Why? Simple answer: beaches. Posillipo and Chiaia are districts on the Mediterranean coast, and many hotels and houses enjoy a sea view; there are lots of options from where to choose.
In this area you'll find very fancy restaurants with excellent food, delicious ice cream and pizzas, and for shopping lovers: amazing retails; all the best stores are located in Chiaia. Also, it is a great place to get a real feel for the city, since local people usually spend their free time here with their family.
Budget Accommodation in Naples – €
Hostel of the Sun – a vibrant hostel close to the Port of Naples.
Viaggio a Napoli B&B – a bed and breakfast for those looking for a budget option to stay in Naples.
Reasonably Priced Accommodation in Naples – €€
B&B Napoli Pietrasanta – an exceptional Bed and Breakfast right at the heart of the Naples Historical Center.
Grand Tour B&B – a reasonably priced option in the Lungomare Caracciolo area, close to the Piazza Plebiscito.
Palazzo Alabardieri – a refined hotel in the Chiaia district, next to the Via Chiaia and relatively close to the beach.
Luxurious Hotels in Naples – €€€
Grand Hotel Vesuvio – one of the most traditional and prestigious hotels in the city, with a prime location overlooking the Gulf of Naples.
Hotel Romeo – a high class hotel in close to the ferry port, in one of the best locations to stay in Naples.
Cost of Travel in Napoli
While going more to the south, Italy gets cheaper (except, of course, for Rome: the capital). So, Napoli is a relatively cheap city, in comparison to other Italian cities like Rome, Florence or Venice.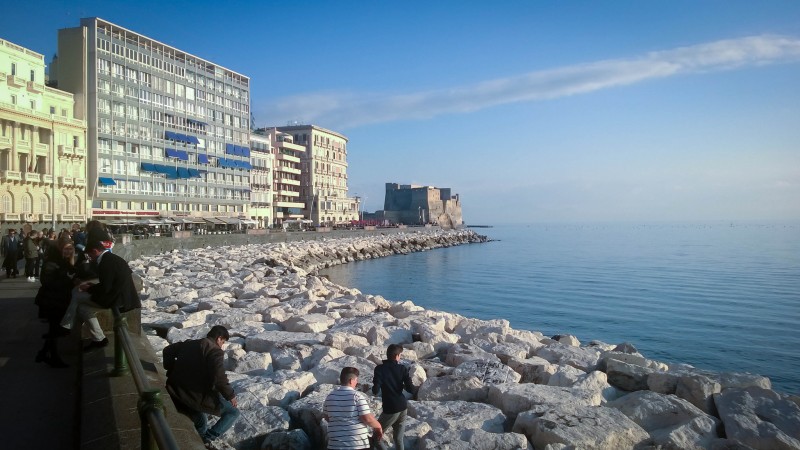 Depending on the area and the hotel, you can spend around $70 on a reasonably priced one (three to four stars). In food, you spend about €25-30 a day, including breakfast, lunch, and dinner. Of course, excluding any very high-end restaurant. As for transportation, a bus single ride costs €1.30 inside the city, and it can even take you to and from the airport. A budget of € 100 per day per person is pretty reasonable for Naples.
Best Months to Visit Napoli
Since Naples offers a great deal of beaches, then the best season to visit it is summer. However, it might get a bit too hot if you go in August. So, the best months are June and July (the first two weeks, afterwards the weather can be too hot). Anyways, if you want to spend the whole summer in the beach, then the hot weather will match your vacations.
In September, the weather is already too cold to go to the beach, but it can be a great time if you are not looking to spend your vacations in the beach. It is a great time for sightseeing, checking out the Vesuvius, and other Italian cities near to Naples. It just depends on your definition of the perfect vacation!
Other Resources to Travel in Italy
If you are traveling around Italy you might want to check some of our other guides to the country. Check where to stay in Bari and the best places to stay in Turin.