The best places to stay in Sarajevo are excellent ares to discover one of the most beautiful capitals in the Balkans
In this article we will analyze the best places to stay in Sarajevo, bringing an insight on cost of travel to optimize your stay in this unique European country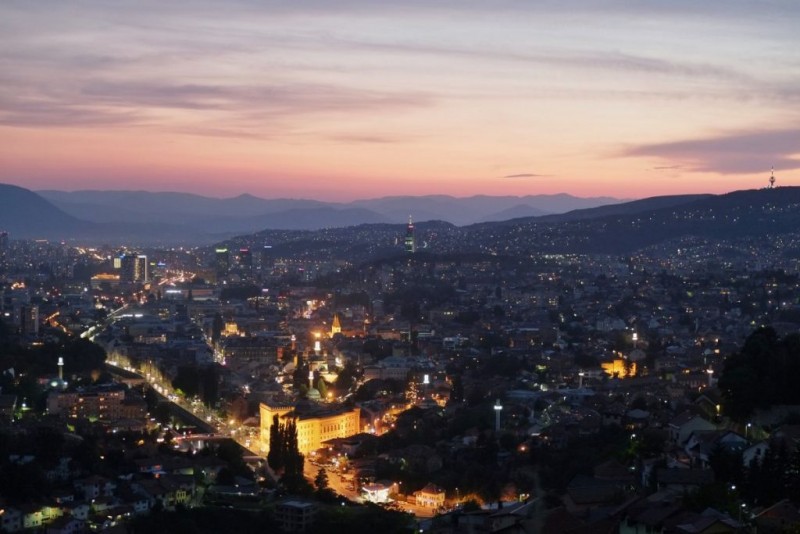 Sarajevo is the capital city of Bosnia and Herzegovina, a little heart-shaped country located in southeast Europe. It has rich complex multicultural history and is known as a place where the East meets the West. No wonder they call Sarajevo the European Jerusalem, since there are many churches, mosques, and synagogues within a small area.
Despite its trouble past, Sarajevo was resilient in reinventing itself. Today, the best areas to stay in Sarajevo are safe, and full of attractions for those visiting the capital of Bosnia.
If you are doing a Balkan rail tour, you should definitely check Sarajevo. I also recommend taking the train from Sarajevo to Mostar, as it has one of the most beautiful landscapes in all Europe.
Therefore, make sure you visit Baščaršija, The Bey's mosque, and cathedral as one of the famous landmarks. There is a popular belief that whoever drinks water from Baščaršija – the Old Town, returns one day.
Tourism in Sarajevo: Overview
The tourist increase started just a few years back. Until recently, the saddening 1990s war deprived Sarajevo of its deserved fame. Although Sarajevo became a favorite destination for many tourists all around the world, the lack of international flights is still a problem. However, many airline companies are introducing regular and charter flights which will probably resolve this problem in next few years. Nevertheless, you can still easily find many train and bus lines.
Despite its relatively central location in Europe, Sarajevo is still receiving a low number of international tourists. With the above mentioning improvements in terms of transport and safety, Sarajevo is bound to become a regional hub for tourism in the Balkan Region.
Best Places to Stay in Sarajevo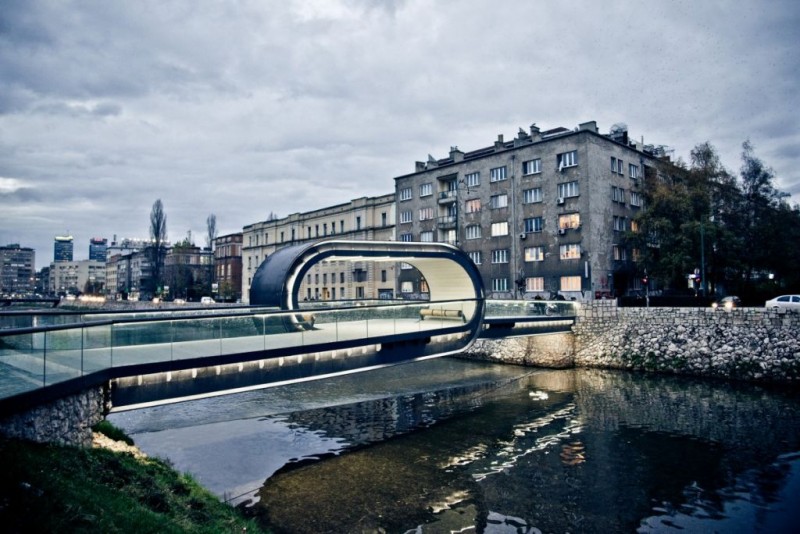 There are two areas which I consider the best places to stay in Sarajevo. One is the Old Town (Baščaršija) the most obvious if you are coming to Sarajevo as a tourist. The second best place to stay in Sarajevo is around the Avaz Twist Tower, which is good for business visitors and train travelers.
Let's learn more about this areas, and choose where to stay in Sarajevo below:
Sarajevo Old Town (Baščaršija)
If you are coming for a short stay in Sarajevo, the Old Town is probably the best choice. The Baščaršija area is pretty compact and easy to explore on foot. The traditional Bosnian cafes and the diversity of Sarajevo is represent on its each and every corner.
Avaz Twist Tower
The Avaz Twist Tower is the most iconic modern buiding in Sarajevo. Its building was completed in 2008, and represents a new era in Sarajevo, away from the trouble years of the recent past. The Avaz Twist Tower is in the Marijin Dvor a central district in Sarajevo, which great amenities for business visitors. The Avaz Twist Tower is also pretty close to the BBI Center, one of the biggest shopping malls in Sarajevo.
For those traveling by train, the area surrounding the Avaz Twist Tower can be a good option. The Avaz Tower has a restaurant overlooking the city, and its definitely worth a visit. You can also reach the Old Town by foot from this location.
Marijin Dvor
You don't have to necessarily stay near the Avaz Twist Tower. As mentioned above, the tower is located in the Marijin Dvor district. Ideally, you should look for accommodation closer to the east of the district. This area is the closest to the Old Town, and you will be able to visit most attractions in Sarajevo by foot in this area.
To sum up, the best places to stay in Sarajevo are mostly located between the Marijin Dvor district to Baščaršija.
Budget Accommodation in Sarajevo
Hostel Franz Ferdinand – named after the famous Archduke of Austria, this hostel offers a quality affordable stay in Sarajevo.
Hostel Lucky – one of the best hostels in Sarajevo, close to the Baščaršija area.
Reasonably Priced Accommodation in Sarajevo
Hotel Logavina 8 – a great small hotel close to the Baščaršija street and all the sights in the Sarajevo old town.
Hotel Latinski Most – as the hotel says, this is one of the best places to stay in Sarajevo if you want to be near the Latin Bridge. Includes free parking.
Luxurious Hotels in Zurich Sarajevo
Hotel President Sarajevo – one of the biggest high class hotels in the city, close to the Baščaršija area and all of its picturesque restaurants.
Boutique Hotel Central – one of the best options if you looking for a luxurious stay in Sarajevo, at a walking distance to the best restaurants in the city. This hotel is ideal for relaxing in its spa and pool.
Cost of Travel in Sarajevo
The cost of staying in Sarajevo is cheap compared to the majority of European cities. Probably, the cheapest, best accessible transportation options to use around Sarajevo are trams or buses. The average ticket price is around 1,60 KM one way.
It is important to notice that Sarajevo is a very hilly place, therefore it has a relatively limited public transport network. While trams are fast and reliable, there are very few lines and they ran mostly on flat areas. Buses, on the other hand, are everywhere, but a trip can take a lot of time due to narrow roads and hilly terrain.
Hence, if you are budget traveler you can expect to spend around 55 KM per day. This includes accommodation, food, and transportation. Also, accommodation prices range from 25 KM for budget travelers or more for those preferring more enjoyable stay.
Food in Sarajevo is pretty cheap, and good if you enjoy meat dishes. I recommend trying Pleskavica in the Old Town, one of the most famous treats is the Ćevapi, and both are heavily meat based dishes.
Accommodation in Sarajevo is also affordable, and you will be able to find hostels, hotels and Bed and Breakfasts for every budget.
Best months to visit Sarajevo
The climate in Sarajevo has four very defined seasons. You can experience from heavy snow to soaring heat in Sarajevo, so it also depends on your type of travel. If you are into skiing, you can enjoy cheap ski slopes near Sarajevo, which hosted the Winter Olympic Games of 1984.
The winter in Sarajevo can be quite cold, with often snow showers. The months of January and February are the coldest. However, the spring is one of the best months to visit Sarajevo, as the temperature is mild and pleasant.
Nonetheless, August is perfect for visiting if you prefer bustling streets and active nightlife. Finally, if you are a fan of movies make sure to visit Sarajevo mid-August when Sarajevo Film Festival is taking place.
Other Resources for Traveling in the Balkans
If you are traveling to the Balkans you might want to check some of our other guides to the region. Check where to stay in Zagreb and the best places to stay in Belgrade. You can also check the cost of living in Sarajevo, as well as where to stay in Skopje.
For those visiting Sarajevo soon, leave your thoughts and questions in the comment box below.