How to move to Bosnia and Herzegovina? In this post we will discuss how you can immigrate to Bosnia and obtain a residence permit for the purpose of work, study, business and or investment
Are you considering moving to Bosnia and Herzegovina? In this post we will discuss the options to get a residence permit in the country. We will also list the advantages and disadvantages about living in Bosnia and Herzegovina.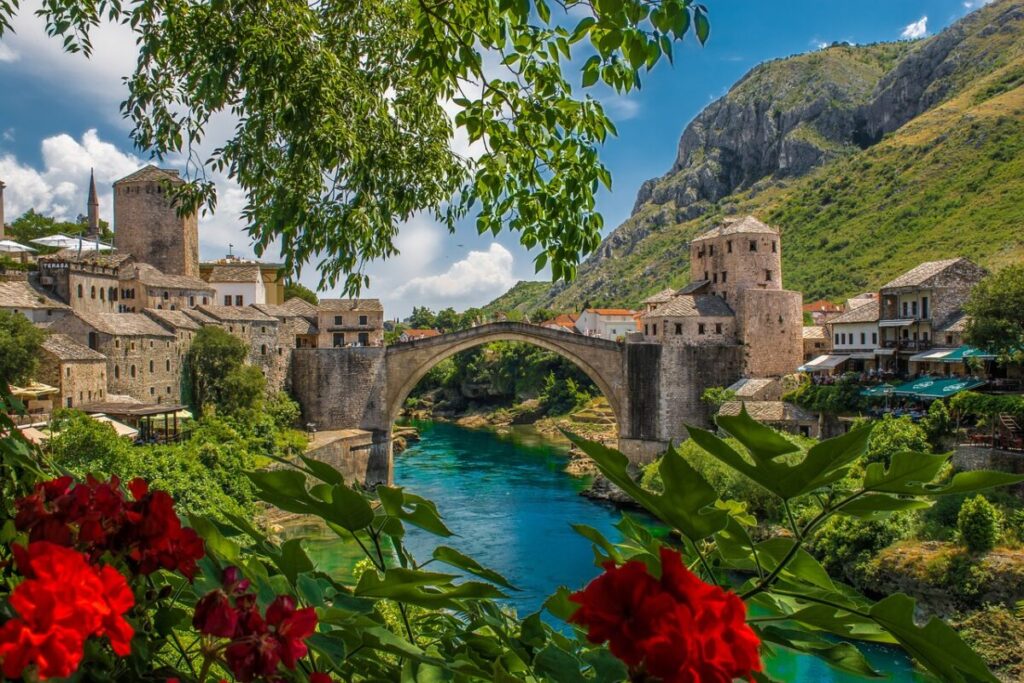 Bosnia is a country in Southeastern Europe, and was part of the Former Yugoslavia. After the fall of Yugoslavia, Bosnia got independent in the 1990's. Today Bosnia is a stable and safe country, and probably one of the most underrated places to visit and live in Europe.
Let's discuss how to get a residence permit in Bosnia and Herzegovina.
Bosnia and Herzegovina Residence Permit
Bosnia and Herzegovina is not an European Union member, therefore, EU and non-EU citizens are broadly subject to the same residency laws in the country. The only main difference is between citizens which require a visa to enter Bosnia and Herzegovina and the ones who don't.
Most citizens of Western countries do not need a visa to enter Bosnia and Herzegovina. The list includes EU and US Citizens, British as well as Canadian citizens. Citizens of some other countries can enter Bosnia without a visa, such as nationals of Russia, China and Turkey.
Those who can enter Bosnia without the need for a visa can apply for a residence permit, directly in the country.
There are many types of residence permits in Bosnia. The most common ones are for family members of Bosnians citizens, or are coming to study or work in the country.
However, there are many more interesting possibilities to acquire a residence permit in Bosnia. You can acquire one by owning a company (even as a self-employed person), or buying real estate in the country. These are the permits we will discuss in this post.
You can read about all types of permits on the Bosnian Service for Foreigner's Affairs website.
Bosnia and Herzegovina Residence Permit for Business Purposes
If you want to start a business in Bosnia, you cannot easily get a residence permit as a business owner in the country. In many cases you will need to hire 5 Bosnian nationals to be able to qualify for a residence permit in this category.
In other words, if you are a digital nomad or a remote worker, and want to make of Bosnia your base, you may need to buy real estate for example, if you don't want to hire 5 locals. If you want to build a business with a higher overhead or more numerous staff like a restaurant or a hotel, you would also fall in this category.
Another advantage of running a business in Bosnia is its friendly tax system. Bosnia and Herzegovina currently has a flat tax rate of 10% for income earned in Bosnia or abroad.
Bosnia and Herzegovina Residence Permit for Real Estate Investors
If you don't want to run a business you can explore the option of getting a residence permit in Bosnia by buying property. If you buy an apartment or house in Bosnia, regardless of its price, you will be eligible for a residence permit in the country.
This is a great option if you want to retire in the country. You can buy a property, not necessarily but potentially live in it, and get a permit to live in the country at a minimum cost.
If you stay in the country for more than 183 days per year, you will be a tax resident in Bosnia, and enjoy the 10% flat tax rate on your global income.
Permanent Residency and Citizenship in Bosnia and Herzegovina
If you have lived for a number of years in Bosnia and Herzegovina, you might become eligible to apply for permanent residency and citizenship.
To acquire permanent residence in Bosnia you need to live 5 consecutive years in the country, and among other requirements, know the local language. Getting Bosnian citizenship through naturalization is far more complicated, requiring the applicant to have lived in the country for at least 8 years as a permanent resident, know the language and renounce other citizenships you have.
Advantages of Living in Bosnia and Herzegovina
Firstly, let's cover the advantages of living in Bosnia and Herzegovina
Beautiful Nature and Pleasant Weather
Bosnia is definitely one of the most underrated destinations in Europe, and the first advantage we can point out about it is a big one, regardless if you are just a tourist or if you are moving to the country for a longer time.
The country has some of the most beautiful mountains and valleys in all of Europe. It also has a tiny coast on the Adriatic sea, which is remarkably beautiful.
Bosnia has many national parks and if you want to enjoy the outdoors, this is definitely the place for you.
All this amazing nature can be enjoyed year round. Bosnia has four very defined seasons, but temperatures are rarely extreme. The Western part of the country has a Mediterranean climate, while towards North and East, the climate is more continental. Winter is also pleasant in Bosnia, with frequent snowfalls on the mountains, but less frequent in cities.
Low Cost of Living and Taxes
Another significant advantage of Bosnia is its relatively low cost of living, and low taxes. In most cities in Bosnia, including its capital, you can live comfortably without spending much.
While groceries cost roughly the same as in other Central European countries, services are usually cheaper. The same applies for real estate, which has quite attractive prices in most parts of Bosnia. This applies to both buying as well as renting real estate.
Taxes are another huge advantage in Bosnia and Herzegovina. A 10% flat tax rate is definitely very appealing
Easy Visa and Residence Permit Policies
The last advantage, as already mentioned above, are Bosnia's easy visa and residence permit requirements. The advantages in this sense are numerous.
The fact that can you apply for a residence permit from inside the country if you are coming from a visa-free country is already a good start. Then, being able to apply as a company owner, or owning real estate in the country definitely make of Bosnia an appealing place for entrepreneurs, freelancers, remote workers and retirees.
Disadvantages of Living in Bosnia and Herzegovina
Let's check some of the disadvantages about living in Bosnia and Herzegovina
Not Part of the EU, EEA
One of the main disadvantages of Bosnia is that it is currently not part of the European Union, or the European Economic Area. While the European Union itself has its disadvantages, for smaller countries like Bosnia, it is usually better to be in it than out of it.
The European Union is a huge economic bloc. If you have a company in an EU country it means that you have access to a huge market with economic powerhouses such as Germany, France and the Netherlands.
Bosnia on the other hand is not part of it, and it is unlikely to join it anytime soon. While Bosnia and Herzegovina currently have the "potential candidate to the EU" official status, there are strong reasons to believe it is not going to happen anytime soon.
The main reason for that, is that Bosnia is still greatly divided politically. The future outlook seems positive and Bosnia is making progress, but it is unlikely that this will happen in the next 10 years.
Unappealing Job Market
While Bosnia has a number of opportunities for specific types of individuals, it does not have a thriving job market for European standards. Average wages in Bosnia are not impressive, but they are in line with many countries in the region, such as Serbia, Romania and Bulgaria. Bosnian salaries are significantly higher than in a few other countries a bit further away from its immediate neighbors, such as Turkey or Ukraine.
The main concern about the Bosnian job market is unemployment. Despite its recent economic progresses, the country has been unable to bring its unemployment rate down to more dynamic levels. Currently the unemployment rate in Bosnia hovers around 20%.
So, even if salaries are not necessarily low for its cost of living, finding a job in Bosnia is a difficult task, even for its citizens.
Poor Transport Infrastructure
The last disadvantage I would like to point out about Bosnia is its poor transport infrastructure. Bosnia has been really unlucky for a number of reasons, which made the country to have some of the worst transport infrastructure systems in Europe.
Among the reasons affecting transportation in the country are: its mountainous landscape, the political situation of the country, and an inconsistent demand.
Bosnia does have a railway network. However, most routes do not have a good number of frequencies, and in many cases trains are slow. Bus transport is quite popular in Bosnia, but they are usually quite slow considering the often winding roads of Bosnia and Herzegovina.
The capital Sarajevo has a good number of flights to most European capitals. Low cost airlines have improved the number of flights to the country, even flying to other cities such as Banja Luka and Tuzla.
Other Resources to Travel and Live in Bosnia and Herzegovina
If you are considering visiting or living in Bosnia you might want to check some of our other guides to the region. Check where to stay in Sarajevo and the best places to stay in Mostar. You can also check the cost of living in Sarajevo.