Traveling by train from Bratislava to Budapest? This post will analyze the route featuring prices and train stations overview in both cities
Are you traveling in Central Europe using railways? Check our guide on how to travel fro Bratislava to Budapest by train.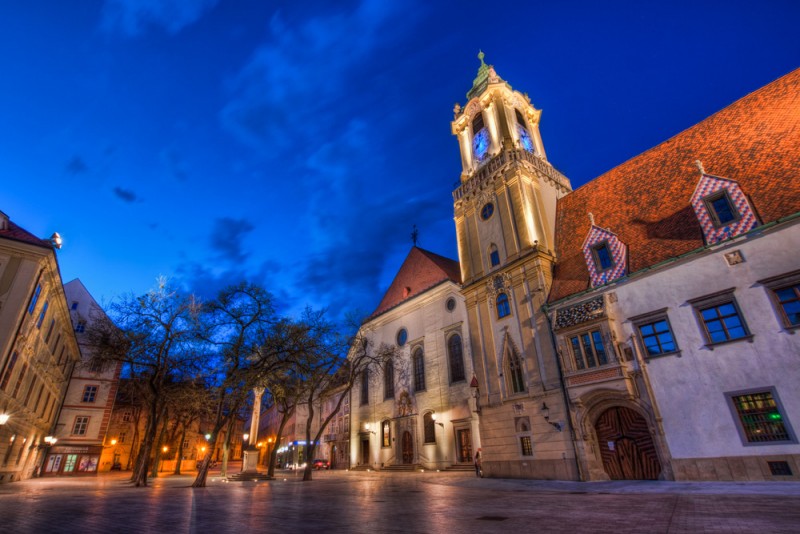 Bratisava Old Town. Photo by Miroslav Petrasko
If you are planning to travel by train from Bratislava to Budapest, this post gathers information to assure a comfortable trip. It feature ticket prices, train frequencies and travel duration in the main route connecting Slovakia to Hungary.
Being the main route connecting Slovakia to Hungary, the Bratislava to Budapest runs multiple times a day. Trains used on this route are from MÁV (Hungarian Railways), České dráhy (Czech Railways) and ŽSR (Slovakia).
Jump to Section:
Bratislava to Budapest by Train: Overview
Train Stations in Bratislava
Train Stations in Budapest
Traveling time from Bratislava to Budapest
Buy Tickets / Prices from Bratislava to Budapest
Train Travel Resources

How to Travel by Train from Bratislava to Budapest: Overview

The train ride from Bratislava to Budapest is short and quite affordable. There are many trains departing daily, from early in the morning until the end of the day. Most of these trains operating on this route are EuroCity trains.
Bratislava (City Center) to Budapest
The Bratislava Main Railway Station (hlavná stanica) is located around 1.5 kilometers north of the city center and its old town. There are a good amount of bus lines connecting the city center to the Bratislava Main Station.
Most of the trains operating on the Bratislava to Budapest route start their journey in the Czech Republic. Bratislava's geographic location is very convenient, as all trains from Czech Rep. to Hungary pass by Slovakia.
The routes and timetables may change, depending on a number of factors, but you can check them at the Bahn website.
Bratislava Airport to Budapest
If you are arriving at the Bratislava Airport and want to reach Budapest by train, the fastest option involves one connection. You will start your journey taking a bus (or taxi) from the Airport to the Bratislava Main Station. This trip is rather short and its distance is of roughly 8 kilometers. The bus number is 61.
Once at the Bratislava Railway Station (hlavna stanica), you will take a direct train to Budapest Keleti (Budapest East Station).

Train Stations in Bratislava

The train station in Slovakia's capital that is the main point for international railway traffic is the Bratislava main station (hlavná stanica). It is still in the city center, but around a 15 minute walk from the old town. There are many buses departing to the old town, as well as taxis.
From the Bratislava main station you can get trains to a number of countries and also to most of the cities in Slovakia. Check our article about trains from Bratislava for more info.
Train Stations in Budapest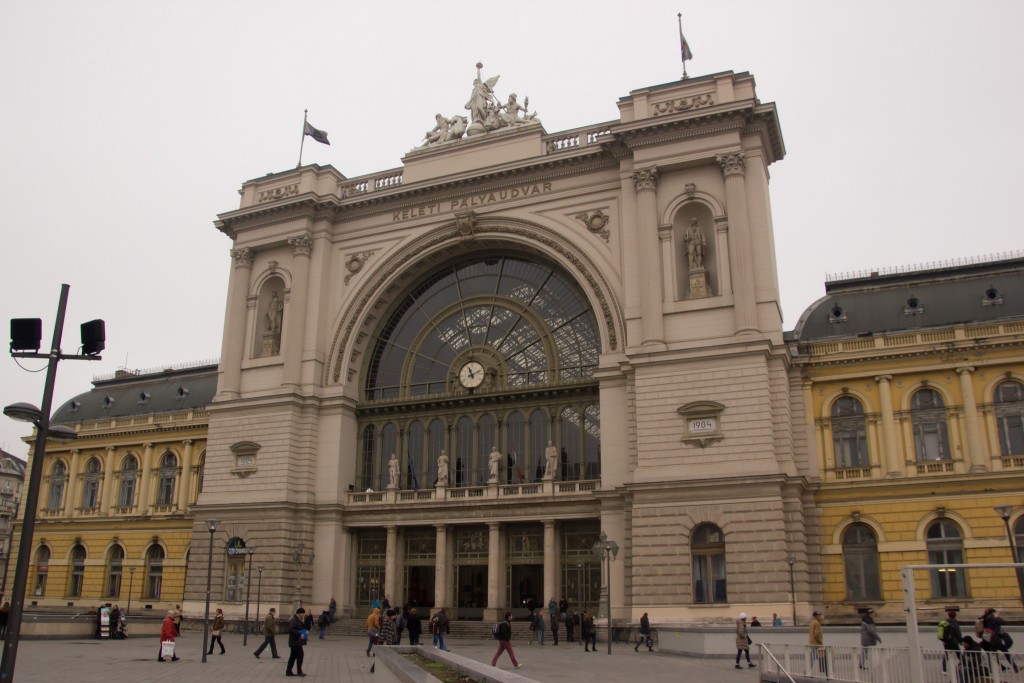 There are four stations in Budapest with relevant traffic of passengers. They are Budapest Keleti (East Station), Nyugati (Western Station) and Budapest Déli (South Station).
However, if you are taking a direct route from Slovakia and some other countries (Austria, Germany) to Budapest, the Keleti is the only station that the train will stop.
The Budapest Keleti Station is located in the central part of Pest, has many restaurants and has many restaurants and fast foods around it. The station also has lockers and a pretty good infrastructure.
The Keleti station is very well connected by public transport, with easy access to the underground transport, buses and taxis.
The district where the Keleti station is located is also a good place to stay in Budapest, especially along the Rákóczi street, towards the Blaha Lujza square.
If you are staying in the Budapest Keleti area, you can click here to check accommodations near this station on Booking.com

Traveling Time by Train from Bratislava to Budapest

The traveling time from Bratislava Main Station (hlavná stanica) to Budapest Keleti using EuroCity direct trains is of roughly 2 hours and 45 minutes. The trip is usually uncomplicated and without any border checks, as both Slovakia and Hungary are in the EU.

How to Buy a Train Ticket from Bratislava to Budapest

There are a few options to buy train tickets from Bratislava to Budapest online.
You can buy tickets on this route from the Slovak Rail website.
If you want, you can also buy your tickets at any Austrian railway station, even minutes before departing, as long as there are available seats.
Hotels in Budapest
Ibis Budapest City – a great reasonably priced option to stay in a very central location in Budapest.
Boscolo Budapest, Autograph Collection – the Boscolo Budapest is not only one of the most iconic in Hungary, but in all of Central Europe.
Hotels in Bratislava
Botel Dunajský Pivovar – enjoy the unique experience of staying in a botel on the Danube with a beautiful interior design.
Penzión Donet – a great reasonably priced option to stay in the Slovak capital, quite close to the train station.
Train Travel Resources

Booking.com: the most complete website for finding hotels and accommodation anywhere.
World Nomads: if you are travelling abroad, you can get insurance from World Nomads. With a vast coverage in number of countries and activities, World Nomads is a great option for any kind of traveler.
CheapOair: this is one of my favorite websites for buying airline tickets for flights for any destination in the world. One of the best advantages of CheapOair is that they accept not only the usual credit card payments but also PayPal.
Train Travel Guide: in our railway travel guide, you will learn how to choose and ride the most scenic train routes around the world, always in the most comfortable way with optimal prices to enhance your travel experience.
Jetradar: compare and find the cheapest air fares worldwide.