How to travel from Bratislava to Prague? This post provides information on the journey by bus, train or plane featuring stations, prices on this route
If you are planning to travel from Bratislava to Prague or vice-versa, this guide is for you. Learn more about how to travel between these two Central European capitals, including how to buy tickets for the journey.
Bratislava and Prague used to be part of the same country (Czechoslovakia). The two cities still share strong economic, cultural and social bonds, therefore the route is quite busy and has a number of daily frequencies connecting the city.
How to Travel by from Bratislava to Prague: Overview
If you are traveling around Central Europe, there are good chances you will visit Bratislava and Prague. While Prague is one of the most visited cities in Europe, Bratislava is also a thriving European capital with a quaint old town.
Traveling between these two cities is quite simple. You have plenty of options and you do not need to plan ahead much before traveling. There are daily options from Bratislava to Prague and vice versa available by train, bus and also direct flights.
How Far is the Distance Between the Cities?
Bratislava and Prague have a distance of approximately 330 km, considering departure and arrival from the center in both cities.
Bratislava to Prague by Bus
Taking the bus from Bratislava to Prague is one of the best options to cover this route. For one reason there are a few companies operating in the route. The other advantage is that there are many different daily schedules with the bus, this way you can optimize your travel plans in the region.
The bus journey from Prague to Bratislava takes usually from 4 to 4.30 hours, depending on the traffic. Some of the buses in this route are direct, but some of them do a short stop in Brno.
Most of the buses depart from the Bratislava Central Bus Station (Autobusová stanica nivy) and arrive at the Prague Florenc Bus Station.
How to Buy Bus Tickets from Bratislava to Prague?
Buying online is the best option to travel by bus from Bratislava to Prague. You can compare and buy bus tickets on this route on infobus.eu and Trainline.
Another option is to buy tickets from Flixbus, which also offer some direct and some buses with connections on this route.
Bratislava to Prague Flights
Another option to travel between the two cities is flying. Flying from Bratislava to Prague is certainly the fastest option, as the flight time is of about 1 hour.
However, you should bear in mind the time required to getting to the airport in Bratislava and leaving the airport in Prague. While the Bratislava Airport is relatively closer to the center, the airport in Prague is quite far from the city center (17 km).
As of 2018, Czech Airlines and Smartwings operate daily scheduled flights between Bratislava and Prague. You can compare prices and book flights using Jetradar.
Bratislava to Czech Republic by Train
The train ride from Bratislava to Prague is relatively short and available at attractive prices. There are many trains departing daily, from early in the morning until the end of the day. Most of these trains operating on this route are EuroCity trains.
Bratislava (City Center) to Prague
The Bratislava Main Railway Station (hlavná stanica) is located around 1.5 kilometers north of the city center and its old town. There are a good amount of bus lines connecting the city center to the Bratislava Main Station.
Most of the trains operating on this route route start their journey in Hungary. Bratislava's is located between Hungary and the Czech Republic, therefore most trains from Hungary to Czech Republic travel through the Slovakian territory.
The routes and timetables may change, depending on a number of factors. If you want to buy train tickets for this route, check Trainline or Rail Europe.
Bratislava (Airport) to Prague
If you are arriving at the Bratislava Airport and want to reach Prague by train, the fastest option involves only one connection. You will start your journey taking a bus (or taxi) from the Airport to the Bratislava Main Station. This trip is rather short and its distance is of roughly 8 kilometers. The bus number is 61.
Once at the Bratislava Railway Station (hlavna stanica), you will take a direct train to Prague Main Station.
Bratislava to Prague Airport
If you are traveling from the capital of Slovakia to the Prague Airport and by train, the fastest option involves only one connection. After taking a direct EuroCity train from Bratislava to the Czech capital, there is a direct bus to the airport. The bus to the airport departs from the upper floor of the Prague Main Station and takes roughly 30 minutes to arrive at the airport. The name of the bus line is AE (Airport Express) and the single ride price is of 60 CZK.
There are also other options that may be cheaper. You can take the metro at the Prague Main Station to stops closer to the Airport followed by a bus. If you prefer this connection the best option is to take the Metro line Zličín and from there the bus 100.
Train Stations in Bratislava
The train station in Slovakia's capital that is the main point for international railway traffic is the Bratislava main station (hlavná stanica). It is still in the city center, but located a 15 minute walk away from the old town. There are many buses departing to the old town, as well as taxis.
From the Bratislava main station you can get trains to a number of countries and also to most of the cities in Slovakia. Check our article about trains from Bratislava for more info.
Train Stations in Prague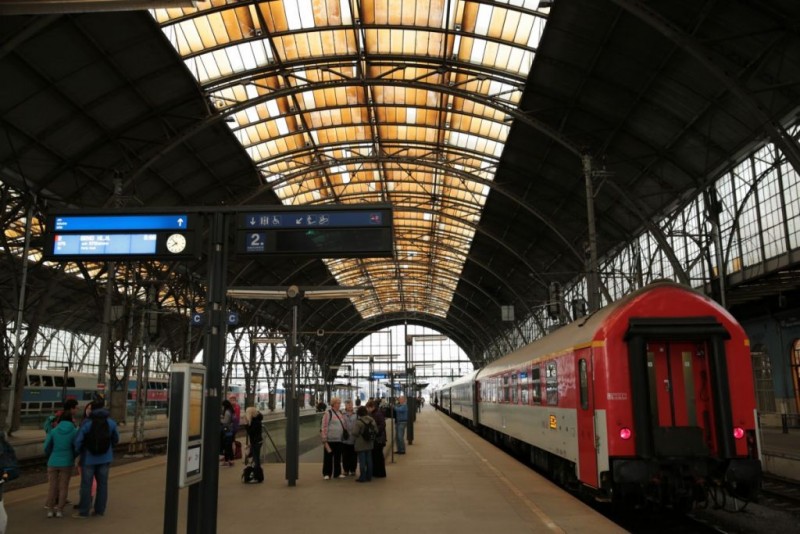 There a few different stations in Prague, with less or more relevance depending on the route. However the Prague Main Railway Station (Praha hlavní nádraží) is the one that manages most international routes departing and arriving the Czech Republic.
If you are travelling between the capitals, some trains may continue after the journey after the Prague Main Station. Those usually stop at the Prague Holesovice (Praha-Holešovice) station. This station is located in the Northern part of Prague, and it may come handy to use this station, depending on your accommodation arrangements.
Click here to check accommodations near the Prague Main Station on Booking.com.
The Prague Main Station is also relatively close to the Prague Florenc Bus Station. There are many domestic and international buses departing from Florenc, and the station has a high traffic of passengers.
Traveling Time by Train from Bratislava to Prague
The traveling time between Bratislava (Main Station) and Prague (Main Station) is of 4 hours. This applies to direct EuroCity direct trains. The trip is usually uncomplicated and without border checks, as both Slovakia and Czech Rep. are in the EU.
How to Buy a Train Ticket from Slovakia to Czechia
There are a few options to buy train tickets from Slovakia to Czech Republic online. One of the best options is the Czech Railway website, which is pretty informative and effective. Another option is the Slovak Railway website, which has improved a lot recently.
If you want, you can also buy your tickets at any train station in Slovakia, even minutes before departing, as long as there are available seats.
Other Travel Resources
If you are traveling from Bratislava to Prague you may want to check some of our other guides to the Czech Republic and Slovakia. Check where to stay in Prague and the best places to stay in Bratislava. Check also how to get from Prague to Karlovy Vary and how to get from Bratislava to Budapest.
Booking.com: the most complete website for finding hotels and accommodation anywhere.
World Nomads: if you are travelling abroad, you can get insurance from World Nomads. With a vast coverage in number of countries and activities, World Nomads is a great option for any kind of traveler.
Train Travel Guide: in our railway travel guide, you will learn how to choose and ride the most scenic train routes around the world. We offer thorough information to travel in the most comfortable way with optimal prices to enhance your travel experience.