Cost of living in Amsterdam, Netherlands: let's analyze costs of food, real estate, entertainment, and transport in the capital of the Netherlands.
Are you considering moving to Amsterdam for your career or to start a business? Check below the data for the cost of living in Amsterdam, Netherlands, which is major European city hub for commercial, financial, and cultural centers.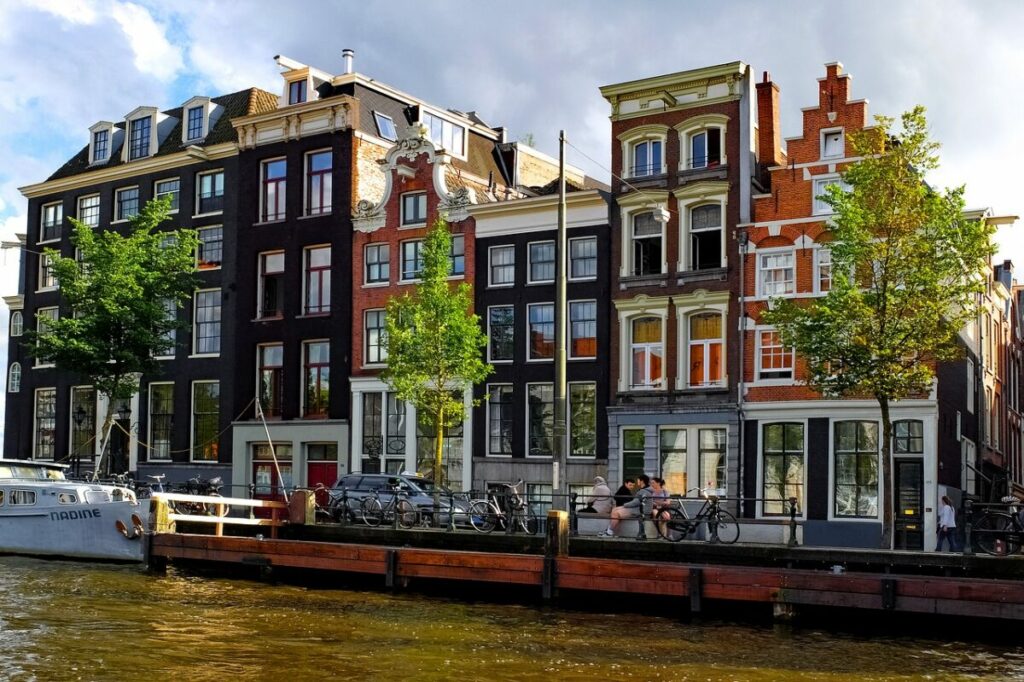 Amsterdam Overview
Amsterdam is the capital of the Netherlands and the most populous city municipality there. The city is surrounded by water in the form of its infamous canals. It is a densely populated area that is constantly growing and expanding.
Amsterdam is a well-known city and destination for many tourists. The city is famously called "Venice of the North" because of its numerous canals. The capital city is also famous for its artistic heritage, narrow houses, bicycles, and famous art museums. Amsterdam has a thriving city life and it is in close proximity to the government capital of The Hague.
Amsterdam is consistently a popular city for people looking to make a move because it is energetic, unique, and beautiful. The city's water filled canals and pristine houses offer a thriving work, home, and party lifestyle. Amsterdam is a cultural hub and has representation from a variety of countries.
Historically, started from bridges built after floods in the years between 1170 and 1173. Bridges and a dam were built, which gave the city its original name: Aemstelredamme. From its origin, the city has expanded to become a popular hub for expats and tourists. Many are attracted to the architecture and the art. There are famous art pieces by Rembrandt, Vermeer, and an entire Van Gogh Museum.
Cost of Living in Amsterdam, Netherlands
Amsterdam is a city full of buzzing businesses and it is a central hub for many large national and international companies, as well as locally owned shops. Dutch is the official language spoken throughout the city, but because of its important roles in both business and culture, there are many other languages spoken as well.
Amsterdam is a moderately expensive city to live in. The cost of living is high, but not as high as other European cities like London. The real estate market is very expensive. The average home in Amsterdam has 74 square meters or 796.54 square feet of usable living space. It can cost anywhere from $6,600 to $12,000 USD per square meter. That means a small space of living could cost you about $880,000 USD.
The rental market in Amsterdam is more affordable, but still pricey. To live in the city center in a 1 bedroom apartment the average cost is about $1,490 USD. If you choose to live outside the city center, you should be able to find a 1 bedroom apartment for $1,150 USD or less. If you choose to share accommodation by renting a room, you should expect to pay about $570-$912 USD per month. Most rental prices do include utilities.
The currency in the Netherlands is the euro. The conversion rate to the EUR is 1 dollar to 0.96 EUR as of May 17, 2022.
If you want to suggest your own values based on your experiences in this city, click on edit and insert the values. Upon moderation they will be calculated to make part of the average prices displayed below.
| Food | Price [EDIT] |
| --- | --- |
| 1 liter of milk | 1.30 USD |
| 1 loaf of bread | 1.75 USD |
| 1 kg of tomatoes | 2.55 USD |
| 1 kg of chicken | 8.50 USD |
| 1 single meal cheap restaurant | 20.00 USD |
| 1 single meal high-end restaurant | 45.00 USD |
| 1 cappuccino or latte | 3.40 USD |
| 1 big pizza delivery | 18.00 USD |
| Real Estate | Price [EDIT] |
| 1 bedroom flat (40 m2) rent per month | 1,900.00 USD |
| 1 bedroom flat (40 m2) utilities per month | 120.00 USD |
| 2 bedroom flat (80 m2) rent per month | 2,600.00 USD |
| 2 bedroom flat (80 m2) utilities per month | 195.00 USD |
| Price per square meter (city center) | 8,500.00 USD |
| Transport | Price [EDIT] |
| 1 single ride public transport | 3.60 USD |
| Monthly public transport ticket | 110.00 USD |
| 1 km taxi or similar transport app | 3.00 USD |
| 1 liter of gasoline (1/4 gallon) | 1.90 USD |
| Toyota Corolla (new) basic version | 26,694.00 USD |
| Salaries | Price [EDIT] |
| Minimum Salary | 1,750.00 USD |
| Average Salary (net) | 2,900.00 USD |
| Extras | Price [EDIT] |
| 1 ticket to the movies (adult price) | 15.00 USD |
| High speed internet per month | 55.00 USD |
| 1 month gym subscription | 51.00 USD |
Cost of Living for Students in Amsterdam, Netherlands
Amsterdam is a great city for students because it offers excellent universities in a bustling and energetic city landscape. The level of education has a large selection of universities with high levels of education that are both public and private. Some options for student housing are located on the university campus and others are off campus apartments or houses.
The cost of living is moderately expensive, but the availability of jobs will help keep the cost down. As well, many universities will offer scholarship programs, which can greatly assist in reducing the cost of tuition. When compared to the United States, tuition in Amsterdam is much more affordable costing an average of about $2,350 USD per year as of 2018.
The Universities main language is Dutch, but many will have courses that are available in other languages. Most of the higher education institutions will ask for your language proficiency in Dutch and may ask you to provide proof or complete a test.
Here are some main higher education institutions in Amsterdam:
Amsterdam University of Applied Sciences
Getting a Job in Amsterdam
Amsterdam has an array of different job opportunities available as many large businesses and corporations have chosen the city to place their offices. As well, the tourism industry is alive and thriving with an average amount of 5.7 million international tourists per year.
There are countless job opportunities for everyone, but keep in mind that the competition is tough. You will want to display an excellent resume that displays your experience to make for an eye-catching application. Despite the cost of living in Amsterdam being moderately high, the salaries are equally generous.
The main language used is Dutch, which will be essential to living and working in the city. However, due to the array of jobs and careers, there are many opportunities where speaking a foreign language can give you an edge on your application. There are also many jobs for English speakers. most of them are on IT and white collar jobs for multinational corporations.
If you a citizen of the Netherlands, you can start applying for jobs in Amsterdam immediately without having to wait for papers and visas. However, because the Netherlands is part of the European Union, for many European citizens, seeking a job is easy.
Countries that are part of the European Union often allow people from other fellow member countries to seek jobs and lives without visas or paperwork. This means that someone from London could potentially seek a job in Amsterdam, without having to apply for a work or residence visa. If you are moving from countries outside of the European Union, remember that there is a lengthy process to obtain a work or residence visa in the Netherlands.
Here are some websites for job hunting in the Netherlands:
Quality of Life in Amsterdam
It is safe to say that the quality of life in Amsterdam is high. The city is full of its canals, bridges, and bicycles. There are many different art museums, which house famous pieces by world and history famous painters. The nightlife is absolutely thriving, and you'll always find people on the streets. Amsterdam delivers top notch entertainment.
Amsterdam is a safe city and the police work hard to ensure that all people stay safe. However, there is petty crime like many cities around the world. It is best to keep an eye on your belongings and be aware of your surroundings. Like many cities, there are also unsafe spots. Amsterdam's Red Light district many be world famous, but it also is notorious for trouble. Its best to avoid that area.
The climate in Amsterdam varies by season, but because it is located more in the North, it is often colder. In summer, the temperatures can get warmer, reaching about 70 degrees Fahrenheit. The winters can be harsh with temperatures hovering at about 32 degrees Fahrenheit. It is best to plan ahead and have a four-season wardrobe ready for this city.
If you are visiting The Netherlands and neighboring countries you may also want to check some of our other Europe guides. Check the where to stay in Amsterdam and our article on the best places to stay in Antwerp. You can also check the our article on the average and minimum salary in Luxembourg.
Other Resources for Expats and Travelers
Salaries Worldwide: check our articles on wages worldwide and understand better the economics of the countries you may be considering to move or invest.
Retire Abroad: check our retirement guides and maximize your retirement income and quality of life.
Jetradar: compare and find the cheapest air fares worldwide.