Cost of living in Bangkok: let's analyze costs of food, real estate, entertainment, and transport in Bangkok, the capital and largest city of Thailand.
Are you considering moving to Bangkok for your career or to start a business? Check below the data for the cost of living in Bangkok, Thailand, a South Asian city known for its ancient shrines and beautiful landscape.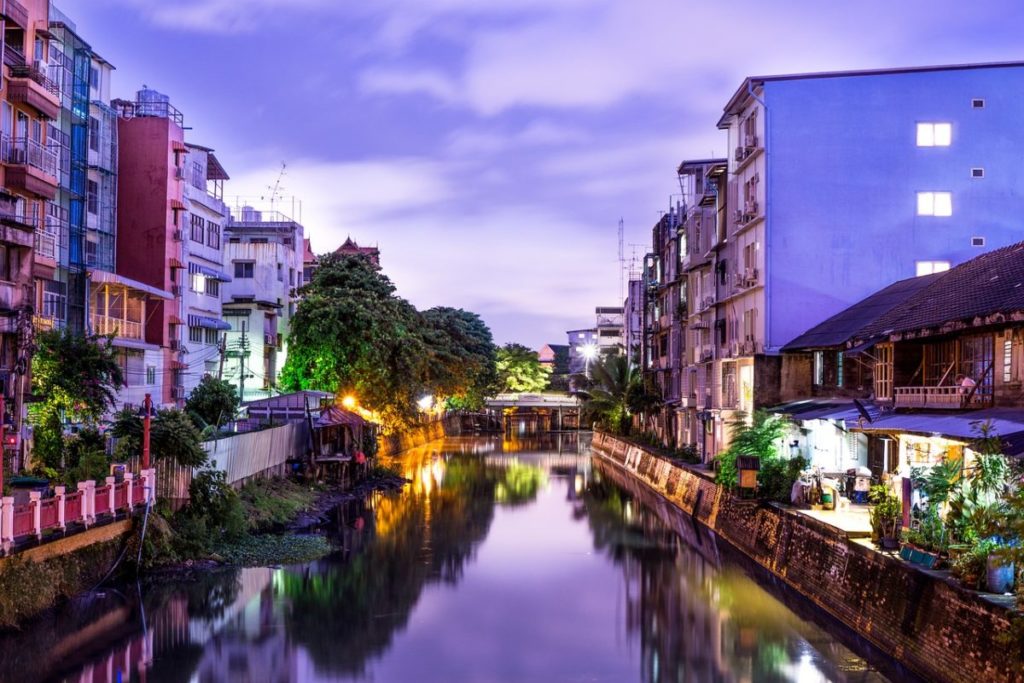 Cost of Living in Bangkok, Thailand
Bangkok is the capital of Thailand that features coast along the Chao Phraya River and the Gulf of Thailand. It is a densely populated city that is known for its ancient shrines and temples. Bangkok is known for its connections with Thailand's royalty, religion, business and tourism. It is deeply ingrained in art, history, and culture. It is famous for landmarks like the Grand Palace and the Wat Phra Kaew Temple.
The capital of Thailand is also a relatively affordable city, if you choose to make it one. Bangkok is a city where renting, food, and utilities are affordable for most people. The ways Bangkok can be expensive are the choice in how luxurious a lifestyle you want to live. Real estate can also be very expensive because Bangkok is so popular with tourists. That means that prime land will have been turned into houses and apartments that can be rented out or made into a hotel.
Bangkok is famous for its connections to luxury through business and real estate, as well as having a booming tourism industry. Many businesses have chosen to locate offices in this lush city because of the draw of international travelers. Thai is the main language throughout the city, but because of its important international connections, you may come across a variety of languages as well. For the English speakers, you will find that English is most often encountered in the main cities and tourist areas.
Bangkok is an affordable city to live in. While you can spend millions on the life of luxury, a great life in Bangkok without the designer labels can be achieved.
Let's check some data for the cost of living in Bangkok, Thailand below:
The currency in Thailand is the Thai baht. The conversion rate to the THB is 1 dollar to 35.35 THB as of December 9, 2023.
If you want to suggest your own values based on your experiences in this city, click on edit and insert the values. Upon moderation they will be calculated to make part of the average prices displayed below.
| Food | Price [EDIT] |
| --- | --- |
| 1 liter of milk | 1.52 USD |
| 1 loaf of bread | 1.10 USD |
| 1 kg of tomatoes | 1.00 USD |
| 1 kg of chicken | 2.50 USD |
| 1 single meal cheap restaurant | 2.10 USD |
| 1 single meal high-end restaurant | 15.50 USD |
| 1 cappuccino or latte | 2.05 USD |
| 1 big pizza delivery | 8.20 USD |
| Real Estate | Price [EDIT] |
| 1 bedroom flat (40 m2) rent per month | 520.00 USD |
| 1 bedroom flat (40 m2) utilities per month | 41.00 USD |
| 2 bedroom flat (80 m2) rent per month | 950.00 USD |
| 2 bedroom flat (80 m2) utilities per month | 77.40 USD |
| Price per square meter (city center) | 4,250.00 USD |
| Transport | Price [EDIT] |
| 1 single ride public transport | 1.05 USD |
| Monthly public transport ticket | 32.00 USD |
| 1 km taxi or similar transport app | 0.22 USD |
| 1 liter of gasoline (1/4 gallon) | 0.95 USD |
| Toyota Corolla (new) basic version | 26,094.00 USD |
| Salaries | Price [EDIT] |
| Minimum Salary | 235.00 USD |
| Average Salary (net) | 803.00 USD |
| Extras | Price [EDIT] |
| 1 ticket to the movies (adult price) | 6.00 USD |
| High speed internet per month | 21.00 USD |
| 1 month gym subscription | 45.00 USD |
Cost of Living for Students in Bangkok, Thailand
Bangkok is an exciting city for students. There are great universities in this energetic city, which makes it a popular choice for students. The education is great and would be excellent for an Asian Studies major. Student dorms on campus and student apartments off campus are some of the housing options available. Bangkok is an affordable city and there are jobs available, which can help keep the cost down.
The Universities main language is Thai, but many universities understand that international students coming to Bangkok to dot speak it. Universities would likely have courses or programs available that offer education in a different language, such as English. If you are taking courses in the local language, Thai, a test to prove your proficiency in the language is often a requirement.
Here are some main higher education institutions in Bangkok, Thailand:
Bangkok University International
Getting a Job in Bangkok, Thailand
Bangkok has an array of different job opportunities. The most popular options for expats are in the academic, tourism industry or international business. There are countless job opportunities for everyone who wants to make a career in this bustling city. Keep in mind that competition will be stiff, and you will want a resume with excellent experience to stand out amongst the crowd.
The main language used is Thai, which will be essential to living and working in the city. However, because of the influence of international scholars and tourists, English can be a beneficial language to be fluent in as well. Along with English, because of its geographic location, you may find a good number of other Asian language speakers.
If you are a citizen of Thailand, you can start applying for jobs in Bangkok immediately. You won't have to wait for any extra papers. If you are moving from aboard, remember that Thailand has their own work visa or permit that you will have to apply and be approved for before you can begin working in the country.
Here are some websites for job hunting in Bangkok:
Quality of Life in Bangkok
It is safe to say that the quality of life in Bangkok is high. The city is full of gorgeous shrines and temples, museums, modern architecture, crowded streets, and the boat filled river. You can take a trip to the famous Wat Phra Kaew Temple.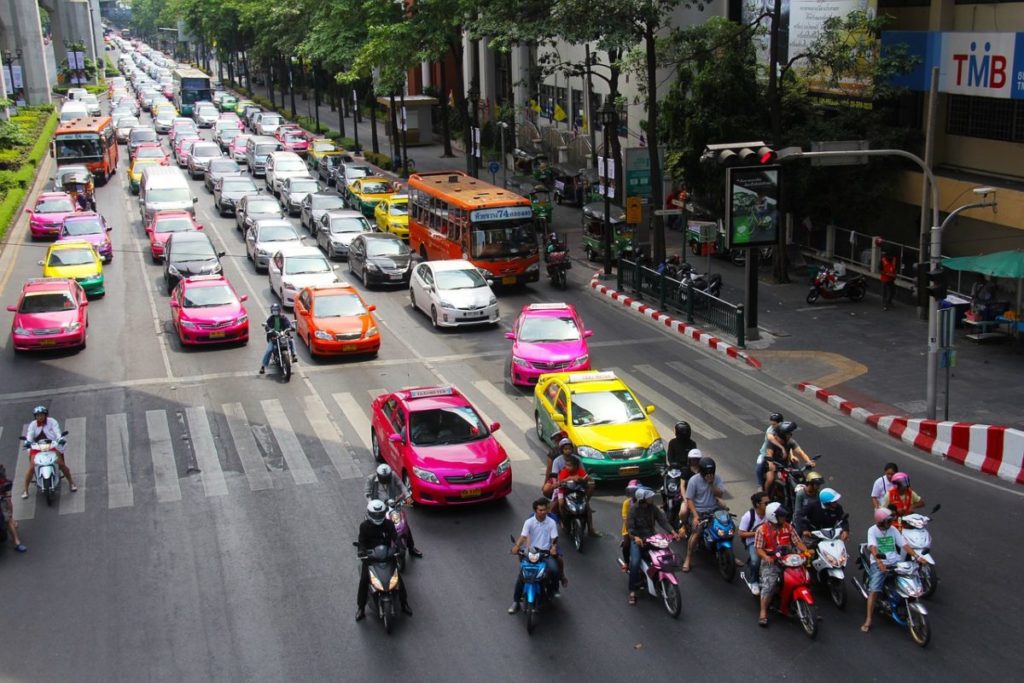 Bangkok is a safe city, though there are parts that may be more insecure. The police do their job to ensure the city stays safe, but you should still take caution in areas like the Red-Light District. There is petty crime and it is best to be aware of your belongings and surroundings.
The climate of Bangkok is hot. All the time. This country is very tropical and that means that all year long the temperature stays in a range of 70-96 degrees Fahrenheit. Generally, the lowest temperature you will experience is 70 degrees Fahrenheit. However, there can be periods of extreme weather such as during the rainy season and temperatures may drastically change. That doesn't mean there will be snow. You shouldn't ever need to don a winter jacket in this lush city.
If you are visiting Bangkok and other cities in Thailand soon you may want to check some of our other guides to the country. Check the best places to places to stay in Bangkok and our article on the how to travel from Bangkok to Chiang Mai. You can also check how to travel from Bangkok to Vientiane.
Other Resources for Travelers and Expats
Salaries Worldwide: check our articles on wages worldwide and understand better the economics of the countries you may be considering to move or invest.
Retire Abroad: check our retirement guides and maximize your retirement income and quality of life.
Jetradar: compare and find the cheapest air fares worldwide.