Cost of living in Bogotá, Colombia: let's analyze costs of food, real estate, entertainment, and transport in Bogotá, the capital of Colombia.
Are you considering moving to Bogotá for your career or to start a business? Check below the data for the cost of living in Bogotá, Colombia, which is a major South American city hub for commercial, financial, historical, and tourism businesses.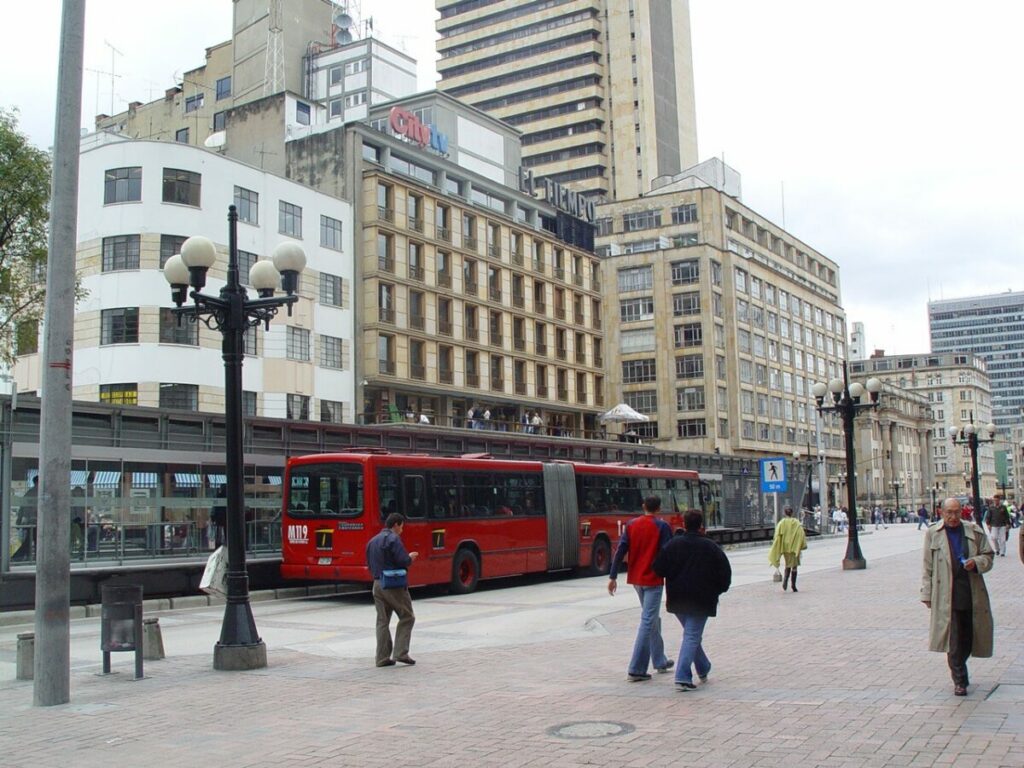 Bogota Overview
Bogotá is the capital of Colombia, and like many capital cities in the world, it is also the most populated city in the country. Originally, Bogotá was founded by Spanish conquistador Gonzalo Jiménez de Quesada as the capital of the New Kingdom of Granada. But since the independence from the Spanish Empire, Bogotá has stayed the capital. For Colombia, Bogotá is central to the political, economic, administrative, and industrial businesses of the country.
Located in the center of Colombia, Bogotá rests on a high plateau called the Bogotá savanna. This unique location also charts Bogotá as the third-highest capital city in South America, where it rests at 8,660 feet above sea level. With this unique title of elevation, Bogotá is beautifully sprawled amongst the hills. With vast greenery and modern high rises, Bogotá has a picture-perfect landscape that harmonizes urban life with nature.
For expats, Bogotá is a popular choice to relocate because it is lively, unique, and stunning in its landscape, culture, and lifestyle. The endless hills of the city offer beautiful homes where there is lucrative work, an exciting social scene, and a fascinating history. Bogotá is a central hub with a thriving urban center that has representation from a variety of countries.
Historically, Bogotá has been ingrained in the arts. With 58 museums and over 70 art galleries, the city offers a gold mine of historical and modern art. The Colombian National Museum is a popular tourist destination with archives of art, history, archeology, and ethnography. But perhaps, Bogotá is most famous for its slogan, "Colombia is magic realism." With the infamous national writer, Gabriel García Márquez and depictions in both film and television, Bogotá effortlessly draws in the crowds.
Cost of Living in Bogotá, Colombia
Many big businesses, both national and international, are located in Bogotá. The capital is a central hub for business negotiations, both large and small. Spanish is the official language spoken throughout the city. But with its international relations, there are many opportunities for other languages to be spoken as well.
Bogotá is a moderately expensive city to live in, with the average monthly cost for a single person being about $500 USD. When compared to America, Bogotá is very affordable. The most substantial portion of your monthly budget will go towards rent. A one-bedroom apartment in the city center will cost about $375 USD per month with a three-bedroom in the city center reaching about $670 USD per month. Most apartments do not include utilities, so you will have to add basic utilities and internet to your monthly budget. Electricity and water have an average monthly cost of $80 USD, and the internet is about $34 USD per month.
If you are looking to own instead of rent, you'll have to adjust your budget accordingly. Apartments in Bogotá have an extensive range of prices with the least expensive options resting at about $150,000 USD. However, if you want a well-built luxury apartment, you could spend up to $526,000 USD.
The currency in the Colombia is the Colombian peso. The conversion rate to the COP is 1 dollar to 4,077.44 COP as of October 2, 2023.
If you want to suggest your own values based on your experiences in this city, click on edit and insert the values. Upon moderation they will be calculated to make part of the average prices displayed below.
| Food | Price [EDIT] |
| --- | --- |
| 1 liter of milk | 0.92 USD |
| 1 loaf of bread | 0.85 USD |
| 1 kg of tomatoes | 0.90 USD |
| 1 kg of chicken | 3.00 USD |
| 1 single meal cheap restaurant | 4.60 USD |
| 1 single meal high-end restaurant | 18.49 USD |
| 1 cappuccino or latte | 1.45 USD |
| 1 big pizza delivery | 13.20 USD |
| Real Estate | Price [EDIT] |
| 1 bedroom flat (40 m2) rent per month | 315.43 USD |
| 1 bedroom flat (40 m2) utilities per month | 45.49 USD |
| 2 bedroom flat (80 m2) rent per month | 604.00 USD |
| 2 bedroom flat (80 m2) utilities per month | 74.55 USD |
| Price per square meter (city center) | 1,758.00 USD |
| Transport | Price [EDIT] |
| 1 single ride public transport | 0.75 USD |
| Monthly public transport ticket | 31.45 USD |
| 1 km taxi or similar transport app | 1.53 USD |
| 1 liter of gasoline (1/4 gallon) | 0.73 USD |
| Toyota Corolla (new) basic version | 16,843.00 USD |
| Salaries | Price [EDIT] |
| Minimum Salary | 257.00 USD |
| Average Salary (net) | 345.00 USD |
| Extras | Price [EDIT] |
| 1 ticket to the movies (adult price) | 4.50 USD |
| High speed internet per month | 25.30 USD |
| 1 month gym subscription | 31.37 USD |
Cost of Living for Students in Bogotá, Colombia
For students looking to get a good education, Bogotá is an excellent choice in location. The city has a selection of top rated universities that have high standards of education. With both public and private institutions, students can choose what suits them. Some options for student housing are associated with the university and located on campus. Other housing options would be independent and located off-campus.
The cost of living is moderately expensive, but with the availability of jobs, students can keep the monthly costs manageable. As well, many universities offer scholarship programs to help reduce the cost of tuition. When compared to the United States, tuition in Bogotá is very affordable. The average year can range in price from $6,000-$14,000 USD.
The universities primary language is Spanish, but many programs have courses available in foreign languages. Most of the higher education institutions will ask for proof of your language proficiency and may request that you complete a test.
Here are some main higher education institutions in Bogotá:
National University of Colombia
Universidad de Los Andes Colombia
Universidad Externado de Colombia
Getting a Job in Bogotá
With all of the businesses, large and small, focusing their offices in Bogotá, there are plenty of job opportunities. From big corporations to small businesses, there should be a position suited for everyone. Additionally, the tourism industry is a large part of Bogotá' and Colombia's economy, with an average of 2 million visitors per year.
While there are plenty of open positions, you should keep in mind that the competition is intense. For the best positions, you will want to display a complete resume with any relevant experience to make your application stand out. But the average salary is relatively low in relation to the cost of living. Most people earn, on average, $310 USD monthly. To afford your lifestyle, you may have to look at multiple jobs or higher positions.
The primary language spoken in Bogotá is Spanish, which will be essential to living and working in the city. However, with enormous influence from businesses and tourism, there are many opportunities where speaking a foreign language can make your application stand out.
If you are a citizen of Colombia, you can begin applying for jobs in Bogotá immediately. There is no need to wait for paperwork or visas to be pre-approved. If you are moving to Bogotá from a location abroad, you will need to be pre-approved to work. Most people seek a work or residence visa, which is a lengthy process, so you should plan accordingly.
Here are some websites for job hunting in Bogotá:
Quality of Life in Bogotá
With a good job, it is safe to say that Bogotá has a comfortable quality of life. The city is spread amongst a jungle landscape and features unique buildings for a scattered skyline. There are many different unique neighborhoods to explore, and the influence of Bogotá in art is world-renowned. A bustling nightlife keeps the inhabitants energized and leisurely days help people relax. With endless entertainment, Bogotá is a thrilling destination.
From a worrying past, Bogotá is now considered to be a safe city. Long gone are the days of conflict, and tourists can comfortably explore the city streets. But petty crime is still prevalent, so you should still be cautious. It is best to keep an eye on your belongings. As well, you should always be aware of your surroundings when you are out and about. Like many cities in the world, some locations are less safe than others. Bogotá's outskirts are more dangerous, and the neighborhoods Kennedy, Ciudad Bolívar, Usme, San Cristóbal, and Bosa should be avoided.
The climate in Bogotá is quite mild. There are warm summer and mild winters with the average temperature resting at 58 F. May is the warmest month with temperatures reaching into the 70s. Between December and February, temperatures will drop their lowest. While you won't experience insane amounts of snow, you do still need a full four-season wardrobe ready for this idyllic city.
If you are visiting South America soon you may want to check some of our other regional guides. Check the where to stay in Lima and our article on the where to stay in La Paz.
Other Resources for Expats and Travelers
Salaries Worldwide: check our articles on wages worldwide and understand better the economics of the countries you may be considering to move or invest.
Retire Abroad: check our retirement guides and maximize your retirement income and quality of life.
Jetradar: compare and find the cheapest air fares worldwide.