Cost of living in Boston, Massachusetts: let's analyze costs of food, real estate, entertainment, and transport in Boston, the capital of Massachusetts.
Are you considering moving to Boston for your career or to start a business? Check below the data for the cost of living in Boston, Massachusetts, which is a major North American city hub for commercial, financial, historical, and tourism businesses.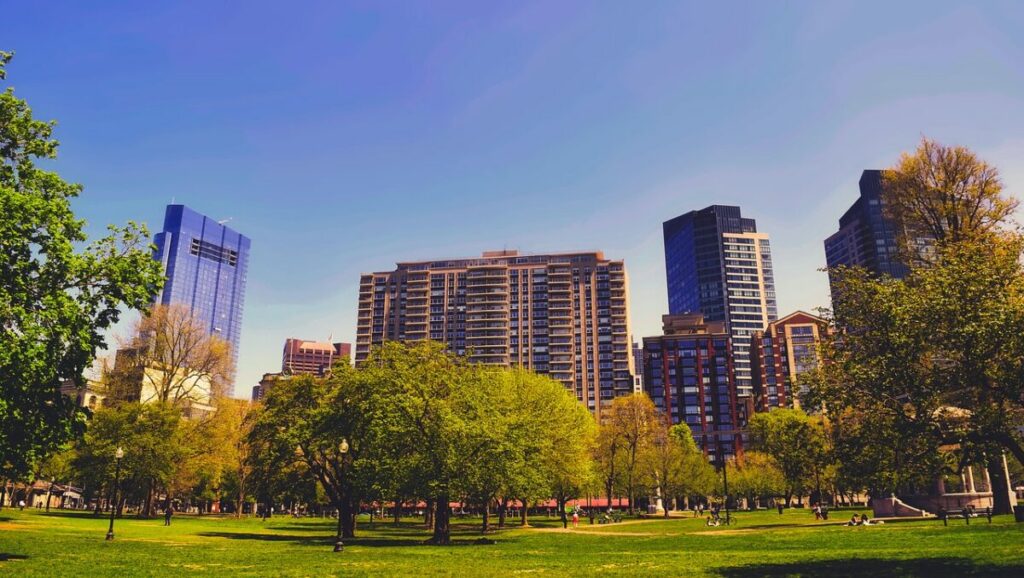 Boston Overview
Boston is the most populous city in both Massachusetts and the New England States. A rich colonial history makes Boston unique as it has influence from the early European settlers and England's Puritan colonists. Most famously, the Boston Tea Party protest occurred in 1773 and cemented the city in American history. But the fight wasn't over because the city went through numerous hardships before ultimately breaking ties with the British in 1776 after the Siege of Boston. Since then, the city has further evolved and grown to become a 21st century icon.
The city rests against the Massachusetts Bay, which has a natural harbor and estuary. The location of the city in relation to its port has helped Boston pull through the hardest times and become a thriving city. The Port of Boston is a major shipping facility for the United States and provides a strong economic base. Boston is a major intellectual, technological, political, commercial, and tourism hub.
For people looking to make a move, Boston is a popular choice because of its historical roots, burly energy, dazzling landscape, and unique culture. Boston's oceanside location provides diverse work opportunities, extravagant homes, and leisurely lifestyle. A diverse range of people call Boston home, which makes it a popular cultural hub.
From a small settlement to a large urbanized city, Boston has expanded to become an important center for political, financial, and tourist businesses in the United States. The historical architecture and stories of the city consistently draw in tourists and make Boston a popular destination for domestic and international travelers.
Cost of Living in Boston, Massachusetts
Boston is packed with large and small businesses, which make it a central hub for important negotiations. With the Port of Boston, many national and international companies benefit from the cities prime location and have offices stationed in the city to establish international relationships.
With local shops to explore, Boston caters to a variety of business opportunities. English is the official language that is spoken throughout the city, but because of international business negotiations, there are many other languages spoken as well.
The cost of living in Boston is notoriously expensive, but still below the numbers for New York City and San Francisco. Still, expats need to be ready for higher costs. Both the rental and real estate markets are expensive and will take up a significant portion of your monthly budget. In Boston, a studio apartment is about $1639 USD per month.
A one-bedroom apartment has a price of about $1,636 USD per month and a two-bedroom apartment reaches up to $2,238 USD per month. All of these are high prices and living outside of the city can save costs by reducing rent a couple hundred dollars per month.
With the rental market hosting expensive prices, the real estate market doesn't offer any reductions in price. The average price of a home in Boston is $608,900 USD, which is a large investment.
However, location and size of the home can affect the price. In popular locations, smaller homes will cost more, whereas home located outside of Boston will be larger and more affordable. Utilities cost about $116 USD per month and may or may not be included in the rent each month.
The currency used in Boston is the United States Dollar. Let's check some data for the cost of living in Boston, Massachusetts below:
If you want to suggest your own values based on your experiences in this city, click on edit and insert the values. Upon moderation they will be calculated to make part of the average prices displayed below.
| Food | Price [EDIT] |
| --- | --- |
| 1 liter of milk | 0.90 USD |
| 1 loaf of bread | 3.15 USD |
| 1 kg of tomatoes | 4.30 USD |
| 1 kg of chicken | 6.70 USD |
| 1 single meal cheap restaurant | 14.00 USD |
| 1 single meal high-end restaurant | 73.00 USD |
| 1 cappuccino or latte | 4.50 USD |
| 1 big pizza delivery | 17.00 USD |
| Real Estate | Price [EDIT] |
| 1 bedroom flat (40 m2) rent per month | 2,600.00 USD |
| 1 bedroom flat (40 m2) utilities per month | 175.00 USD |
| 2 bedroom flat (80 m2) rent per month | 3,500.00 USD |
| 2 bedroom flat (80 m2) utilities per month | 275.00 USD |
| Price per square meter (city center) | 10,800.00 USD |
| Transport | Price [EDIT] |
| 1 single ride public transport | 2.75 USD |
| Monthly public transport ticket | 90.00 USD |
| Toyota Corolla (new) basic version | 21,500.00 USD |
| Salaries | Price [EDIT] |
| Minimum Salary | 2,430.00 USD |
| Average Salary (net) | 5,000.00 USD |
| Extras | Price [EDIT] |
| 1 ticket to the movies (adult price) | 13.00 USD |
| High speed internet per month | 65.00 USD |
| 1 month gym subscription | 43.00 USD |
Cost of Living for Students in Boston, Massachusetts
Boston is a great city for students because it is lively and offers a broad selection of top universities. The level of education is set at a high standard, and there are both public and private institutions to choose from. Most universities will offer students the option of campus housing in the form of dormitories. Other housing options are independent of the universities, like off-campus apartments and houses.
The cost of living is expensive for students, but numerous job opportunities can help keep the cost down. Many universities also have scholarship programs and financial aid programs, which can help reduce the cost of tuition.
Tuition in the United States is very expensive and Boston's average tuition is $13,503 USD for in-state students. Out of state or international students can expect to pay about double that cost or even quadruple that cost, if you choose a private institution.
The university's primary language is English, but many universities offer courses in other languages too. Most of the higher education institutions will ask for proof of your English efficiency or request you complete a provided test. Other universities may feature courses in a secondary language.
Here are some main higher education institutions in Boston:
University of Massachusetts Boston
Getting a Job in Boston
Boston is home to many corporations and businesses that are continually looking to fill their offices, which means there are plenty of job opportunities. The tourism business is also booming with 1.3 million international tourists annually. With so many businesses, everyone has the chance to get established in Boston.
But the job market has fierce competition and the best positions aren't available for very long before they are filled. For the best chance at getting hired, you should display a full resume and qualified experience that makes you stand out from the crowd. With the expensive cost of living, people need an average salary of $86,691 dollars to provide their monthly budget.
The primary language is English, which will be essential for working and living in Boston. However, businesses form international relationships and with worldwide tourists, speaking a foreign language can be beneficial to finding a job.
If you are a citizen of the United States, you can start applying for jobs immediately without having to wait for a work visa approval. United States citizens just need to prove their citizenship to be hired by most companies. If you are moving from a different country, you will need to apply for and be approved for a work visa before you can begin legal work. The work visa can be a challenging document to obtain, but having a position secured within a company can be a big help as your future employer can provide work visa assistance.
Here are some websites for job hunting in Boston:
Quality of Life in Boston
It is safe to say that many people believe that Boston has a high quality of life. The city's sprawling urban landscape and bay-side location make it home to a diverse collection of people. The nightlife is fun, and the daytime is full of busybodies. With a great location and plenty of entertainment, Boston is an attractive destination.
Boston is a safe city, but like anywhere in the world, there is petty crime. However, the police work hard to keep the order and the vast majority of the city is safe for venturing. But to stay safe, you should always keep an eye on your belongings and be aware of your surroundings. The Roxbury and Dorchester areas are the most dangerous and should be avoided for safety.
The city is located on the ocean, but it still has a rather difficult climate. In the summer, Boston is hot and humid with temperatures reaching 80 degrees Fahrenheit or more. In winter however, the cold and snow are present with temperatures dropping well below freezing. It is best to have a four-season wardrobe ready for this city.
Other Resources for Travelers and Expats
If you are traveling or relocating to the US you may want to check some of our other national guides. Check the best places to stay in Chicago or where to stay in San Diego.
Salaries Worldwide: check our articles on wages worldwide and understand better the economics of the countries you may be considering to move or invest.
Retire Abroad: check our retirement guides and maximize your retirement income and quality of life.
Jetradar: compare and find the cheapest air fares worldwide.