Cost of living in Omaha, Nebraska: let's analyze costs of food, real estate, entertainment, and transport in Omaha, the largest city in Nebraska.
Are you considering moving to Omaha for your career or to start a business? Check below the data for the cost of living in Omaha, Nebraska, which is a major United States city hub for cultural, commercial, historical, and tourism businesses.
Omaha Overview
Omaha is Nebraska's largest city, which has a history that goes back to the days of Native American Tribes and the Lewis and Clark Expedition. The city was once home to a variety of Native American tribes including the Pawnee, Omaha, Ponca, and Ioway.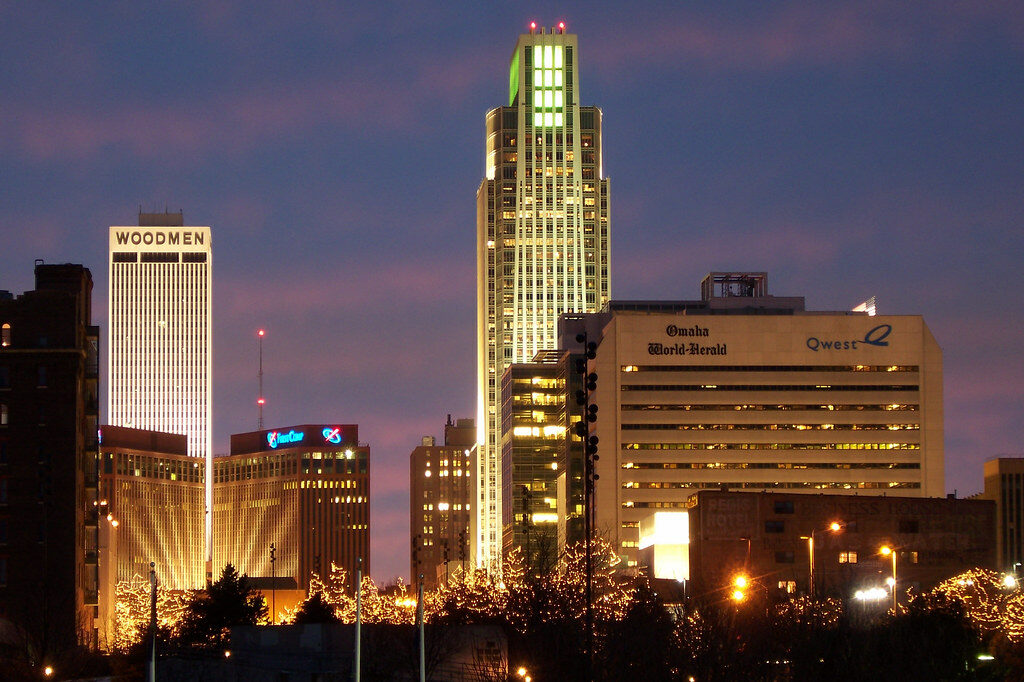 The name, Omaha, means "dwellers on the bluff". In 1804, the Lewis and Clark Expedition passed the area that would one day become Omaha as it sits today. However, between 1812-1823, numerous fur trading outposts were constructed in the area. Past the pioneering days and into the expansion, Omaha was a popular stop-over for travelers heading west.
With the emergence and influence of the Union Pacific Railroad, Omaha had the opportunity to grow. The railroad began to lay tracks and claim territory, which lead to more people settling in the area.
By the 20th century, the rise of industrialization and transportation by the railroads make Omaha a staple in the meatpacking industry. As more people were drawn to the area, the construction of interstates spurred further development.
By the 21st century, Omaha has worked to secure its unique history by declaring protection for historic structures and districts, which are called Omaha Landmarks. These landmarks and numerous businesses make Omaha a popular city for tourists and expats.
With small beginnings, Omaha has grown to become an important center for politics, finances, administrations, and business in the United States. However, beyond contracts and negotiations, the city also draws many tourists who study the stories, history, architecture, and artifacts.
Cost of Living in Omaha, Nebraska
Omaha is packed with bustling businesses and is an important transportation hub in the United States. With the nickname, "Gateway to the West", Omaha is perfectly situated to provide shipping services all over the country. Many national and international companies have offices in the city, which provide Omaha with important domestic and international relationships.
There are also locally owned businesses to explore, which help keep the people of Omaha and the city booming. English is the official language spoken throughout the city, but because of the important business and tourist negotiations, other languages may be spoken throughout the city as well.
The cost of living in Omaha is affordable and 11.5% lower than the national average of the United States, which makes it attractive to expats.
The most significant portion of your monthly budget will be spent on housing arrangements. In Omaha, most two-bedroom apartments are about $950 USD per month, but the cost can increase of decrease depending on the area. Luxury apartments can have hefty prices with rent increasing to $1,600 USD per month.
Most people will find the rental market affordable when compared to the rest of the United States, but buying real estate can be expensive.
However, with plenty of home prices around $200,000 USD, it is still affordable to be a homeowner. Newer construction will cost more with starting prices resting at $400,000 USD. For utilities, you should expect to pay about $200 USD per month. The $200 dollars will cover water, gas, electricity, heating, and the internet.
Phone and television utility costs will be an additional expense. But sometimes basic utilities are included in the monthly rental price and would cover the water, gas, electricity, and heating of your home.
Let's check some data for the cost of living in San Diego, California below:
If you want to suggest your own values based on your experiences in this city, click on edit and insert the values. Upon moderation they will be calculated to make part of the average prices displayed below.
| Food | Price [EDIT] |
| --- | --- |
| 1 liter of milk | 0.65 USD |
| 1 loaf of bread | 1.60 USD |
| 1 kg of tomatoes | 3.50 USD |
| 1 kg of chicken | 3.70 USD |
| 1 single meal cheap restaurant | 10.00 USD |
| 1 single meal high-end restaurant | 38.00 USD |
| 1 cappuccino or latte | 4.00 USD |
| 1 big pizza delivery | 16.00 USD |
| Real Estate | Price [EDIT] |
| 1 bedroom flat (40 m2) rent per month | 950.00 USD |
| 1 bedroom flat (40 m2) utilities per month | 85.00 USD |
| 2 bedroom flat (80 m2) rent per month | 1,250.00 USD |
| 2 bedroom flat (80 m2) utilities per month | 135.00 USD |
| Price per square meter (city center) | 1,615.00 USD |
| Transport | Price [EDIT] |
| 1 single ride public transport | 1.25 USD |
| Monthly public transport ticket | 55.00 USD |
| 1 km taxi or similar transport app | 1.65 USD |
| 1 liter of gasoline (1/4 gallon) | 0.61 USD |
| Toyota Corolla (new) basic version | 17,500.00 USD |
| Salaries | Price [EDIT] |
| Minimum Salary | 1,560.00 USD |
| Average Salary (net) | 3,000.00 USD |
| Extras | Price [EDIT] |
| 1 ticket to the movies (adult price) | 9.00 USD |
| High speed internet per month | 60.00 USD |
| 1 month gym subscription | 25.00 USD |
Cost of Living for Students in Omaha, Nebraska
Omaha is a great city for students because it has a large selection of top universities, which provide a thriving student lifestyle. The level of education is set at a high standard, and there are both public and private institutions to choose from.
Some options for student housing are provided or associated with the university and may be located on campus. Other housing options include independent housing at an off-campus apartment or house.
The cost of living is affordable for students and with the availability of jobs, students should be able to appropriately manage their finances.
Many universities have scholarship programs or financial aid, which can help in reducing the cost of tuition. Education is expensive in the United States and a public university in Omaha has an average cost of $7,056 USD per year for out-of-state and international students. But keep in mind that private institutions will be drastically more expensive per year.
The university's primary language is English, but many programs have courses that are offered in other languages too. Most of the higher education institutions will ask for proof of your English language proficiency or request that you complete a test. Other programs may feature courses with a secondary language that is different from English.
Here are some main higher education institutions in Omaha:
Getting a Job in Omaha
Omaha is home to an array of job opportunities with many large businesses and corporations continually seeking new workers to fill their offices. The tourism industry is also thriving, and there is an average of 1.1 million visitors per year. With stable corporations, local businesses, and tourist attractions, there is a job opportunity for everyone.
But you should keep in mind that positions are only available for short periods of time before they are filled and there is aggressive competition for the best positions. To be hired, you need a well-rounded resume with relevant experience that makes your application attractive to hiring companies. While the cost of living is affordable, an average salary of $56,406 USD helps you achieve a relaxed lifestyle.
If you are a citizen of the United States, you can start applying for jobs immediately without having to wait for a work visa. Citizens will need a valid proof of citizenship to be hired, so check those passport expiration dates. If you are moving from a different country, you will have to apply for a work visa before you can begin legal work.
The visa process and paperwork can be grueling, and it helps if you are hired for a position before you apply for the visa so that your future company can provide assistance.
Here are some websites for job hunting in Omaha:
Quality of Life in Omaha
Many people will attest that the quality of life in Omaha is high. The city's beautiful river location, urban landscape, and lush greenery draw many people to call Omaha home. The nightlife is energetic, and the daytime is thriving and peaceful. With great qualities, Omaha is a prime destination.
Omaha is a safe city, and the police work hard to keep the peace and regulate the laws. However, as with any city, there is petty crime. To stay safe, people should keep an eye on their belongings and stay aware of their surroundings. Downtown Omaha is safe, but North Omaha has the worst reputation and prominent crime.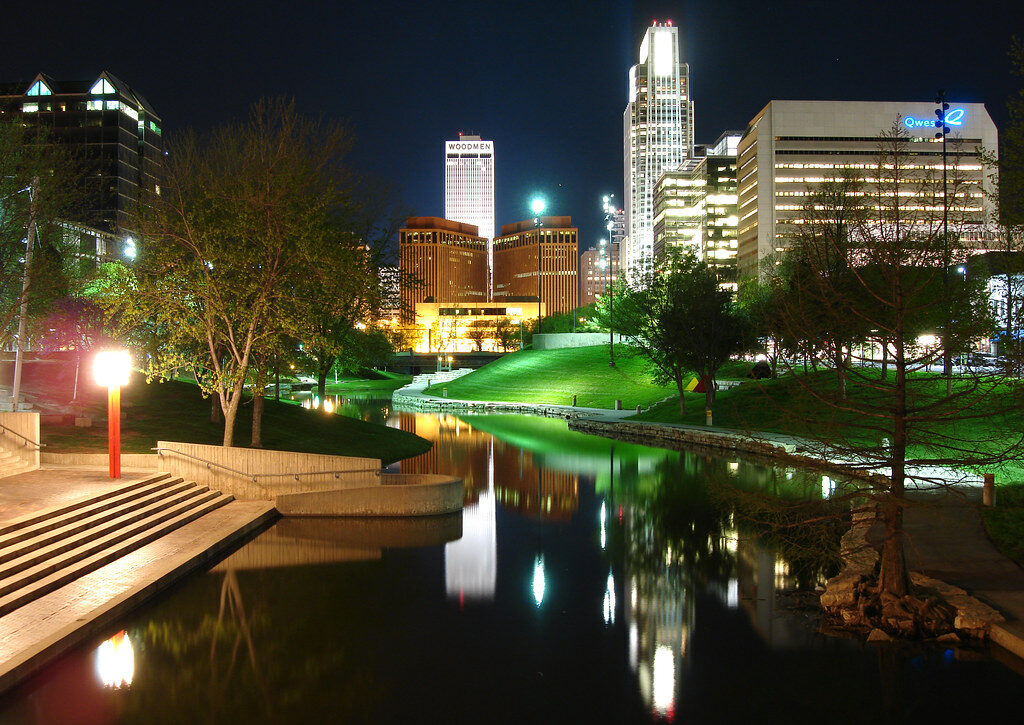 The city is located in the Midwest and has a complicated climate. In summer, the temperatures rise and so does the humidity. Midwestern humidity is famous for being hot and sticky. With temperatures reaching 90 degrees Fahrenheit, staying cool is important. However, summer storms also bring the risk of tornados.
Located in "Tornado Valley", staying aware of weather alerts and warnings can keep you safe. Winter can also be a challenging climate with temperatures dropping and large amounts of snow. It is best to plan ahead and have a full four-season wardrobe ready for Omaha.
Other Resources for Travelers and Expats
If you are traveling or relocating to the US you may want to check some of our other national guides. Check the best places to stay in Chicago or where to stay in Denver.
Salaries Worldwide: check our articles on wages worldwide and understand better the economics of the countries you may be considering to move or invest.
Retire Abroad: check our retirement guides and maximize your retirement income and quality of life.
Jetradar: compare and find the cheapest air fares worldwide.