Let's calculate costs of living in Taipei, Taiwan, including price of groceries, real estate, entertainment and transport in the capital of the Republic of China
If you are new in town, then this article is for you to get the know the cost of living in Taipei. Let's zoom in how the basic cost of living in this country would take you.
Cost of Living in Taipei, Taiwan
Taipei is the capital as well as the center of culture, economy and politics of Taiwan. The city is a perfect Asian metropolis, in a blend of old traditions, high rise buildings and excellent infrastructure. Living here offer uncountable benefits including free WiFi in many areas, amazing healthcare system, affordable cost of living, and all the bureaucracy being usually hassle free. These hidden pluses will surprise anybody coming here and make them enjoy Taipei little by little.
Taipei is an opened city welcoming foreigners from all over the world. Chinese (Mandarin) is the official language in Taiwan. Most of locals do not speak much English but can understand the basic an are usually friendly. The friendliness of locals is one of the highlights of the country.
Taipei has a subtropical climate with an average temperature of 22C (71.6F) across the year. There is no extreme cold in winter, but the weather in summer can be very hot with high humidity.
Aside from that, thanks to early openness to world trade, Taipei has become quite an international hub for business. Different from 20 years ago, Taiwan is no longer famous as the factory of the world but they start leading in services, trading and high-tech. Some famous Taiwanese companies are MSI, ASUS, Acer and HTC.
Let's check some data for the cost of living in Taipei, Taiwan below:
The currency in Taiwan is the New Taiwan dollar. The conversion rate to the USD is 1 dollar to 32.22 TWD as of October 2, 2023.
If you want to suggest your own values based on your experiences in this city, click on edit and insert the values. Upon moderation they will be calculated to make part of the average prices displayed below.
| Food | Price [EDIT] |
| --- | --- |
| 1 liter of milk | 3.00 USD |
| 1 loaf of bread | 1.80 USD |
| 1 kg of tomatoes | 3.80 USD |
| 1 kg of chicken | 7.00 USD |
| 1 single meal cheap restaurant | 6.00 USD |
| 1 single meal high-end restaurant | 25.00 USD |
| 1 cappuccino or latte | 2.80 USD |
| 1 big pizza delivery | 17.00 USD |
| Real Estate | Price [EDIT] |
| 1 bedroom flat (40 m2) rent per month | 675.00 USD |
| 1 bedroom flat (40 m2) utilities per month | 65.00 USD |
| 2 bedroom flat (80 m2) rent per month | 1,450.00 USD |
| 2 bedroom flat (80 m2) utilities per month | 130.00 USD |
| Price per square meter (city center) | 9,586.00 USD |
| Transport | Price [EDIT] |
| 1 single ride public transport | 0.72 USD |
| Monthly public transport ticket | 50.00 USD |
| 1 km taxi or similar transport app | 1.00 USD |
| 1 liter of gasoline (1/4 gallon) | 1.60 USD |
| Toyota Corolla (new) basic version | 23,985.00 USD |
| Salaries | Price [EDIT] |
| Minimum Salary | 750.00 USD |
| Average Salary (net) | 1,950.00 USD |
| Extras | Price [EDIT] |
| 1 ticket to the movies (adult price) | 10.00 USD |
| High speed internet per month | 29.00 USD |
| 1 month gym subscription | 50.00 USD |
Cost of Living for Students in Taipei, Taiwan
Taiwan has been a destination of study for Chinese and Hong Kong students for a long time thanks to the country's mature education system and similar language.
Nevertheless, Taiwan has only been opened for international students in the recent years when more schools have released English teaching programs and the government also offer more scholarships to talents around the world. Initiatives to provide special assistance like partial tuition fee waive for South East Asian students added attractiveness to the country.
To some extent, Taiwan has become a new destination of study due to its varied language offer (English and Mandarin Chinese), safe and friendly environment.
Students considering Taiwan can apply for many different scholarships offered by the country for different levels of study. The country does provide many stages of education combined with language centers.
Along with high quality of training, Taiwanese campuses can surprise many people with stunning and breathtaking views as most of them are located on high hills or on mountains because 70% of the island is covered with rugged, densely forested mountains.
Here are some of the main higher education institutions in Taipei:
National Taiwan University (NTU)
National Taiwan Normal University (NTNU)
University of Science and Technology
Getting a Job in Taipei, Taiwan
Among many cities in Taiwan, Taipei has the most friendly working environment for foreigners. Still, as mentioned earlier that the city still mainly use Traditional Mandarin, the jobs offered in Taiwan still require applicants at least with basic Mandarin to communicate within the internal departments. However, you can be free of Mandarin if you work here as language teachers, models, IT, engineers (the most three popular jobs for foreigners) or in some specific professional skills.
In the recent years, due to the thirst of talents, Taiwan has tried hard to gain their foreign talent source by holding many conferences and job fairs with English support and require less Mandarin ability than a decade ago.
In terms of salary, currently the minimum wage is 140NTD/hour (4.6USD/hour). Most of foreigners coming here will choose teaching jobs as the pay can be around 600NTD/hour(20USD/hour). This is usually higher than most other job choices available for foreigners. However, with a strong force of foreign graduates from Taiwan schools, the government has spent extra effort to find a way to keep the talents with better job conditions.
Here are some websites for job hunting in Taiwan:
Quality of Life in Taipei
The country has one of the highest life quality in Asia with high income, safety, and a low living cost. These have made Taiwan a destination for many expats as the laws system in Taiwan does not differentiate much between the locals and foreigners in many aspects including a favorable tax system. The cost of living in Taipei is higher than other cities in the country.
Above all, Taiwan has been continuously rated in top 5 world's safest country continuously, making it the dreamland for any global citizen.
Mentioning about quality of life, Taiwan also has a great health care system. Taiwan offers trustworthy and affordable medical welfare. National Health Insurance (NHI) covers not just Taiwanese, but all the foreigners with the Alien Residence Certificate in Taiwan. The insurance in Taiwan basically cover 60% for usual clinic visit. Also, any hospital/clinic visit in Taipei can be easily booked online or on spot without hassle.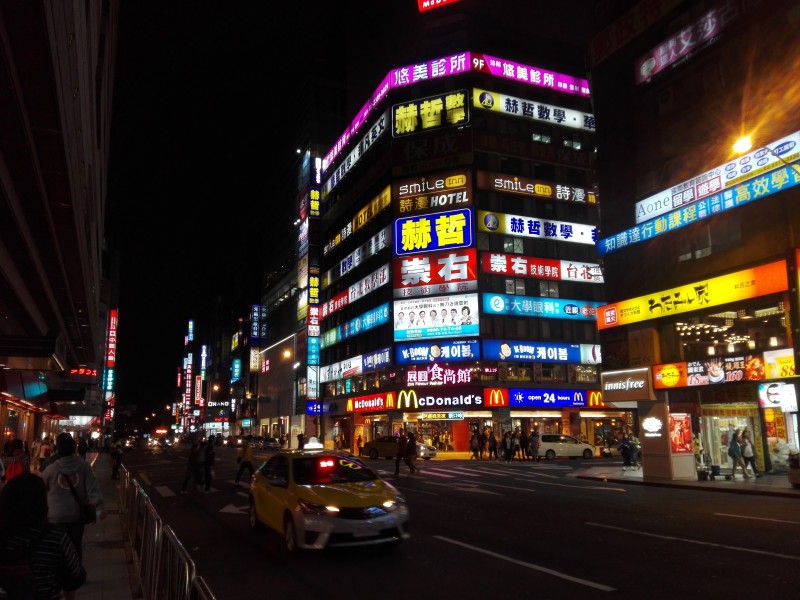 For long term stay in Taiwan, find how to apply for ARC (Alien Residence Certificate) in Taiwan. Settling in Taiwan is considerably easier than in other East Asian countries like Japan and South Korea.
If you are coming to Taipei you may want to check some of our other Taiwan guides. Check the best places to places to stay in Taipei and our article on Taipei's travel budget. You can also check the average and minimum salary in Taipei, and our article on trains in Taiwan.
Other Resources for Expats and Travelers
Salaries Worldwide: check our articles on wages worldwide and understand better the economics of the countries you may be considering to move or invest.
Retire Abroad: check our retirement guides and maximize your retirement income and quality of life.
Jetradar: compare and find the cheapest air fares worldwide.
Are you traveling or also considering living in Taipei? Leave your thoughts and questions in the comment box below.