Welcome, travelers! If you're planning a trip to Italy, it's likely that you've considered visiting both Florence and Rome. These two iconic Italian cities are both rich in culture, history, and art, making them must-see destinations for anyone with an interest in the arts, architecture, and history.
However, if you're short on time and need to choose between Florence and Rome, it can be a tough decision to make. After all, both cities have so much to offer! That's why we've put together this guide to help you decide which city is right for you.
In this article, we'll compare Florence and Rome in terms of their history, art, food, and overall atmosphere. By the end, you'll have a better idea of which city will better suit your interests and travel style, so you can make the most out of your Italian adventure. So, let's dive in and see what these two amazing cities have to offer!
Florence Overview
Florence, the capital of the Tuscany region in Italy, is a city that is steeped in history and culture. Known as the birthplace of the Renaissance, Florence is home to some of the world's most famous works of art, including Michelangelo's David, Botticelli's Birth of Venus, and Leonardo da Vinci's Annunciation.
The city's rich history is also evident in its magnificent architecture, with landmarks such as the Duomo, Ponte Vecchio, and Palazzo Vecchio attracting visitors from all over the world.
Aside from its art and architecture, Florence is also famous for its food and wine. The city's culinary tradition is based on simple, high-quality ingredients, such as olive oil, fresh vegetables, and meats.
Visitors can enjoy delicious dishes like ribollita, a hearty Tuscan soup, or bistecca alla fiorentina, a thick and juicy steak cooked over an open flame. Florence is also home to some of Italy's best wines, including Chianti, Brunello di Montalcino, and Vino Nobile di Montepulciano.
Rome Overview
Rome, the capital of Italy, is a city that needs no introduction. Known as the Eternal City, Rome is a city that seamlessly blends ancient history with modern life. The city is home to some of the world's most iconic landmarks, including the Colosseum, the Pantheon, and the Roman Forum.
Visitors can take a stroll through the city's historic streets and marvel at the ancient architecture, or explore the Vatican City, home to the world-famous St. Peter's Basilica and the Sistine Chapel.
Aside from its history and architecture, Rome is also famous for its cuisine. The city is a food lover's paradise, with an abundance of delicious Italian dishes to try, such as pasta carbonara, cacio e pepe, and pizza al taglio.
Visitors can also enjoy delicious gelato from one of the city's many gelaterias or sip on a cappuccino in one of Rome's charming cafes. Rome truly has something for everyone, from history buffs and foodies to art lovers and culture seekers.
Rome vs. Florence: Nightlife
When it comes to nightlife, Rome and Florence offer two very different experiences. Florence has a more laid-back and intimate atmosphere, with a focus on wine bars, small clubs, and live music. The nightlife scene in Florence typically starts later in the evening, with many bars and clubs not opening until after 10 PM.
The city's historic center is the main hub of nightlife, with the lively Piazza Santo Spirito being a popular spot for locals and tourists alike. While Florence may not have the same level of intensity and variety as Rome, it offers a charming and relaxed atmosphere that is perfect for those looking for a more low-key night out.
In contrast, Rome has a more vibrant and diverse nightlife scene, with a wide range of bars, clubs, and live music venues to choose from. From trendy rooftop bars with stunning views of the city to underground techno clubs, Rome has something to offer for every taste. The nightlife in Rome tends to start earlier than in Florence, with many bars opening their doors as early as 6 PM.
The areas of Trastevere, Monti, and Testaccio are the most popular neighborhoods for nightlife, with many venues staying open until the early hours of the morning. Rome's nightlife scene is perfect for those looking to dance the night away and experience the city's vibrant energy.
Verdict: Rome
Rome vs. Florence: Sightseeing
When it comes to sightseeing, both Rome and Florence offer a wealth of options for visitors. Rome is home to some of the world's most famous landmarks, such as the Colosseum, the Roman Forum, and the Vatican City. The city is also full of stunning architecture, including the Pantheon and the Trevi Fountain. Visitors can spend days exploring the city's many historic sites and landmarks, soaking up the city's rich history and culture.
Florence, on the other hand, is known for its art and architecture, with many of the city's most famous sights being museums and galleries. Visitors can admire some of the world's most famous works of art at the Uffizi Gallery or the Accademia Gallery, home to Michelangelo's David. The city's historic center is also a UNESCO World Heritage Site, with landmarks such as the Duomo and the Ponte Vecchio attracting millions of visitors each year.
Verdict: It's a tie! Both Rome and Florence offer an incredible array of sights and attractions, each with its unique charm and beauty.
Rome vs. Florence: Historic Center
The historic centers of Rome and Florence are both UNESCO World Heritage Sites and are among the most beautiful and well-preserved in Europe. In Rome, visitors can explore the Colosseum, the Roman Forum, and the Pantheon, which are just a few of the many ancient landmarks in the city. The narrow, winding streets of Rome's historic center are also home to countless churches, palaces, and piazzas, each with its unique character and charm. The Spanish Steps and the Trevi Fountain are also popular landmarks in the city's historic center, attracting thousands of visitors each day.
In Florence, the historic center is smaller but equally impressive, with many of the city's most famous landmarks located within walking distance of each other. The Piazza del Duomo is the heart of the historic center and is home to the iconic Duomo, Giotto's Campanile, and the Baptistery. The Piazza della Signoria is another must-see, with the Palazzo Vecchio and the Loggia dei Lanzi located within its confines. The narrow streets of Florence's historic center are also home to many beautiful shops, restaurants, and cafes, providing visitors with an authentic taste of Tuscan life.
Verdict: Rome (if you prefer more worldly renowned places)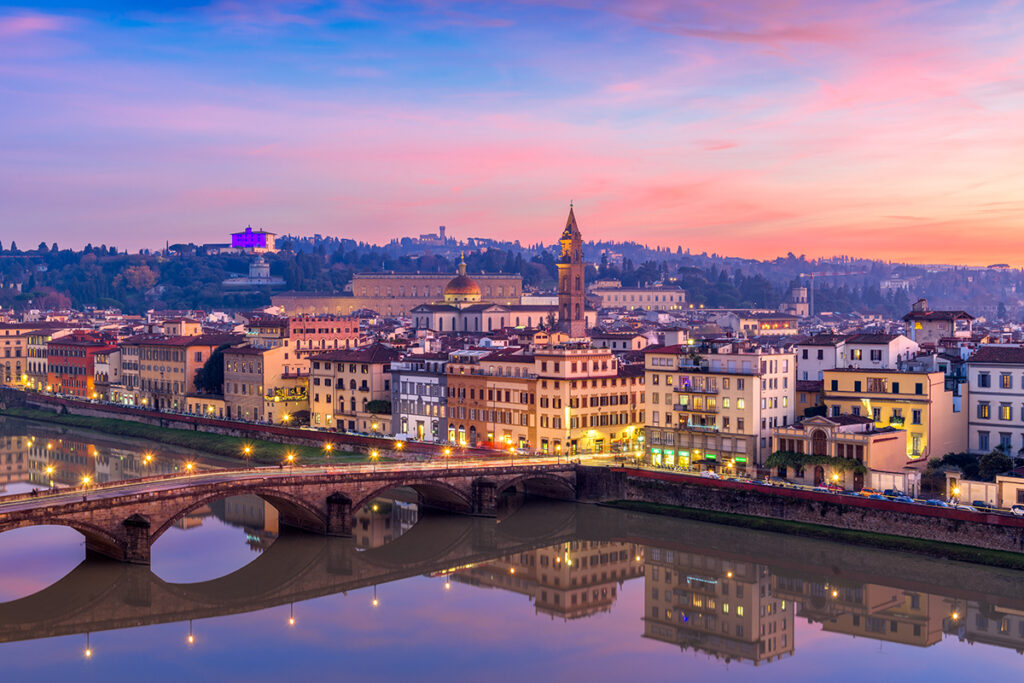 Rome vs. Florence: Food and Restaurants
Italian cuisine is famous worldwide, and both Rome and Florence have a rich culinary scene that attracts foodies from around the globe. Rome is home to many traditional dishes such as carbonara, amatriciana, and cacio e pepe, all of which are made with simple, high-quality ingredients.
Roman cuisine also features a lot of fried foods, such as supplì (rice balls), artichokes, and fried cod. The city's food scene is diverse, with everything from casual street food vendors to high-end Michelin-starred restaurants. The Testaccio neighborhood is known for its food markets, while Trastevere is home to many trendy restaurants and bars.
Florence is famous for its Tuscan cuisine, which is characterized by simple, flavorful dishes made with fresh, locally sourced ingredients. Classic dishes include bistecca alla Fiorentina (Florentine steak), ribollita (a vegetable soup), and crostini (toasted bread with various toppings).
Florence is also famous for its wine, with the Chianti region just a short drive away. The city's food scene is centered around the historic center, where visitors can find traditional trattorias serving up delicious regional dishes alongside trendy bistros and cafes.
Verdict: It's a tie!
Rome vs. Florence: Transportation
Transportation is an important consideration for travelers when visiting Rome and Florence. Both cities have efficient public transportation systems, including buses, trams, and metro lines, making it easy to get around without a car.
However, Rome's public transportation system is more extensive and covers a larger area, making it easier to reach some of the city's more distant landmarks. The city also has two international airports, making it easy to reach from other parts of Europe and beyond. Rome Fiumicino Airport is much larger than the one in Florence.
Florence is a smaller city, and most of its sights and attractions are located within the historic center, making it easy to explore on foot.
The city also has an efficient bus system, which is useful for traveling to areas outside of the historic center. Florence's airport is located just a few kilometers from the city center, making it easy to reach by taxi or public transportation.
Verdict: Rome (because of the international flights)
Hotels in Florence
Hotel della Signoria – a great option if you want to stay close to the Ponte Vecchio area.
Hotel Rosso23 – a reasonably priced option in the Santa Maria Novella area, close to the train station.
Hotels in Rome
Hotel Fontanella Borghese – a reasonably priced hotel close to the Via del Corso and the Pantheon, in a great area for shopping.
Casa Mia In Trastevere – an excellent choice in Travestere, one of the best places to stay in Rome.
Other Resources for Traveling in Italy
If you are traveling in Italy beyond the capital, you might want to check some of our guides to the city. Check our guides on where to stay in Venice, where to stay in Florence, the best places to stay in Milan, and our guide to Bologna.