Learn how to find a job in Latvia, a solid economy in the Baltic States, part of the European Union which recently adopted the Euro currency
If you want to access your options on how to find a job in Latvia, this post is ideal for you. We have gathered below information on the Latvian job market and the best websites to find a job in Latvia. For non-EU citizens, it also features information on how to get a work permit in the country.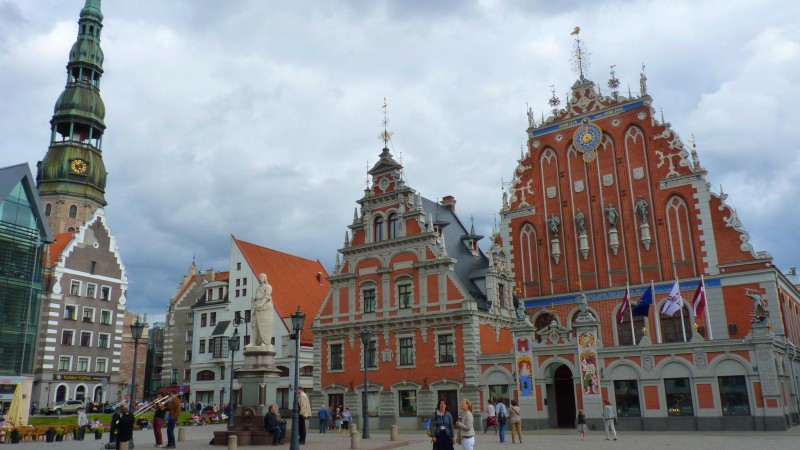 Introduction: Job Market in Latvia
Latvia is one of the youngest democracies in Europe, and regained its independence in the 90's after the fall of the Soviet Union. In the past 25 years Latvia passed through a number of reforms to change its economy from a previous turbulent past. Currently, Latvia is a full European Union member since 2004, and more recently, adopted the Euro currency.
Despite the improvements in terms of quality of life and economic freedom, the Latvian economy still struggles. It remains as one of the poorest in the European Union. However, the job market in its capital Riga is very dynamic. Many international companies have bases in Riga. Lower taxes and salaries attract many tech companies to this Baltic State.
Getting a Job and a Work and Residence Permit in Latvia
Currently Riga houses a relatively diverse society, being Latvians the majority. The Latvian capital is also home to sizable communities of Russians, Ukrainians and Poles. Due to its proximity to Scandinavian countries, the city also receives a considerable influx of Swedish tourists.
More recently, now European students from countries like India are choosing Latvia for their academic degrees. Furthermore, Latvia is trying to attract talents with its new startup visa.
EU Citizens: If you are an EU citizen you don't need a work permit to start a new job in Latvia. You will compete in the same conditions as EU nationals, as the level of bureaucracy is low.
Non-EU Citizens: You will need a residence permit for work, which is most often arranged by your employer. Its relatively easy to get a job as a non-EU foreigner if you have language or IT skills. There are shortage mostly on these sectors, where skilled foreigners usually fill in.
For more residence and work permit questions, you can check the The Office of Citizenship and Migration Affairs of Latvia website.
Best Websites to Find a Job in Latvia
Here are some of the best sites to find a job in Latvia:
CV.LV: The biggest job portal in Latvian. It has a version in English and Russian, and also in Latvian. There are a good number of offers in English (especially IT related).
Latvian Government Job Portal: a job portal with offers that usually require a good command of the Latvian language.
SS.LV: This is the biggest classifieds portal in Latvia, not only for job offers, but also for housing, cars, and all kinds of items and services.
European Job Mobility Portal: a great website maintained by the European Union to find jobs in Latvia and in other EU member countries.
visidarbi.lv: another strong Latvian job portal with many offers available in Latvian, Russian and English.
Other Job Options to Consider in Latvia
Another option you may consider if you are a native speaker of English (or if you are very proficient on it) is TEFL (Teach English as a Foreign Language) jobs. TEFL jobs are widely available in almost every country in the world. They are a great opportunity to start in a new country, even if you don't have the knowledge of the country's official language. There are many online TEFL courses that will help you to land a job with a relatively small investment of time and money.
Working online can be also an option in some countries. It depends on your skills and income, as the cost of living varies greatly from country to country. You can check this link for a list of professions that can be done as remote work.
If you want to find a job in Latvia, or live, travel and work in other country abroad, please consider our resources and guides below:
Interesting Resources for Working and Living Abroad
Are you really considering to work and live abroad, temporarily or permanently? Below are some resources that might be useful for you around the web:
World Nomads: this company provides travel insurance in most countries around the world, and it might be a good option if you going for a long travel.
TransferWise: A great way to send money abroad paying lower fees.
Booking.com:Booking.com is the best choice for finding accommodation for your next trip, with a wide variety of choices for all types of travelers.
You may also want to check our website guides:
Train Travel Guide: in our railway travel guide, you will learn how to choose and ride the most scenic train routes around the world, always in the most comfortable way with optimal prices to enhance your travel experience.
Dating Guide: our dating guide will help you not only to find love but to understand the social customs of each country. It will also help you to avoid dating scams around the internet and find people really interested in honest relationships.
Work Abroad Guide: Learn how to find a job and employment requirements in different countries. From the initial job search, to bargaining salaries, this guide will help you to find job in most countries around the world. It also covers about remote work and TEFL jobs.