What is the best way to travel from Madrid to Barcelona? In this post we'll find out whether it's better to travel by train, bus, or plane
Are you unsure of how to travel between the Spanish capital and the second city? Don't worry! In this post, we'll look into the best ways to travel from Madrid to Barcelona, the most visited cities in Spain.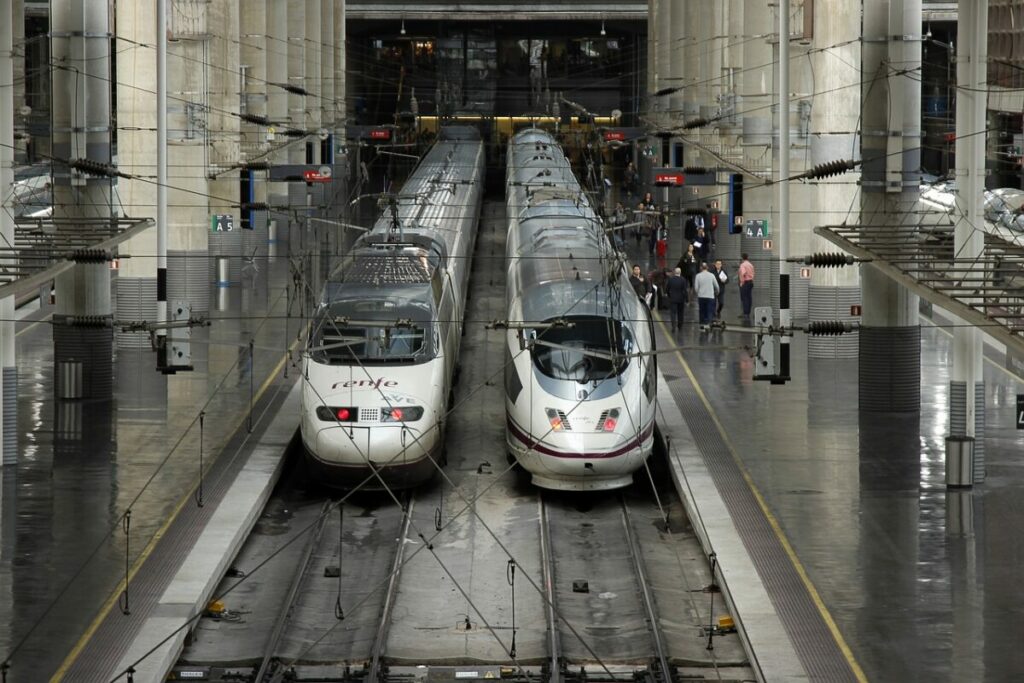 Madrid to Barcelona: The route
The Spanish capital Madrid and Barcelona are approximately 600km apart, depending on which mode of transport you take.
Madrid is the Spanish capital and is full to the brim with exciting things to do. Admire the incredible art at the Reina Sofia and Prado museums, take a rowing boat out or go for a stroll in the Parque del Buen Retiro, or simply sample the delicious gastronomy the city has to offer.
Barcelona is Spain's second city and one of the country's most popular tourist destinations. Admire Gaudi's sublime architecture, get lost in the narrow streets of the Gothic quarter, or catch some rays on the beach.
There are many options between the two cities. Let's explore the pros and cons of each option, including trip duration, cost, and how to buy your tickets.
Madrid to Barcelona by train
The AVE high-speed train takes less than 3 hours to travel between Madrid and Barcelona, meaning that it can be quicker than flying, if you factor in check-in and airport security. It's a very comfortable way to travel too.
Most trains to or from Madrid will use Atocha or Chamartín stations, whereas Barcelona will use Sants. In the case of the Madrid route, you will travel by train from Atocha to Sants in virtually all cases.
You can pick up a ticket on the high-speed train from about €67, depending on the time of day you travel, but the lowest price for train travel is closer to €40. However, for this price you'll be on slower regional trains and you may have to change. The journey will take longer than the bus or car sharing.
Pros
Sometimes the travel time can edge air travel.
Stations close to the city centre.
Cons
Can be expensive, especially high-speed trains.
Cheapest options can take as long as 9 hours.
How to buy train tickets from Madrid to Barcelona
The best options for buying train tickets between Madrid and Barcelona are:
Trainline – A good guide to buying train tickets not only in Spain, but all of Europe. Has timetables and prices.
Renfe – the Spanish public train operator website.
Madrid to Barcelona by bus
Travelling by bus is the cheapest option, but it's also the slowest. Travel time ranges between 7 – 8 ½ hours, depending on which coach stations you want to travel between in Madrid and Barcelona.
Make sure you know which station you've booked to and from before boarding your bus, as the bus terminals can be on opposite sides of the city.
Pros
Cheapest option.
You get a TV with a choice of movies, series, music, and even books.
Cons
Slower than the train or flying.

How to buy bus tickets from Madrid to Barcelona
The best options for buying bus tickets between Madrid and Barcelona are:
ALSA.es – Spain's biggest and most reliable coach company.
Trainline – Trainline also offers bus tickets for many routes in Europe
Flixbus – one of Europe's biggest bus companies.
Flights from Madrid to Barcelona
Flying is definitely a good option, as it saves a lot of time and there are a few carriers that offer travel between Madrid Barajas airport and Barcelona El-Prat airport. These include Iberia, Vueling, and Air Europa. Flight duration is usually around 1 hour 15 minutes, but you have to factor in travel to and from the airport, check-in, and security. Sometimes it can take just as long, if not slightly longer than the high-speed train.
Pros
Quickest option with regards to travel time alone.
Base price (without extra luggage etc) cheaper than a lot of high-speed trains.
Cons
Having to check-in and go through security can sometimes take a long time.
How to buy flights from Madrid to Barcelona
You can check flight and price times by using our flight search tool at Jetradar.
Madrid to Barcelona by car
Travelling between Madrid and Barcelona will take you at least 6h30 hours. Car sharing is a good option, and on BlaBlaCar, prices start at €30.
Hotels in Madrid
Best Western Hotel Los Condes – a great hotel right next to the Gran Via.
NH Madrid Atocha – an excellent hotel close to the Madrid Atocha Station.
Hotels in Barcelona
Praktik Vinoteca – an excellent Hotel in the Eixample district, close to the Casa Battló.
Hotel La Casa del Sol – a reasonably priced hotel in the Gràcia district of Barcelona.
Other resources for travelling in Spain
If you traveling in Spain you might want to check some of our other guides to the country. Check the best places to stay in Madrid and our guide to where to stay in Barcelona.
For those considering a longer stay in Spain you might want to check our post on the average and minimum salary in Madrid, and the cost of living in Madrid.
Already in Madrid or Barcelona? Leave your thoughts and questions in the comment box below.