How to get from Milan to Zurich? This post will explore the best options connecting the two cities by bus, train and flights
Are you in Milan and want to get to Zurich? The guide below will analyze the best ways to get from Milan to Zurich, including bus and train options.
Milan to Zurich: The Route
Zurich, also known as The portal to the Alps, is the financial center of Switzerland and it is also the main transportation hub in the country. The swiss city is also a great scientific and educational center. The largest city in Switzerland is also known for its high quality of life in the world, and has a high concentration of millionaires.
Milan on the other hand, has an equally important relevance in its country, Italy. Apart from being the Italian financial center, it is also an important European hub for fashion.
Both Milan and Zurich are definitely worth to visit if you are coming to Western Europe. The Zurich Kloten Airport as well as the Milan Malpensa Airport are excellent points of entry to Europe, being served with many intercontinental flights.
If you are starting your journey in Europe from Milan or Zurich, check and book tickets on Jetradar.
The Distance
The distance between Zurich and Milan by land is only 282 kilometers or 175 miles.
Milan to Zurich by Bus
Taking the bus is the cheapest option when traveling from Milan to Zurich. If you are on a budget, and want to visit as many European cities as possible for less money, this is the option for you. The ticket price for one way starts from 14 euro the travel duration is around 4 hours.
If you want to get the best out of your trip, travel by day to see the beautiful scenery throughout your ride. You will be crossing the Alps and it would be a shame not to see that view, even if part of the trip goes through tunnels. When traveling by bus through Europe, Flixbus is always a good choice. The buses have wi-fi, toilets, Air conditioning, plug sockets and extra legroom. You can also get a ticket discount if you are a student.
The best option to buy bus tickets is using the Trainline website.
Milan to Zurich by Train
This is the most common and popular way of traveling from Milan to Switzerland. You can travel from Milan to Zurich in two ways. There are three ways to travel on this route by train. With a direct EuroCity train, a regional Italian train and then another in Switzerland, and the Bernina Express.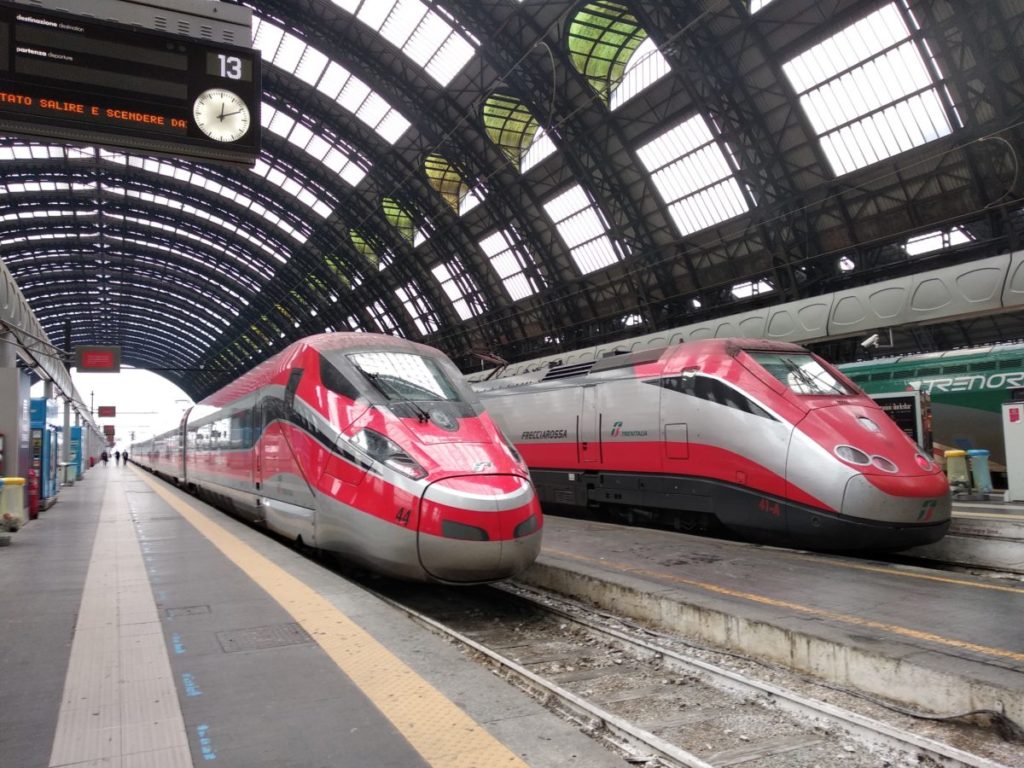 The first option is the most convenient, choosing the EuroCity train. These run several times a day (almost at once every hour) and you will start your journey at the iconic Milano Centrale Station. In Zurich you will arrive at the Zurich Central Station (Zürich Hauptbahnhof). Prices for this trip usually start at 39 EUR (one way).
The second option is taking a regional train to Lugano or Bellinzona. Both these cities are in Switzerland. Then you can take an InterCity train to Zurich. Lugano is especially beautiful and definitely worth the stop. This option may be slightly cheaper than the EC train, but that is not guaranteed.
The third option is traveling by The Bernina Express. The Bernina Express is the most scenic Swiss train. The main difference between these and regular trains are enormous windows on each side of the train. If you choose to take this route, you will have a chance to see the breathtaking icy Switzerland and sunny Italy. You will go through over 55 tunnels and over 196 bridges, and see the beautiful Alps and forests. In order to see all of this, you will need to switch trains a few times.
The Bernina Express is the most expensive option for those going by train.
If you want to buy regular train ticket, you can do it on Trenitalia or on Trainline.
If you want to travel by Bernina Express, you can buy on the Bernina Express Website.
Milan to Zurich by Plane
Despite its relative short distance, it is possible to travel by plane from Milan to Zurich. SWISS international airlines and its subsidiaries (Edelweiss and Helvetica) operate on this route. The travel duration is of slightly less than one hour.
The disadvantage of traveling by plane are the traveling from and to the airports in both Milan and Zurich. Another thing you should consider are the prices. Traveling from Milan to Zurich by plane costs considerably more than the options by train and bus.
You can book your tickets on Jetradar.
Milan to Zurich by Car
The most flexible way of traveling is for sure by car. Both Zurich and Milan are in the Schengen area, so you can drive your rental car through the border without any problem. Renting a car in Italy is considerably cheaper than in Switzerland, so I definitely recommend it..
If you do not have one, you can rent it online and pick it up in Milan at RentalCars.com.
Hotels in Milan
Hotel Mondial – an excellent choice if you are traveling by train to Milan. The Hotel Mondial is just a short walk to the Milano Centrale Station.
Hotel Milano Navigli – as the name says, a great accommodation option in the Navigli area with pretty price to quality ratio.
Hotels in Zurich
Sorell Hotel Rütli – A great accommodation option, located at a walking distance to the ETH University. This mid-sized property is ideal to enjoy all the aspects of the old town without worrying about transportation.
Hotel Bristol Zurich – This great budget option is located 5 minutes from the Zurich Hauptbahnhof (Zurich Main Railway Station). It is a great option to enjoy the old town and also if you have an early train the next morning.
Other resources for travelling in Italy and Switzerland
If you are traveling to Milan and Zurich you might want to check some of our other guides to Italy and Switzerland. Check where to stay in Milan and the best places to stay in Florence. You can also read our post on how to travel from Milan to Florence and from Zurich to Liechtenstein.
Are you already in Italy or traveling to the country soon? Leave your thoughts and questions in the comment box below.