How to move to Estonia? Let's discuss how you can immigrate to Estonia and obtain a residence permit as an EU and Non-EU citizen
Are you considering moving to Estonia? In this post we will discuss the options to get a residence permit in the country as both EU and non- EU citizens, for the purpose of work, business, study. We will also list the advantages and disadvantages about living in Estonia.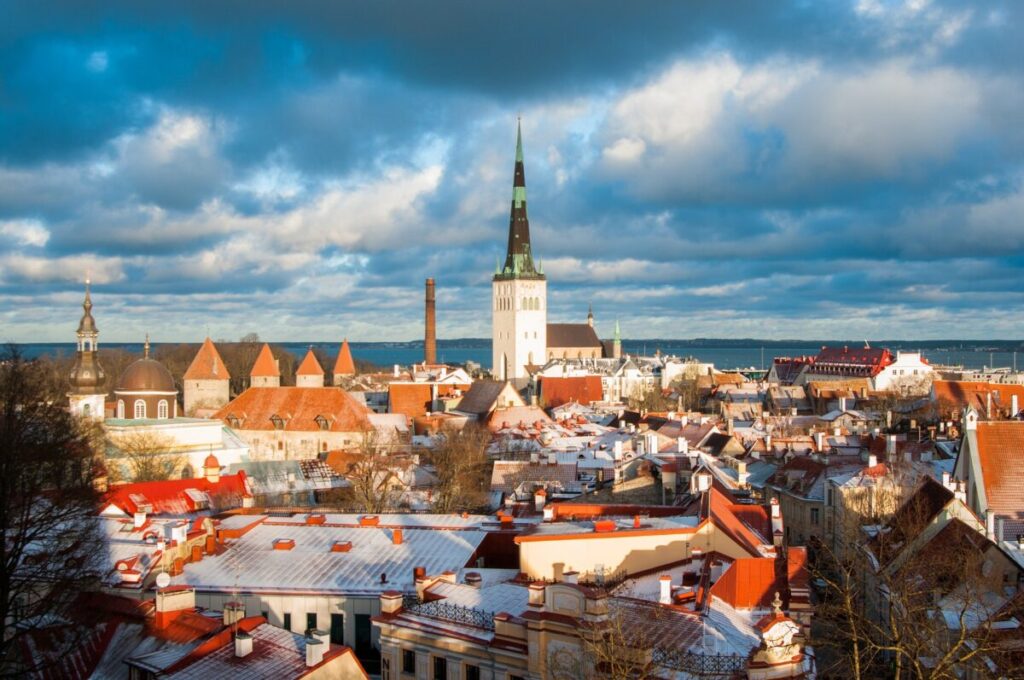 Estonia Overview
Estonia is a country in Northeastern Europe, and part of the Baltic States together with Latvia and Lithuania. The country is a full European Union member, a member of the Schengen area, and currently uses the Euro common currency. The economy of Estonia is pretty stable, and the country has experience huge economic growth since it got independent after the collapse of the Soviet Union in the 1990's.
Below, we will analyze the options if you want to move to Estonia, temporarily or permanently.
Estonia Residence Permit for EU Citizens
If you are an EU citizen and you want to live in Estonia for more than 3 months, you need to register your stay. The process is pretty straightforward and you can do everything after you are already in Estonia. You will need to either own real estate, have a rental contract, or the consent of a property owner in Estonia to live and register your address there.
Once registered, you can go on and start your activities, whatever they might be: work, study, retirement, non-economic activities broadly with the same rights as Estonian citizens.
Estonia Residence Permit for Non EU Citizens
If you are not an EU citizen your options to live in Estonia are considerably reduced. However, there is still a number of options you can explore if you want to live in Estonia and you are not an EU citizen.
One of the good things about Estonia is that if you are legally in the country on a visa, or if you center Estonia visa free, you can apply for your residence permit directly in the Estonian Police while already in the country. In many cases however, it will be more convenient to apply from abroad at an Estonian embassy due to the time and document constraints.
Residence Permit for Business
In my opinion, the most attractive residence permit currently available in Estonia is the one for business owners and self-employed persons. The financial requirements are reasonable.
Here they are: If you are an shareholder of a company the capital invested must be of at least 65000 thousands euros to qualify. However, if you are self-employed, the capital investment requirement is of just 16000 euros, which I consider pretty reasonable.
You will also need a pretty solid business plan, as it will be reviewed by the authorities before you can start operating your venture in Estonia.
Digital Nomad Visa
Estonia, as a pioneer in many aspects of its government, has recently launched a digital nomad visa. This visa is ideal if you want to live in Estonia and work remotely for your own company, or providing services for companies abroad.
The main requirement when it comes to the digital nomad visa is showing evidence that you already have a steady income as a remote worker. The minimum income threshold you need to be eligible for this type of stay in Estonia is EUR 3504 per month during the 6 months previous to your application. The downside of this type of visa is that is issued for up to one year. You can apply through an Estonian embassy abroad or directly in Estonia if you are legally in the country.
Estonia e-Residence
Estonia has made it to the news some years ago when it launched its e-Residence program. Despite its name, the truth is that the e-Residence does not grant you the right to live in Estonia. Becoming an e-resident in Estonia will just allow you to access a number of digital services in the country.
In my opinion, the Estonian e-Residence program is just useful for a very few specific cases. If you live in a country with poor digital infrastructure and work remotely and want your business to gain access to the European Union market, the e-Residence might be an option. It is popular among citizens of Ukraine or Turkey for example.
If you are a citizen of a Western country, there are very little advantages in this program. By becoming and e-resident and opening a company in Estonia you will have to pay taxes of your company activity to Estonia, and the tax rate is not necessarily low. There are much better jurisdictions in my opinion.
Other Residence Permits to Live in Estonia
There are other cases in which you can get a residence permit to live in Estonia. Among them, a residence permit if you work for an Estonian company, if you are married to an Estonian national or if you come to Estonia to study.
Residence Permits for Retirement
Currently Estonia does not have any type of visa or residence permits to retirees.
Permanent Residence Permit in Estonia
If you live in Estonia for five years consecutively, you will be able to apply for a permanent residence permit in the country. There are a few exceptions to that, which may reduce the amount of time you need to live in Estonia before you can apply for permanent residency.
Estonian Citizenship by Naturalization
In order for you to be eligible for Estonian citizenship by naturalization, you need to have lived for at least 8 years in Estonia. Out of those 8 years, 5 years you need to be living in Estonia as a permanent resident. So Estonia is definitely not among the easiest countries to obtain citizenship through naturalization in the European Union.
For most cases, Estonia does not allow dual citizenship. This has mostly to do with tensions with Russia and Estonia's past a Soviet republic and the local Russian ethnic population.
Advantages of Living in Estonia
Now, let's check some of the main advantages of living in Estonia:
Efficient Government
One of the best advantages of living in Estonia is having an efficient government. This includes a low level of corruption, a number of services available digitally for its systems, an uncomplicated tax system, and an overall pro-business atmosphere.
Estonia ranks pretty high in the ease of doing business report, yearly published by the World Bank.
Good Location in The Schengen Area
Apart from being in the European Union, Estonia is also a member of the Schengen treaty area. In other words and in normal circumstances, if you hold a residence permit in Estonia you can freely travel across all the countries of the Schengen area without having to show your passport in any border.
Moreover, Estonia has good access to most countries of Northern Europe, and direct flights to the most important capital cities of Europe. Finally, you are a just a short hop to Saint Petersburg, Russia, which is definitely worth visiting and easy to access with the new Russian eVisa.
Prevalence of English Speakers
Estonia is also a great place for English speakers. While Estonian is the official language in the country, most residents in the country speak English to a very high standard. Moreover, you will find many job offers in Estonia which do not require you to speak any Estonian, especially in IT related roles.
Disadvantages of Estonia
Weather
One thing that might be considered as a disadvantage for some is the weather. Estonia is in fact one of the coldest countries in Europe. Winters in Estonia are pretty long and dark, which may be an unpleasant disadvantage for some. If you like snow and subzero temperatures, Estonia is the place for you.
On the other hand, Estonia has pretty interesting summers. Days are rarely excessively hot, and they are also quite long. In fact, it gets dark just a few hours per night.
Estonian Language Difficulty
The Estonian language sounds pretty mysterious and is definitely an important part of the Estonian culture. Unlike most European languages such as English, German, Spanish or Russian, the Estonian language is not an Indo-European one. That means, its grammar is quite different than what most expats are used to deal with before coming to Estonia.
Moreover, Estonian is only broadly spoken in Estonia. However, if you want to move permanently to the country, it is definitely worth learning it
Lack of Flexible Residence Permits
The final disadvantage I would like to point in Estonia is that the country offers a relatively low amount of residence permit options. As mentioned earlier Estonia does not have a residence visa for retirees. It also does not have an attractive visa for those willing to have a more passive lifestyle, like you can find in its Southern neighbor Latvia, in which you can get a residence permit by investing in real estate.
Other Resources to Traveling in Estonia
Are you in Estonia or considering moving or traveling to it soon? Check some of our other guides to the region, such as where to stay in Tallinn and the cost of living in Tallinn, Estonia.