How to get from Tallinn to Riga? Check our guide explaining the most popular options, including flights, buses and trains from Tallinn in Estonia to Riga in Latvia
Are you traveling in the Baltic States or planning to do so? If the answer is yes you will probably want to know how to get from Tallinn to Riga, as its one of the most popular routes in this region.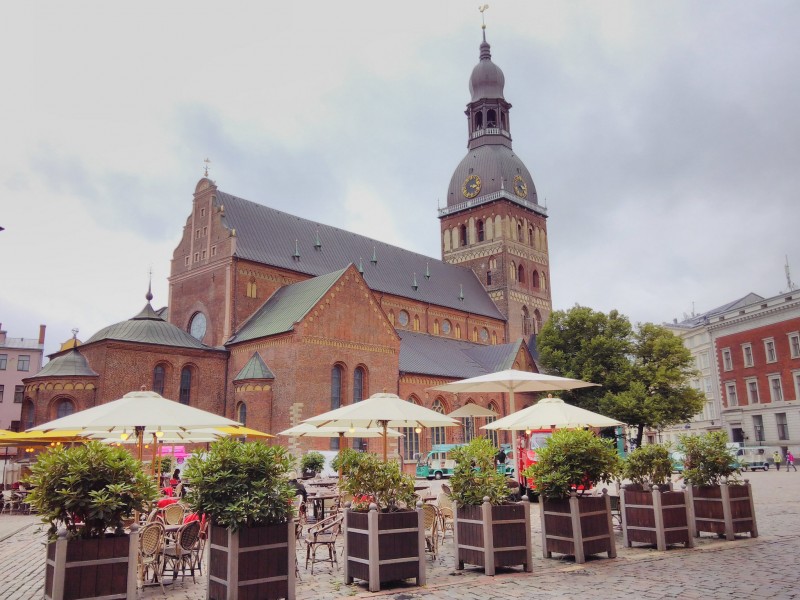 Tallinn to Riga: Why this Route?
The Baltic region is one of the least visited in Europe, making of it a very genuine experience. The three Baltic capitals (Tallinn, Riga and Vllnius) are usually the most visited by tourists coming to the region. For practical reasons, visitors usually travel from Tallinn to Riga and then Vilnius (from north to south) or the other way around (Vilnius to Riga to Tallinn).
In this post we will analyze the options to travel from Tallinn to Riga. However, it is important to notice that the Baltic region has more to offer than its three capitals, and we can see in this post about the best places to visit in the Baltic States.
So, how to travel from Tallinn to Riga?
There are a few options, with some of them being more or less practical than others. We will analyze the following options here from Tallinn to Riga: bus, car, train and flights.
Tallinn to Riga by Bus
The Tallinn to Riga bus route is probably the most popular and the easiest way for visitors traveling from the Estonian to the Latvian capital. There are two main advantages that make this route efficient and preferable. The first, it is pretty cheap, the second, there are many buses doing this route, running day and night, every day of year.
There are basically two main companies operating on this route: Lux Express (with Simple Express too) and ECOLINES.
Another advantage is the location of both Tallinn and Riga bus stations. Both are pretty central, you should show up 15 minutes before the bus, board and go. The trip itself is not very long, and many buses are direct. The trip is slightly longer than 300 km and takes a little bit more than 4 hours.
You can buy tickets from Tallinn to Riga by bus on infobus.eu.
Tallinn to Riga by Plane
Another popular option is flying from Tallinn to Riga. While it has its advantages, it also has some important disadvantages, so let's get to the facts.
The main advantage of flying is the traveling time. Once you are actually flying, the trip is done is less than one hour, saving more time for enjoying your travel. However, a lot of time is required for checking in at the airport, waiting for boarding, and waiting for checked luggage(if you have it).
Tallinn Airport is pretty close to the city center, so you won't require a lot of time to get there. Riga Airport however, is further away, and it can easily take one hour to get there, depending where you are, and how traffic is.
Considering the overall distance, including leaving your accommodation, getting to the airport, boarding, flying and leaving the aiport, Tallinn to Riga by plane is just slightly faster than traveling by bus.
If you are flying on this route , compare and book tickets using Jetradar.
Currently, airBaltic from Latvia operates daily direct flights from Tallinn to Riga.
You can also check our guide on how to travel from Riga Airport to the city center.
Tallinn to Riga by Train
Surprisingly enough, the Baltic region has some of the least developed railway systems in Europe. There are some reasons behind this, including late conversion from Russian gauges from the Soviet era. The fact is that, traveling by train in the Baltic region is only convenient for now if you are using domestic trains (or trains to Russia – that is just relatively convenient).
Knowing that, it is still possible to travel from Tallinn to Riga by rail, but there are no direct train lines (there are plans for this route though). The plan is to connect all Baltic States by rail in a project called Rail Baltica.
Firstly, you need to take an Estonian domestic train from Tallinn to Valga (on the border with Latvia). Once in Valga, you will get a domestic Latvian train to Riga. This route is very unpractical, and there are very few daily scheduled departures.
For details and timetables, visit the Elron website (Estonia) and the Latvian Railways Website.
Reasonably Priced Accommodation in Tallinn
The von Stackelberg Hotel Tallinn – This is a great option if you want to enjoy Tallinn old town to the fullest. Its renovated premises are established in a building from the XIX century.
Hotel Ülemiste – If you are flying in out of Tallinn, this hotel is probably the best option. It is just a short walk away from the city's airport, which can be quite handy if you have an early flight to catch.
Visit our guide on where to stay in Tallinn for more information.
Reasonably Priced Accommodation in Riga
St. Peter's Boutique Hotel – a pleasant and refined accommodation option in Riga old town.
Radi Un Draugi – an excellent option to enjoy the Latvian culture at the heart of the old town, close to the dome cathedral.
Visit our guide on where to stay in Riga for more information.
Other Resources to Travel in the Baltic States
If you are traveling to the Baltic States you might want to check some of our other guides to the region. Check where to stay in Vilnius, and how to travel from Tallinn to Helsinki.