This post will bring an insight on trains from Minsk and also explain to prospective passengers how to get to Minsk by train and bus
Minsk is the capital of Belarus and one of the least visited capitals in Europe, and it's rather unique political system closed to the west, makes of it one of the most secluded and exotic nations who once were part of the now extinct Soviet Union.
Trains in Minsk and Belarus
Even if Belarus is probably the most secluded nation in Europe with a fairly low GDP, it already counts with some of the most modern trains in the region, operating just in a small number of lines, yet showing that the train sector is well developed in the region.
The latest purchases from Belarusian Railways are trains from the Swiss manufacturer Stadler.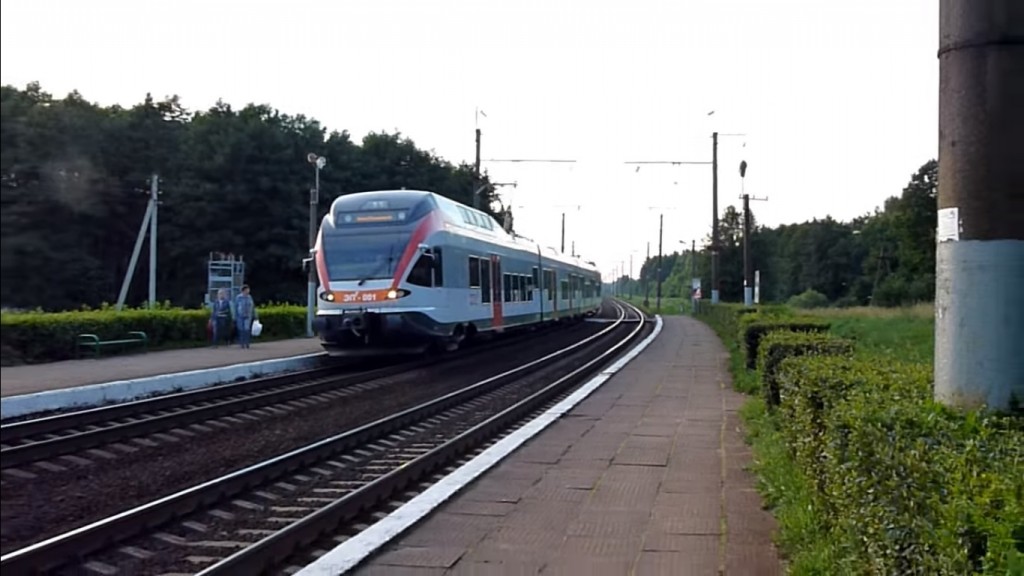 Belarus Modern Train by Ian Dimitryievich / Youtube
Train Stations in Minsk
The main railway station in Minsk is Minsk Passazhirski (Minsk Passenger Station) and is located in the heart of the city. Most international trains will call only at this station, especially those coming from / to the European Union.
Click here to find accommodation near the Minsk Railway Station on Booking.com
How to Travel to Belarus by Train
Being a relatively small country, and currently no low cost airlines operating in it, Belarus receives many of its travelers, both from West and East through its train lines.
Belarus has fairly decent train connections with all countries it borders, Lithuania, Poland, Russia and Ukraine, the only exception is Latvia, which lacks a direct connection to the country.
Here are the options if you want to travel to Minsk in Belarus from one of these destinations:
Trains from / to Minsk to Riga, Latvia
Probably the most poorly connected country with Belarus and bordering it is Latvia.
Trains from / to Minsk to Vilnius, Lithuania
There is a decent amount of trains running from Vilnius in Lithuania to Minsk in Belarus, most of them connect Kaliningrad, a Russian enclave in the Baltics to Minsk, Moscow, and other cities in Russia.
Trains from / to Minsk to Warsaw, Poland
Probably the best connected city with Minsk, if you want to travel to / from Minsk by train is Warsaw, as virtually all trains connecting Russia to Europe use the tracks between Minsk – Brest – Warsaw as part of the route. There is a sizeable number of trains on this route, and they are mostly parts of railway connections like Moscow – Paris, Moscow – Vienna and even extremely long routes like Moscow – Nice and Moscow – Sofia.
Trains from / to Minsk to Kiev, Odessa and Lviv, Ukraine
There is a far number of connections between Minsk and Ukraine, and nowadays, they are probably the best bet if you plan to do land travel between Ukraine and Russia. While the Minsk to Lviv train runs just once a day, connections to Minsk to Kiev are more frequent, and some of those trains continue all the way down to Odessa.
There is also one train connecting Minsk to Kharkiv and Zaporozhie.
Trains from / to Minsk to Moscow and Saint Petersburg, Russia
There are more than 10 daily trains connecting Minsk to Moscow, being most of them legs of a longer trip as mentioned above. There are much less direct trains connecting Minsk to Saint Petersburg.
Train Conditions and Types of Ticket
Most international trains from or to Minsk have cabins and one or two railway agents controlling tickets at the entrance of each train car. Prices vary greatly depending on the number of beds (platzkarte / cupe) per cabin.
You can buy tickets from most routes operating in and out of Minsk through the website Poezdato(in Russian).
Train Travel Resources

Booking.com: the most complete website for finding hotels and accommodation anywhere.
Rail Europe: buy train tickets and passes if you are from North America.
Rail Europe World: buy train tickets from a number of countries* outside Europe and North America.
World Nomads: if you are travelling abroad, you can get insurance from World Nomads. With a vast coverage in number of countries and activities, World Nomads is a great option for any kind of traveler.
CheapOair: this is one of my favorite websites for buying airline tickets for flights for any destination in the world. One of the best advantages of CheapOair is that they accept not only the usual credit card payments but also PayPal.
Train Travel Guide: in our railway travel guide, you will learn how to choose and ride the most scenic train routes around the world, always in the most comfortable way with optimal prices to enhance your travel experience.
*Afghanistan, Algeria, Argentina, Australia, Azerbaijan, Bahrein, Bangladesh, Belize, Benin, Bolivia, Botswana, Brazil, Cambodia, Cameroon, Central African Republic, Chile, China, Colombia, Costa Rica, Djibouti, Écuador, Egypt, Ethiopia, Gabon, Guinea-Bissau, Equatorial Guinea, Hong Kong, India, Indonesia, Iraq, Iran, Israel, Japan, Kazakhstan, Kenya, Korea, Kuweit, Kyrgyzstan, Laos, Lebanon, Malawi, Malaysia, Maldives, Mongolia, Morocco, Namibia, Nepal, Nigeria, New Zeland, North Korea, Pakistan, Papua-New-Guinea, Paraguay, Peru, Philippines, Qatar, South Africa, Seychelles, Sierra Leone, Singapore, Somalia, Sri Lanka, Swaziland, Taiwan, Tanzania, Thailand, Tunisia, Turkmenistan, Turkey, United Arab Emirates, Uruguay, Venezuela, Vietnam, Uzbekistan, Zambia.