This post will feature the most important railway connections in the Czech Republic, analyzing trains from Prague to all countries with direct railway routes
If you are considering using taking a train in Prague to continue a short weekend trip or a long European railway tour, this article will guide you through all the information necessary related to trains from Prague.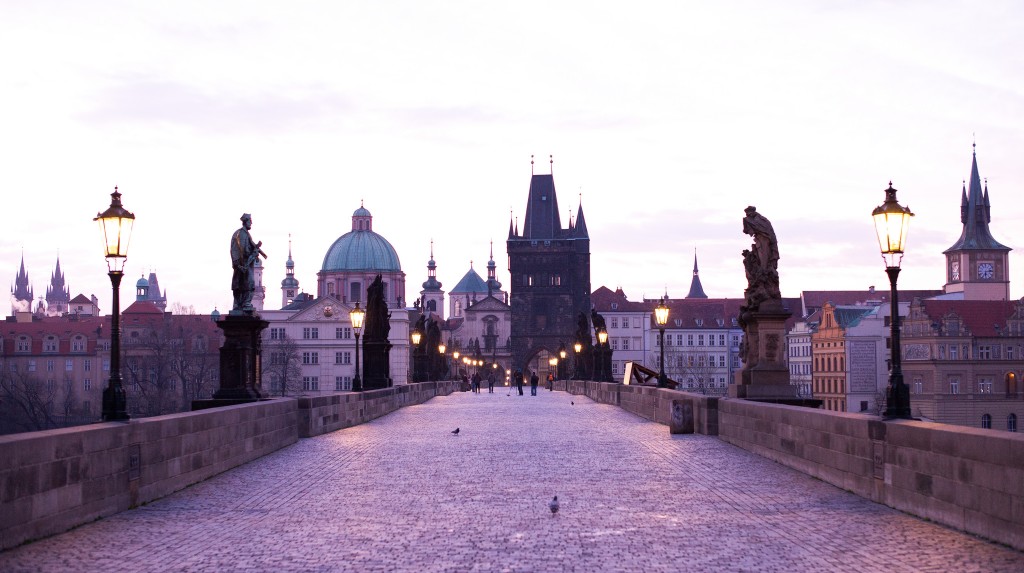 Prague is possibly the most touristic city in Central Europe, with its unique architecture, beautiful historical sites, stunning bridges over the Vltava and many other attractions. One of the most convenient ways to reach Prague is by train, as the Czech railway network is dynamic and has a vast array of options. It is also quite easy to buy train tickets to Prague online, and in most of the cases you will not have to worry with about buying tickets at the station and risk finding a fully booked train.
Due to its geographical location, it makes more sense to travel (travel time, costs) to Prague by train to some cities in Austria, Slovakia, Poland and Germany than by bus or plane. In some occasions and depending on your trip arrangements it might be a good idea to take a night train from Prague to selected locations, to sleep while you travel, also saving the money you would spend with accommodation.
Train Stations in Prague
Unlike some other European cities, most of the main train routes from Prague begin at the Prague Main Railway Station (Praha hlavní nádraží) which engulfs most of the international routes. There are also less important train stations that might come handy depending where you are staying and which is your final destination.
Prague Main Station Hlavní Nádraží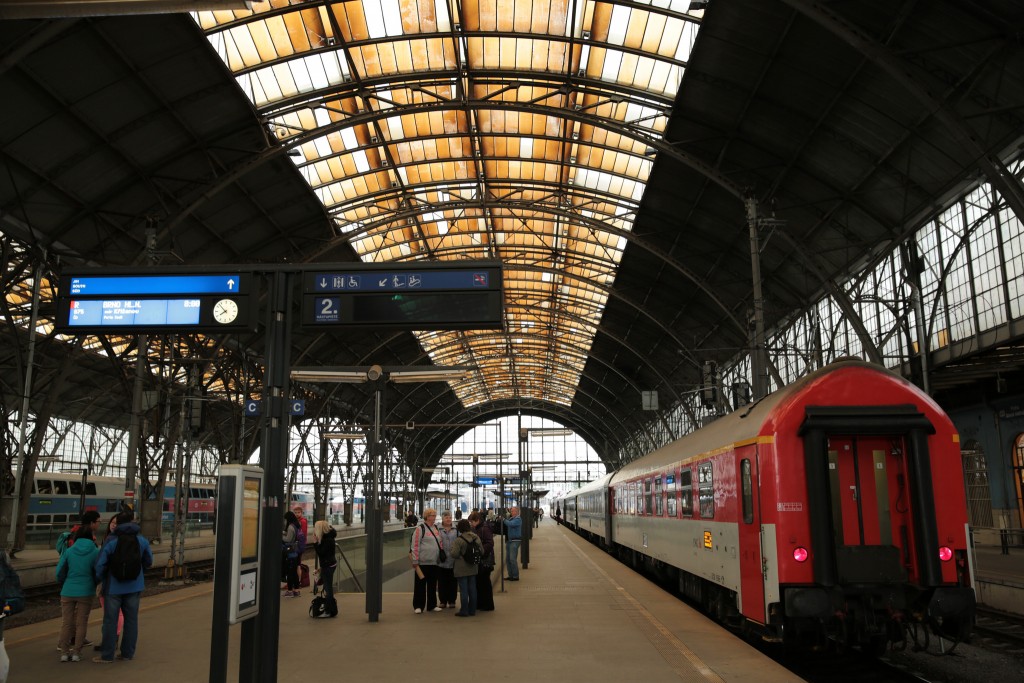 The literal translation for Hlavní Nádraží is Main Station, and it is possibly the station in which you will stop if you travel by train from or to Prague. It manages most of the domestic and international railway traffic passing by Prague.
If you are arriving to Prague by air transport, there is a direct bus service between the Václav Havel Airport Prague and the Prague Main Station.
If you are arriving via the Hlavní Nádraží station, you can check hotels in this area on Booking.com website.
Prague Holešovice Nádraží Station
This station is located in the northern part of Prague and has a significant important in Prague railway traffic. It serves some domestic as international routes. Most of the international routes from this station start or end in Berlin, Germany.
If you are arriving via the Holešovice station, you can check hotels in this area on Booking.com website.
Prague Masarykovo nádraží Station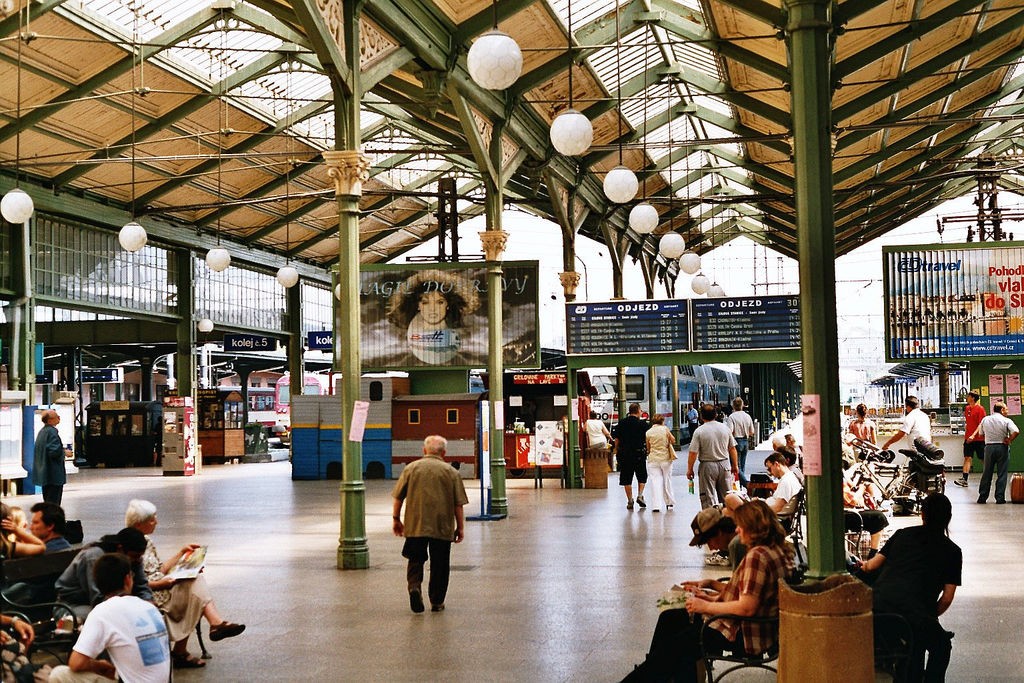 This station currently handles just a small number of domestic trains. It is the second oldest train statio in Prague. A train service from this station to the Prague Airport is planned.
Prague Florenc (Bus Station)
The Florenc Bus Station has managed domestic and international buses arriving in Prague. It can be a good option for many destinations where there are no direct train lines, or the train is slower than the bus. The city of Karlovy Vary in the west of the country is a good example of this.
You will also find a lot of buses from Prague Florenc to destinations in Eastern Europe. You can travel to most cities of Ukraine from this station, as the Ukrainian community is sizeable in Prague.
Click here to check hotels near the Florenc Bus Station Booking.com
Trains from Prague: International Routes
One of the main point of entry to the Czech republic for foreign tourists is the Prague main railway station, below we will find what are the direct international train routes starting or passing by Prague.
Trains from Prague to Budapest, Hungary
One of the most convenient international train connections from Prague is to Budapest in Hungary.
There are several daily trains connecting Prague to Budapest. There is also one EuroNight train between Prague and Budapest, which can be quite handy if you want to save one night of accommodation.
Most of the trains operating on this direct route transit through Slovakia.
Prices on the Prague – Budapest route start at 20 €.
Trains from Prague to Austria (Graz, Vienna)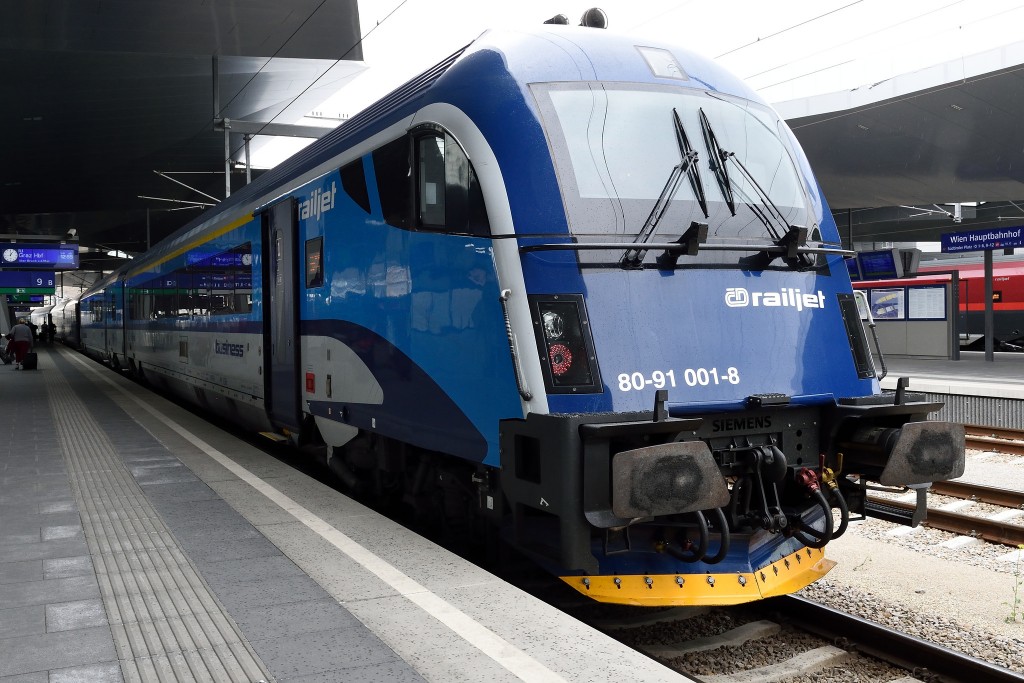 Prague is extremely well connected to Austria due to its close geographical location. There are multiple daily direct trains departing from Prague to Austria.
Prague to Graz: There are several trains serving this route directly. The train used on this route is mostly the ÖBB Railjet, a modern Austrian train. The tript takes almost seven hours.
Prague to Vienna: Most of the direct trains from Prague to Vienna are the same Railjet trains that travel all the way to Graz. They depart almost hourly during daytime. There is also one EuroNight train travelling on the route Berlin – Wien which stops at the Prague Main Station. The journey with the Railjet takes 4 hours and the EuroNight train does Prague – Vienna comfortably in 7 hours (sleeping cars available).
Trains from Prague to Poland (Katowice, Warsaw, Krakow)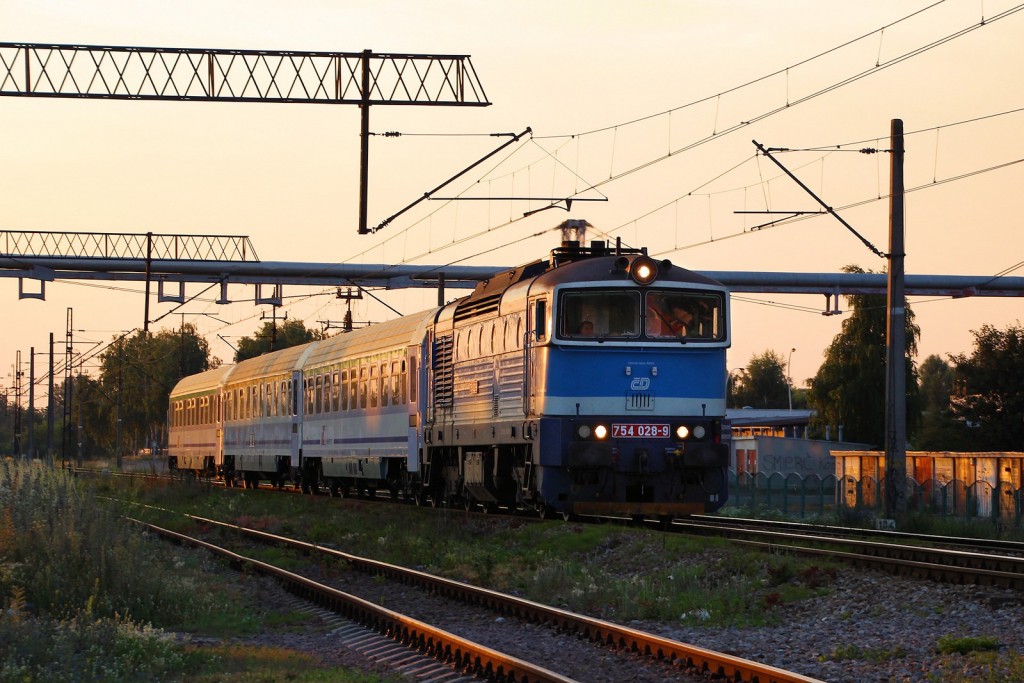 Even if the Czech Republic shares a sizeable land border with Poland, there are not many direct train routes connecting Prague to Polish cities, but luckily there are a few.
Prague to Krakow: There is one direct EuroNight train from Prague to Krakow Glowny Station. It is an 8 hour ride departing at 23.09 with sleeping cars, couchettes and restaurant (the restaurant only operates on the Czech leg of the route). The cheapest price available on this route is 745 CZK (27 €).
Prague to Katowice: There are a few trains connecting Prague to Katowice directly everyday. Most of them continue their journey to Warsaw and one operates the route Prague – Moscow. There are both simple trains and also trains equipped with sleeping cars.
Prague to Warsaw (Warszawa): There are a few daily trains connecting Prague to Warsaw directly.
One of them is an EuroNight train doing a 9 hour trip from Prague to the final destination of Warszawa Wschodnia (Warsaw Eastern Station).
There is also one direct train that runs almost daily leaving Prague early in the morning to Warsaw, on an 8 hour ride.
The train connection between Prague to Moscow Bielorusskaja Station also stops in Warsaw, but arrives at the Polish capital at 3 in the morning.
The cheapest price available on this route is 745 CZK (27 €)

Prague to Wroclaw: There are no direct trains between Prague and Wroclaw, even they are relatively close to one another. Your best bet is taking a direct bus operated by the company Polski Bus or travel by train to Usti nad Orlici, and from there to the Polish town of Klodzko. Once in Klodzko you can take a direct bus to Wroclaw.
Trains from Prague to Slovakia (Bratislava, Kosice)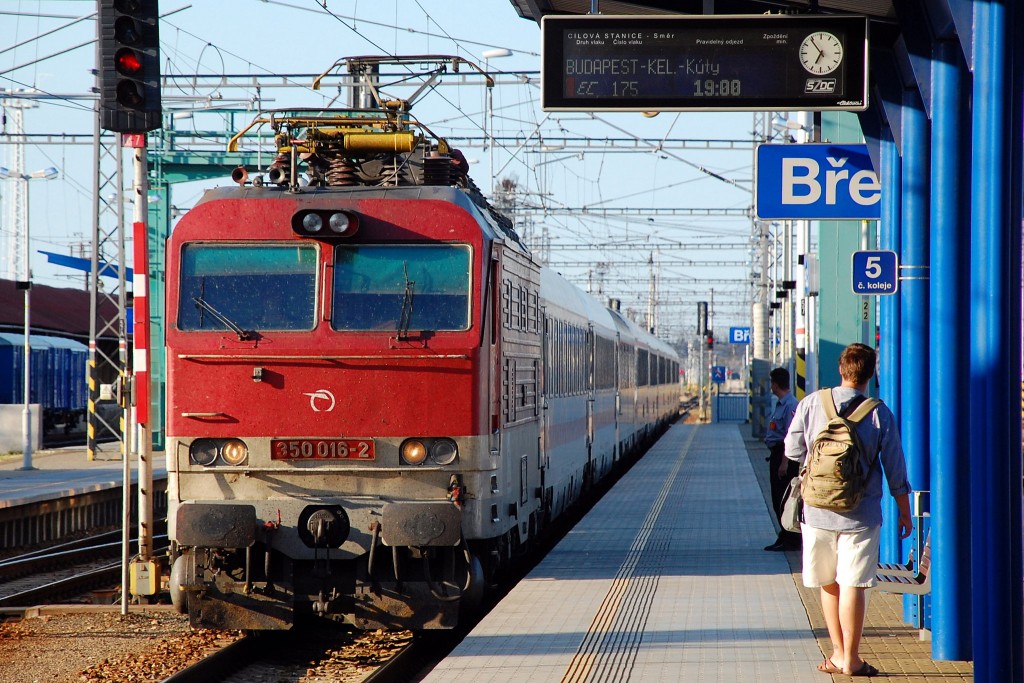 Since Prague used to the capital of Czechoslovakia, and this country has split into the actual Czech Republic and Slovakia, there are a lot of daily direct trains connecting Prague to various cities in Slovakia.
Direct train from Prague to Slovakia are operated by both public companies (České dráhy, Železnice Slovenskej republiky) and private companies (Regiojet / Student Agency, Leo).
Prague to Bratislava: Prague to Bratislava is one of the busiest routes connecting two capitals in Europe. It is also probably the most convenient way to travel between these two cities. There are usually trains leaving almost every 2 hours, on a direct ride of 4 hours.
It is also possible to catch the Prague – Bratislava leg of the Berlin – Budapest train but it is not advisable since it leaves Prague late in the and arrives in Bratislava too early.
The cheapest fare on trains operated by České dráhy on this route are 414 CZK (roughly €15).
Prague to Kosice: Košice is the second biggest city in Slovakia and located in the eastern part of the country. It is quite close to the border with Ukraine. Usually, different options to travel directly from Prague to Košice are availabel, but the fastest option will take at least 7 hours. There are several options during the day and also night trains with sleeping cars.
Some trains operating on the route Prague – Kiev that stops at Kosice and other Slovak cities like Zilina.
Trains from Prague to Ukraine (Lviv, Kiev, Ternopil)
One of the longest train rides departing from Prague is the route to Ukraine through Slovakia.
Prague to Lviv: There is one daily direct train travelling from Prague to Lviv travelling to Slovakia, it departs at 23.09 from the Prague main train station and arrives at Lviv the next day at 22.22 in a total of 22.30 hours of travel (Ukraine is at a timezone with one hour difference from the Czech Republic). This train also travels through other important Ukrainian cities like Ternopil'.
Prague to Kiev: The same train that travels to Lviv continues all the way to Kiev, arriving at 07.43 in a total of 31 hours of travel. Note that if you use non direct connections, travelling through Poland (Katowice and Krakow) and then catching a fast train from Lviv to Kiev, you can shorten the duration of this ride considerably.
Trains from Prague to Belarus (Minsk, Brest)
One of the most scenic ways to travel to Eastern Europe from Prague is by train. You can take the direct train that goes to the Moscow Belorusskaja Station if you want to reach the Belorussian cities of Brest (on the border with Poland) and Minsk.
The train from Prague to Belarus runs almost everyday leaving Prague at 18.46 and arriving in Minsk at 14.06. Note that on the Polish-Belorussian border there is a long delay to change the track gauges.
Trains from Prague to Russia (Moscow)
There is one train running almost everyday (with a few exceptions) directly from Prague to the Moscow Belorusskaja Station. The journey time is usually around 27 hours.
Note that the Prague – Moscow train is faster than the Prague – Kiev train, which has an inferior absolute distance.
Trains from Prague to Germany (Munich, Hamburg, Berlin)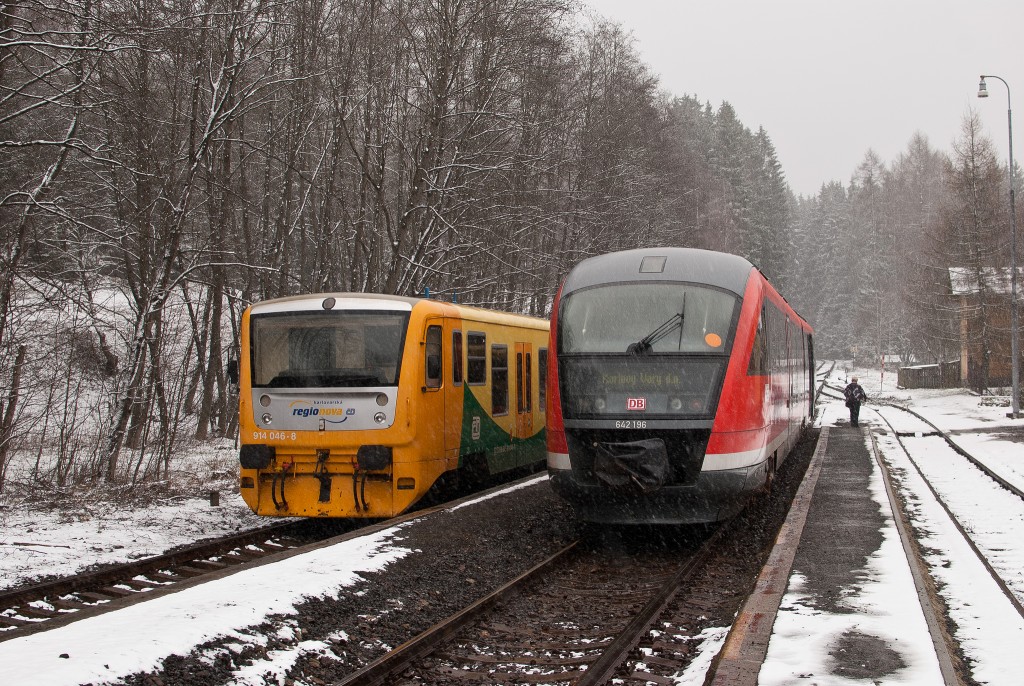 Due to its proximity and relations, there are a considerable number of daily direct railway connections between the Czech Republic and Germany. Most of these trains start or end in Prague, with a few exceptions.
Prague to Berlin: Berlin is probably the German city with the best connections to Prague and the Czech Republic as a whole. There are multiple train connections between these two cities. Some of themare some are legs of longer routes like Hamburg – Prague or Budapest- Berlin. There are both trains running during day time with 2nd and 1st class passenger cars and also EuroNight trains equipped with sleeping cars.
Prague to Dresden: Virtually all trains that travel between Prague and Berlin stop at Dresden Hbf. It is a very convenient and short train trip, running at various times everyday. The cheapest tickets can be both online for as low as 19 €.
Prague to Hamburg: There are a few daily direct trains connecting Prague to Hamburg in a 6.40 hour trip. The cheapest tickets for this route are available for as low as 39 €. You must them buy with a considerable amount of time in advance, as most of them are not available for this price.
Prague to Munich: There are a few direct trains traveling daily between Prague and Munich (München), on a trip that takes roughly 6 hours. On this specific route there are also bus routes, as it can be much cheaper, and faster.
You can buy train tickets from and to Prague on the Voyages SNCF website.
Buying Train Tickets using the Czech Public Railways Website
It is possible, for some routes, to buy train tickets from / to Prague using the Czech Railway Eshop website (eShop ČD). However some routes may be unavailable for online purchasing.
Buying Train Passes Valid in the Czech Republic
If you are planning to travel to Europe and buy a train pass, check our buying guide clicking here.