Check how to get from Vientiane to Luang Prabang by bus and van, in one of most popular routes in Southeast Asia
Traveling to Laos? This guide will give an insight on the best ways to travel from Vientiane to Luang Prabang, connecting the capital to one of the most scenic places in the country.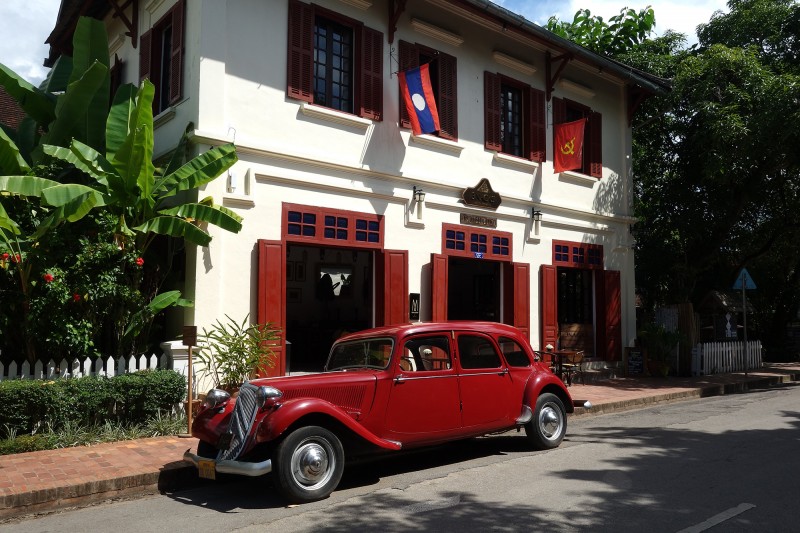 Luang Prabang
Vientiane and Luang Prabang
Vientiane, the once sleepy city filled with temples is now home to an ever increasing tourism industry. The majority of tourist travelling to Laos arrive in Vientiane before heading off to various destinations around the country.
One of the most visited places in Laos is the city of Luang Prabang which is also a UNESCO world heritage site. The city brings in approximately six hundred thousand tourists per year and for good reason, it is a beautiful city. You can travel one of two ways from the capital of Laos to Luang Prabang, by bus or by plane.
How to Get from Vientiane to Luang Prabang by Train
The high-speed train from Vientiane to Luang Prabang is already finished, allowing traveling between these two Laotian cities much faster. To start your journey, you would need to head to the new Vientiane Railway Station, which is located 14km away of the city center. From there, you could purchase your ticket for the high-speed train to Luang Prabang, which is be a comfortable and modern train with amenities like air conditioning, onboard dining, and comfortable seating.
Buying a train ticket in Laos as of 2023 is a pretty complicated process, and if you are a foreigner you will most likely need a travel agency to help you with this.
Once you board the train, you can sit back and relax as you watch the scenic Laotian countryside pass by at high speeds. The train would follow a well-planned route that would take you through picturesque villages, lush forests, and rolling hills, offering breathtaking views throughout the journey. After around 2hours, you would arrive at the Luang Prabang Railway Station, located on the outskirts of the ancient city. From there, you could easily hail a taxi or a tuk-tuk to take you to your hotel or any other destination in Luang Prabang.
The train also calls at Vang Vieng, one of the most iconic destinations in Laos.
How to Get from Vientiane to Luang Prabang by Bus or Van
A good and inexpensive option to get from Vientiane to Luang Prabang is traveling by road. You can choose different types o buses and also a van to travel from Laos' capital city to Luang Prabang and other cities in Northern Laos.
The bus ride to Luang Prabang takes about 9 hours and it is a bumpy ride. The distance is only 335 km but the road winds through the mountains and the bus often moves slowly uphill.
The bus makes multiple stops along the way for food and bathroom breaks. Depending on the road conditions and traffic the ride could be a little longer or shorter. Be prepared for fast driving downhill and bumpy roads, the bus drivers in Laos are often somewhat reckless drivers.
Vientiane Bus Station
To get to Luang Prabang you want to visit the Northern Bus station which is about ten kilometers outside of Vientiane. You can show up at the station and book a ticket for any of the dozens of buses that leave per day.
An easier solution though is to buy a ticket in Vientiane as the price includes a ride to the bus station. This helps you avoid haggling with a tuk tuk driver and waiting at the bus station. Tickets can be purchased at most hostels, hotels and tourist agencies in the city.
Luang Prabang Bus Station
Luang Prabang South Bus station is about one kilometer from the center of town and this is where you will arrive. It is a short walk but you there is also an army of tuk tuks who can give you a ride if need be.
Some minibuses arrive at a separate station about 150m from the main bus station which is a little closer to town.
Vientiane to Luang Prabang by Van
One option is to get a van from Vientiane to Luang Prabang. This is specially a good option, as you won't need to travel to the Vientiane North Bus Station to depart from the capital. Usually vans will take you directly from Vientiane city center to Luang Prabang.
How to Buy Bus Tickets in Laos
If you want to plan your trip in advance it is possible to buy tickets from Vientiane to Luang Prabang online. There are two options currently available, and they both manage your departure from Vientiane center to Luang Prabang:
Bookaway: you can book bus tickets on the route from Vientiane to Luang Prabang and many other routes across Laos and Southeast Asia.
Klook.com
: you can book a ticket on shared vans from Vientiane to Luang Prabang. You can also use Klook to book tours and activities in Laos.
Here is a search bar to check availability and book tickets from Vientiane to Luang Prabang:
Vientiane to Luang Prabang by Plane
Another option to travel from Vientiane to Luang Prabang is taking the plane. As of 2018, there are two companies operating direct flights between these two cities: Lao skyway and Lao Airline.
The flight takes about 50 minutes, and there are several frequencies running daily between these 2 cities.
Vientiane Airport
Wattay International Airport (ສະໜາມບິນສາກົນວັດໄຕ) is the biggest airport in Laos, handling most International flights to the country. It is located just three kilometers from the center, making it pretty convenient to get to the airport.
The only two airline operating passenger domestic flights inLaos are Lao Airlines and Lao Skyway. There are two terminals at the airport, the newest international terminal and a small one, for domestic flightd. There are multiple flights per day and the security process is quite lax so you can get in and out quite quickly.
Luang Prabang Airport
Luang Prabang International Airport (ສະຫນາມບິນສາກົນຫຼວງພະບາງ) is located about four kilometers from the center of town. It houses both an international and domestic terminal and is quite small.
Getting from the airport to town can be done by either taxi or tuk tuk. Whichever you choose make sure you haggle the price because the drivers will often try to charge too much.
You could opt to fly here from any of the neighbouring countries but the price is generally not cheap. It is cheaper to fly to Vientiane then book a second domestic flight to Luang Prabang if you want to take the cheapest option.
How to Buy Plane Tickets in Laos
There are a few options to buy Plane tickets in Laos from both Lao Skyway and Lao Airline. You can use the airline website or some third party websites. To compare prices and find the cheapest fare you can use Jetradar.
Accommodation in Luang Prabang
Golden Lotus Place – an option in Luang Prabang offering great value for the money.
Indigo House Hotel – a great hotel in a very central location in Luang Prabang.
Other Resources to Travel in Southeast Asia
Are you planning a Southeast Asian tour? Check our guides on where to stay in Siem Reap or the best places to stay in Ho Chi Minh City.