Where to stay in Da Nang, Vietnam? Check out the best areas to stay in Da Nang, including a cost of travel guide to this amazing Vietnamese city
Da Nang is probably one of the most underrated cities in Vietnam. Check our guide on the best places to stay in the city and discover what it has to offer.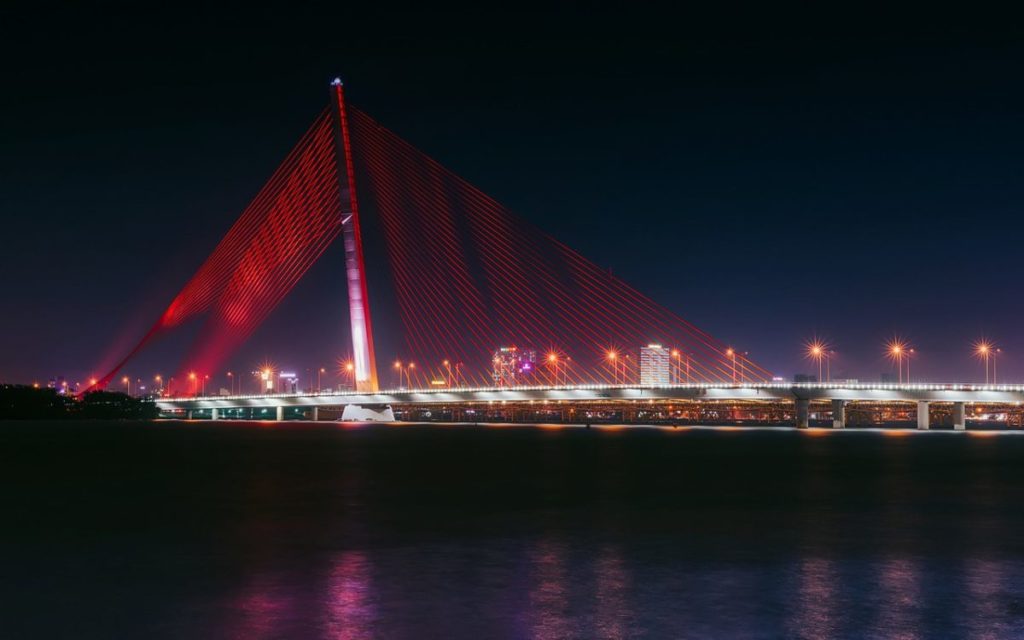 Is It Worth it to Visit Da Nang? Tourism Overview
There is no doubt that tourism is booming in Vietnam. The country offers excellent entertainment, delicious eateries, a relatively good weather year round and very affordable prices. However, most people tend to visit Ho Chi Minh City (Saigon) and Hanoi. Da Nang, on the other hand has a much more relaxed atmosphere, and a population just slightly above one million inhabitants.
The city is an excellent place to stop while traveling along Vietnam, or if you want to visit just one city in the country. Da Nang is famous for its beaches, but it is also a great place to experience Vietnamese culture, and enjoy its unique cuisine. This Vietnamese city is also slightly cheaper than the capital Hanoi and the country's largest city, Ho Chi Minh City.
Da Nang is in central Vietnam, and offer great transport links to other areas of the country, and even other Asian countries. The Da Nang Airport is one of the fastest growing in Asia in terms of passenger traffic, posting double digit growth in the past the past few years. You can fly to the city from the bigger hubs in the country, and also from many other Asian cities in China, Japan, South Korea, Malaysia and others.
The city also benefits from its central location in Vietnam, and has many direct rail and bus links to many other cities in Vietnam. Danang is also a good stop if you are going to Hoi An, a great small city in Vietnam, close to Da Nang and famous for its picturesque old town. Finally, the Ba Na Hills is also definitely worth checking and is pretty close to Da Nang.
If you are flying to Danang, check and book tickets using Jetradar. For those traveling by train or bus in Vietnam, buy tickets on 12go.asia.
Best Places to Stay in Da Nang
Choosing the best place to stay in Da Nang will depend mostly on the purpose of your visit. If you are coming for general sightseeing or just passing by Da Nang, the city center is probably the most suitable area. If you want to enjoy the sun and the beach, the My Khe Beach area is the most accessible in the city.
Da Nang City Center (Dragon Bridge)
The most convenient place to stay in Da Nang is its city centre. Apart from being the most accessible place, it is also where you will find the highest concentration of accommodation options.
When choosing a place to stay in the city centre, you can use the Dragon Bridge and the Han River Bridge as a reference. the area between these bridges, on the west bank of the River Han is certainly one of the best places to stay in Da Nang.
Another advantage of the city center in Da Nang is its proximity to the airport. Most locations in the city center are just 2.5 to 3 km from the airport terminal.
My Khe Beach
The My Khe Beach is probably your best bet if you want to enjoy the sea and the sun while in Da Nang. My Khe is a white sand beach, and it is 20 miles long. Apart from the beach itself the area has accommodation options for all budgets, and plenty of restaurants and grocery shops.
Budget Accommodation in Da Nang – $
Click Hostel – one of the best budget accommodation in Da Nang, in a very central area.
City Hostel Da Nang – an amazing hostel in the city center of Da Nang.
Reasonably Priced Accommodation in Da Nang – $$
Vanda Hotel – an excellent choice close to the Dragon Bridge in Da Nang city center.
Nhat Linh Da Nang Hotel – another great hotel close to the Han River in central Da Nang.
Le Hoang Beach Hotel Danang – an amazing option just a short walk to the beach in one of the best places to stay in Da Nang.
Luxurious Hotels in Da Nang – $$$
Pullman Danang Beach Resort – one of the most luxurious hotels in Da Nang, with easy access to the beach.
Furama Resort Danang – the ideal place for those willing to enjoy the beach in Da Nang.
Cost of Travel in Da Nang
Despite the recent rise in the influx of tourists to Vietnam, the country remains very affordable as most Southeast Asia. Vietnam is in fact one of the top budget travel destinations in the world. Da Nang is not an exception as is a pretty affordable city in terms of accommodation, food and transport.
Accommodation in Da Nang is affordable year round but it is subject to seasonality. The cheapest months are the wettest months, so if you don't mind the rain you can get real bargains in the months of October or November.
Food wise Vietnam is a paradise for travelers. Da Nang has delicious, small restaurants that will leave your stomach and pocket fulls. Don't forget to try Banh Mi, Pho Ga, and Vietnamese coffee while in Da Nang.
Public transport is not optimal in Vietnam, but there are plenty of affordable options beyond that. Apps like Uber and Grab are very popular in Vietnam. To get from and to the airport the best option is often to arrange a shuttle with your hotel.
If you want to book activities in the city or in other areas in Vietnam, check Klook.com
.
Best Time to Visit Vientam
Vietnam has an overall good climate year round, but, something should be considered before visiting the the country. The area in which Da Nang is located has a tropical monsooon climate, and the months from September to November are extremely wet.
January to April is a great time to visit this part of the country. This months are not only the driest but also when temperatures are pleasant and inviting, for both enjoying the beach and sightseeing.
Another good idea is to visit the country during Tết (Vietnamese New Year). The dates are usually in late January or February and all cities in Vietnam have amazing decorations and celebrations during this time.
Other Resources to Travel in Vietnam
For those planning to visit Vietnam soon, you might want to check some of our guides to the country. Check how to travel from Hanoi to Da Nang, and how to get from Ho Chi Minh City to Da Lat. You can also read our post getting a Vietnam eVisa or Visa on Arrival.