Where to stay in Istanbul? Check our guide on the best locations to stay in this wonderful destination in the crossroads of Europe and Asia
If you consider yourself a real traveler, a stay in Istanbul is a must. No other city in the world can offer you the unique mixture of history, culture and religion that Turkey's most populous city has. Choosing the right place to stay is Istanbul is quite important to minimize transport time and enjoy your time in this Eurasian metropolis.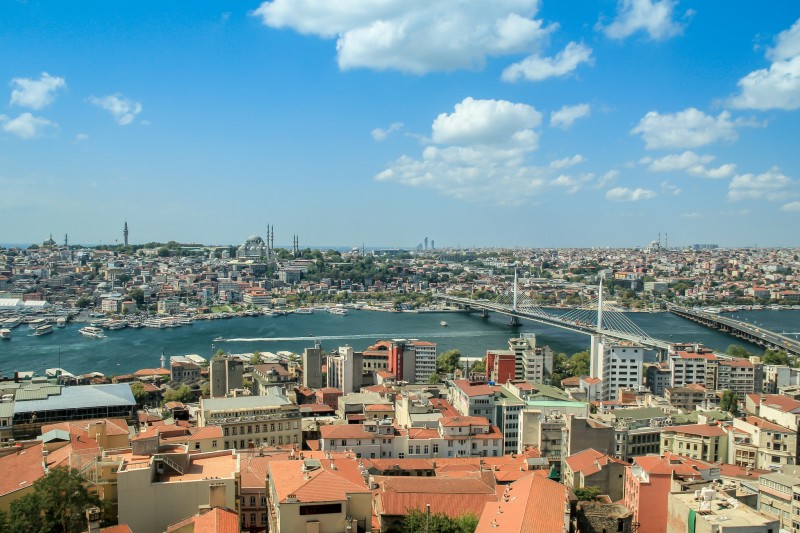 Being a city on two continents, two seas and divided by the Bosphorus makes it quite the challenge for a tourist, especially a newcomer, to pick the best accommodation. The European or the Asian side? Which aerea? Or maybe an island? A five star hotel or a pleasant guesthouse?
Istanbul can offer you everything: oriental suites; chain hotels; chic rooms; traditional mansions; cozy attics and pet friendly places. It doesn't matter if your pocket is full or empty, you're always welcome here.
If you are travelling by bus in Europe, book your tickets using Flixbus and GoEuro
. If you are flying, compare and book tickets using Jetradar.
Tourism in Istanbul: Overview
Byzantium, Constantinopole, Tsarigrad, Stamboul or Istanbul. This city has as many names as faces, and once you've met these you'd most certainly fall in love. Although today Ankara is the capital of Turkey, Istanbul has a more historical background to it.
Istanbul was the capital of the Roman, Byzantine and Ottoman Empire. In 2010, the priceless heritage left by these empires helped Istanbul to become a capital once again, only this time of the European Culture.
Religion is one of the main reasons why millions of tourists visit it every year. A perfect example for the collision between Christianity and Islam is Hagia Sophia, the most visited place in the city.
Hagia Sophia has a rather unique history behind its building. Originally an Orthodox Basilica, later a Catholic cathedral, then converted into an Ottoman mosque and today a museum. This monumental building served as an inspiration for the Blue Mosque built opposite of it, representing the best of the Islamic architecture. Despite the countless minarets, Istanbul is still the center of the Orthodox Christianity and home to the Ecumenical Patriarchate.
Shopping in Istanbul
Once being a hot spot on the Silk Road, Istanbul still hasn't lost any of its trade spirit. It's not presumptuous to say that this city is a shopping mecca where you can certainly find even unicorn tears. Istanbul has many multi-level modern shopping malls, but if you are looking for an adventure, you must go to the old bazaars.
The most famous bazaaris the grandiose Kapali Carsi (Grand Bazaar) one of the biggest covered markets in the world, with more than 5000 shops. If you love unique flavors, find your way to the Misir Carsisi and explore scents you never dreamed of. In these places you can try your haggling talent too, often the salesmen are the ones who begin with it and they can get really offended if you don't play along.
Wait for the sunset on Galata Bridge, cruise on the Bosphorus or visit the Princess Islands. Then try shisha, watch a belly dance, eat burek and baklava, drink Turkish tea. Simply said – explore beyond the tourist maps and discover the mysteries that only Istanbul keeps.
Best Places to Stay in Istanbul
In a city as big as Istanbul you can easily get confused when walking around and also when choosing a place to stay. The extremely cheap prices in the Asian part of the city can attract you, but then you'll spend a long time just to arrive to the European part.
Considering that, you should try to focus your stay in the European side of Istanbul if your are interested in sightseeing. That's why we will concentrate on the two districts(Fatih and Beyoglu) parted by the Golden Horn estuary, but connected by three bridges.
Sultanahmet and Sirkeci
The best neighborhoods to stay in Istanbul are probably Sultanahmet and Sirkeci. Staying in Sultanahmet or Sirkeci means you'll be only a step away from the most famous sites like Hagia Sophia, Blue Mosque, Kapali Carsi, Topkapi Sarayi, Basilica Cistern etc. Yes, these are busy neighborhoods during the day but very quiet during the night.
The rest of the Fatih district can also be a convenient choice if you prefer being close to the main attractions, but staying away from the tourist crowds. In general, Fatih can offer you nice boutique hotels, exclusive hotels, guesthouses, etc.
Beyoglu
The Beyoglu district is on the opposite side of the Golden Horn and it has a Western Europe appeal. It is the best choice if you want to explore Istanbul's night life or do some shopping.
Starting from Taksim Square and heading down the Independence Avenue you will find plenty of bars, restaurants and luxury brands stores. Beyoglu is the place where you can get the best all-inclusive experience in the most hedonistic hotels. However, because of its distance from the historic centre you can also find good options low-budget accommodation.
Budget Accommodation in Istanbul – $
Cheers Hostel – a quality hostel offering dorm beds and private rooms in the heart of Sultanahmet, one of the best places to stay in Istanbul.
Basileus Hotel – this hotel offers a great value for the money in the Sultanahmet area.
Reasonably Priced Accommodation in Istanbul – $$
Le Petit Palace Hotel – a great hotel to stay in Istanbul, just a short walk to the Hagia Sofia.
Maroon Bosphorus – an excellent option close to the Taksim Square, with multiple transport connections.
Luxurious Hotels in Istanbul – $$$
Ajwa Hotel Sultanahmet – a great luxurious hotel in the Sultanahmet area, just a short walk to the Blue Mosque.
Swissotel The Bosphorus Istanbul – a exclusive hotel to stay in Istanbul, with amazing views from the Bosphorus Strait.
Cost of Travel in Istanbul
While it can be expensive for the careless tourists, Istanbul is a relatively cheap destination, although some would argue. Even though it's more expensive than a few years ago, Istanbul is still a lot cheaper than Western Europe. Good accommodation options is available from 20€ per night, and depending on the season even for less than that.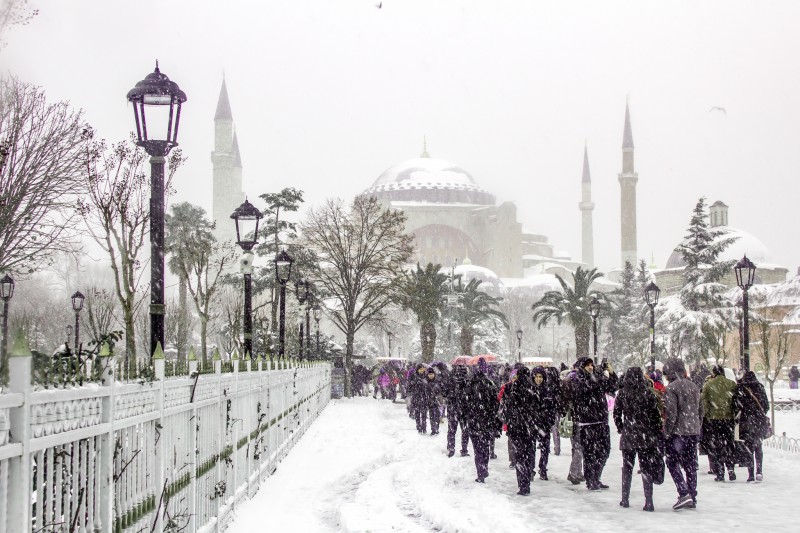 Public transport from the airports to the city center will cost you around 5€, and a single ticket for a one way ride in the city is less than a euro, also taxis are cheap and you can even bargain. Avoiding the Sultanahmet area when you're hungry will save you money. Go for the street food, small cafes and secluded restaurants; a nice meal can cost you even less than 5€.
Best Months to Visit Istanbul
Istanbul is as magical in January as it is in June and the timing is rather a personal choice. It is windy throughout the year and rain falls more often than in London. Summers are extremely hot and winters can be freezing with eventual snowfalls.
As Istanbul sits in a rather lower latitude compared to most European countries, it has higher temperatures than most countries in Western Europe. July and August are the highest of the tourism season, with the highest temperatures and also prices. Winter can be a good option to visit Istanbul, specially if you don't like crowds.
Other Resources to Travel in Southeastern Europe
If you are traveling in Turkey and Neighboring countries, you might want to check our guide to the region. Check where to stay in Sofia and the best places to stay in Izmir.