The best places to stay in Ljubljana are featured in this article, which also includes cost of traveling and when to visit the Slovenian capital
Where to stay in Ljubljana? This guide explains the best areas in the Slovenian capital, including its quaint old town and the Preseren Square surroundings.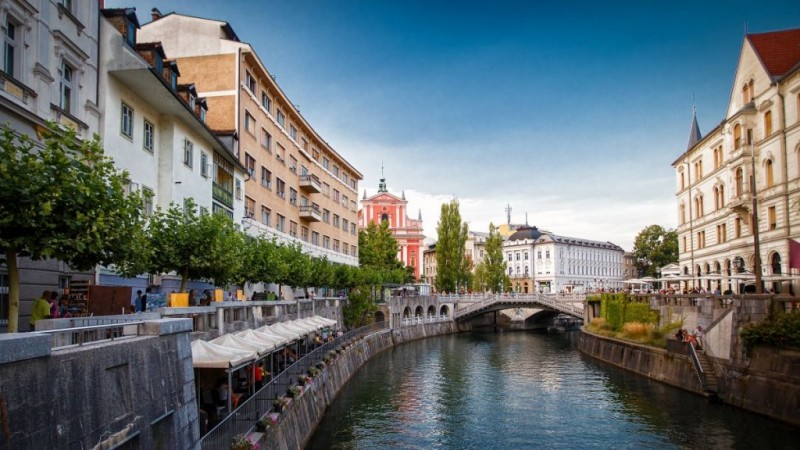 Ljubljana is a city located in central part of Slovenia, a small country in central Europe famous because of its lakes and mountains. It is Slovenian capital and largest city famous because of its lovely nature, friendly people and quaint old town.
Tourism in Ljubljana: Overview
There are many reasons why you should visit Ljubljana. One of it is definitely because it is the European Green Capital if 2016. It is a perfect mix of nature and culture.
Ljubljana has a rich history dating from Romans, Renaissance, Baroque which can be seen its architecture. You can drink water from public fountains, canoe through the city center, take kavalir or rent a public bike.
Although the geographical location of Ljubljana is favorable, Ljubljana is quite expensive to reach. The Joze Pucnik international airport is around 30 km far from Ljubljana and has a modest number of low-cost airlines operating. However, it has a good system of railways and roads, so it is better to use the bus, train or car.
Ljubljana is fairly easy to access from Austria (especially Graz, Klagenfurt and Vienna) by train. Zagreb in Croatia is also just a short ride from the Slovenian capital.
If you coming to Ljubljana by train, you can check our article on trains from Ljubljana. To buy train and bus tickets to Slovenia, you can check the Trainline website.
Best Places to Stay in Ljubljana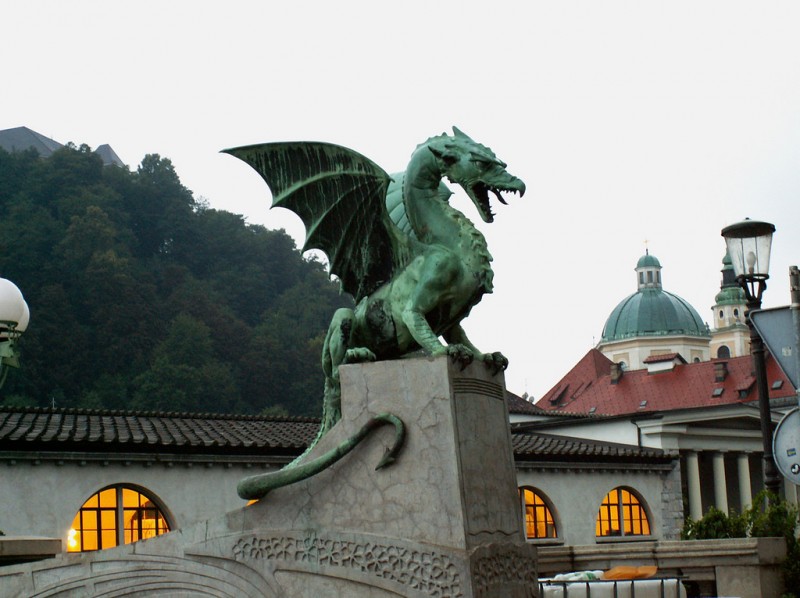 Ljubljana is a small city so it will not take a long time to visit all of its attractions. The best places of interest to visit in the city are Prešernov Square, Ljubljana castle, Tivoli City Park, Triple bridge.
Therefore, the best area to stay in Ljubljana is near the Prešeren Square. This is the central area of the city and it is close to most of the touristic attractions. There are several options here that can suit your budget.
Generally, the Old Town is especially attractive as it concentrates most of the city's attractions. It is a relatively small old with very picturesque pedestrian streets and an unique atmosphere near the castle.
If you are traveling to the Slovenian capital by train or bus, the area of the train station is affordable and at a walking distance to the old town. The bus station is just next to the train station, so if you need to switch from bus to train, it will be a fairly simple walk from one another.
Budget Accommodation in Ljubljana – €
Bed & Breakfast Atticus – An exceptional budget option in the center of Ljubljana, with a delicious breakfast and at a walking distance to most of the city's attractions.
Hostel Vrba – A good budget option with shared kitchen in Ljubljana.
Reasonably Priced Accommodation in Ljubljana – €€
Adora Hotel – Certainly of the best options to stay in Ljubljana. All the main attractions of Ljubljana Old Town and the Ljubljana Castle are easy accessible from this hotel.
Hotel Emonec – One of the best reasonably priced hotels in the Slovenian capital, steps away to the Triple Bridge, one of the most beautiful locations of the city.
Luxurious Hotels in Ljubljana – €€€
Grand Hotel Union – This traditional hotel is located at the very heart of the city. The Preseren Square, one of the best places to stay in the city is just next to it.
Lesar Hotel Angel – This cozy hotel is ideal if you want to stay near the Ljubljana Castle, at a very scenic location.
Cost of Travel in Ljubljana
Slovenia as a whole is a relatively affordable country to visit. This is especially if you compare it with some of its western neighboring countries such as Austria or Italy.
Getting to Slovenia will be potentially one of the highest costs in your trip.
The average daily expenses per person are around 85 €. This will include the price of accommodation, food, local transportation and entertainment. The entertainment price will also depend on your needs. For instance, the Castle Tower entrance is around 8 € and the gondola ride for two costs 20 €.
However, if you are budget traveler you can easily spend as low as 35 € including food, accommodation and local transportation.
If you traveling around the region, the further Southeast you go, the cheaper it will get. Zagreb, the capital of Croatia, just 140km from the capital of Slovenia, is already considerably cheaper.
Best Months to Visit Slovenia
Slovenia has a temperate climate mostly. This means that there are four seasons with hot summers and cold winters. The best months to visit Ljubljana are from May to September. The coldest month is February and the hottest is August. The rainiest month is July so bear in mind if you don't like rainy weather.
So if you want to have dry and pleasant weather and to use the best of your stay in Slovenia we recommend September as the ideal month.
Despite being tiny, the climate in Slovenia is quite diverse, considering its geographic relief. While the capital has a relatively mild climate, it is usually much colder up in the mountains. For those looking for a more pleasant weather, the city of Koper on the Adriatic coast can be a good option.
Other Resources for Traveling in Central Europe and the Balkans
Are you traveling beyond Slovenia in the region? Check our guide on where to stay in Zagreb, the best places to stay in Dubrovnik and the best areas in Belgrade, Serbia.