Where to stay in Madrid? This post will bring an in depth analysis for travelers visiting the Spanish capital, including cost of travel and best months to visit Madrid
Are you planning to visit the Spanish capital? Check the best places to stay in Madrid, one of the most dynamic and interesting cities in Western Europe.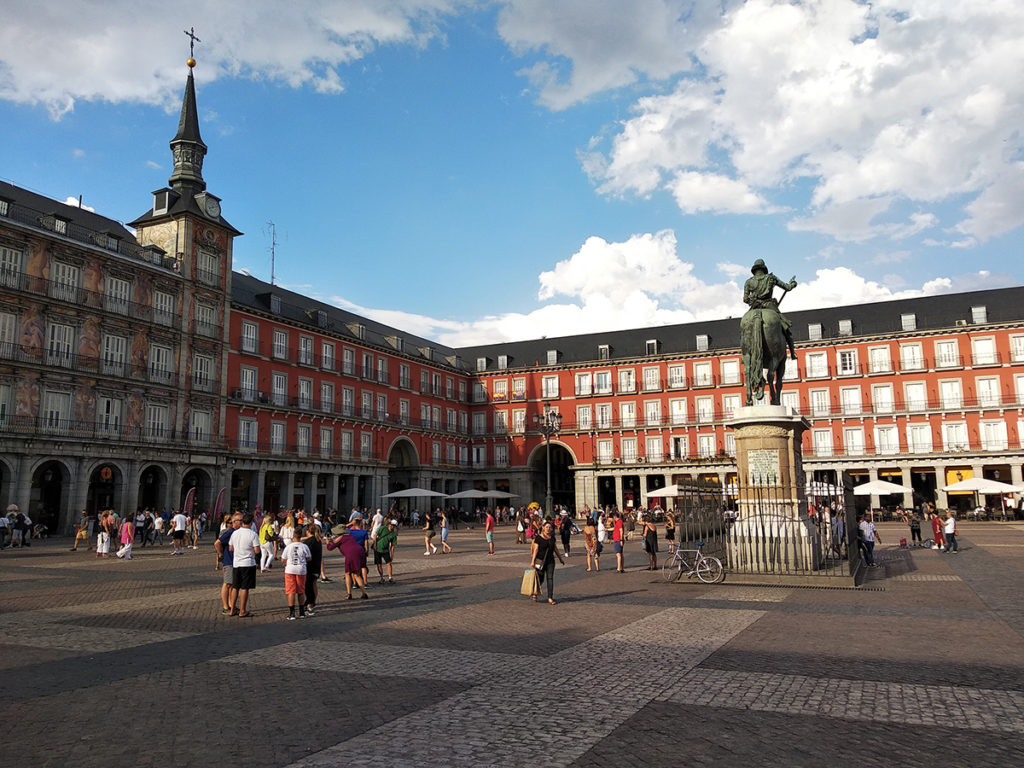 Madrid is the capital of Spain. Located right in the centre of large Mediterranean country, it is the third-largest city in the European Union. Placing it behind only London and Paris. It attracts more than 4.5 million international tourists a year.
Tourism in Madrid: Overview
Unlike many areas of Spain, Madrid is not known for its beaches or bullfighting related activities. Instead, it has a wealth of cultural attractions to offer, from a Royal Palace to a world famous art gallery. It even has large swathes of parkland and a real Egyptian Temple, El Templo de Debod.
Madrid as a tourist attraction still manages to be relatively low cost despite its size. And manages to, largely, still have the feel of Old Spain, untouched by the influence of the tourist numbers in Places like Ibiza or Barcelona.
Getting to Madrid is quite easy, regardless of your location. The city has some of the best transport networks in Europe, with great train, bus and flight connections. The Madrid Barajas Airport offers direct intercontinental flights to North and South America, Asia and Africa. It is also easy to get to Madrid from almost any place in Europe, with any regional low cost airlines operating to the country.
If you are flying to Spain you compare and book flights with Jetradar. Alternatively, you can also book directly at the Iberia
website.
Where to Stay in Madrid – Best Areas
Madrid is a large city, but it has a great and relatively affordable transport network. It has a number of good neighbors to stay in, and as long as you have access to the metro network, it will be easy to visit the city's various attractions.
Barrio de Salamanca is a great residential area for those willing to have a calm stay in Madrid. It is also famous for its stores from luxury brands and a student residence where Salvador Dali lived.
Plaza de Castilla is another great option for those willing to have an optimal stay in Madrid. It a commercial district and has some of the most iconic buldings in the city. It is also very well connected in terms of public transport with easy access to metro lines.
Lavapiés is an area located at the heart of the city and was formerly a Jewish quarter. Nowadays it has an excellent choice of restaurants with culinary from different parts of the world.
Gran Via
One of the best places to stay in Madrid is in and around the Gran Via. The Gran Via, often dubbed as the Spanish Broadway, is a street full of shopping and entertainment options in city centre. It is one of the busiest streets in Western Europe and has excellent transport connections to any part of the city. It is also close to many of the city's attractions like Plaza de España and the Cybele Palace.
Puerta de Atocha
Another great option to stay in Madrid, is to stay near the Madrid Atocha Railway Station. This area is still pretty central, and where most intercity trains depart and arrive from the capital. The Atocha is also extremely well connected by metro and suburban Cercanias trains. It also has suburban train route to the Barajas Airport. There are a good number of hotels and other accommodation options in the vicinity of the station.
If you are traveling buy train in Spain, book tickets on Trainline.
Budget Accommodation in Madrid – €
Hostal Esmeralda – an affordable option in one of the most central areas to stay in Madrid.
Hispano Gran Vía – a good value for the money option to stay close to the Gran Via.
Reasonably Priced Accommodation in Madrid – €€
Best Western Hotel Los Condes – a great hotel right next to the Gran Via.
NH Madrid Atocha – an excellent hotel close to the Madrid Atocha Station.
Luxurious Hotels in Madrid – €€€
Relais & Châteaux Orfila – a great luxurious hotel in Madrid with easy access to the metro.
Gran Hotel Inglés – an excellent high-end hotel in one of the best central locations to stay in Madrid.
Cost of Travel in Madrid
Many of the cities museums and attractions have lower cost entry for EU citizens and young people under 26. They also often offer lower prices for large families and locals. Even local restaurants and cafes are low cost when compared to other cities in Europe.
In terms of public transport and flights, most low cost airlines run a direct flight to Madrid. The transport services within the city are all integrated so the same tickets can be used on both buses, local trains and the metro system. Special tourist tickets can be purchased allowing people to take unlimited journeys for 1, 3, 5 or 7 days.
Best Months to Visit Madrid
Most people think of Spain as being constantly sunny and warm. However, The Spanish capital can actually be bitterly cold and very wet during the winter months (Dec-Mar). April and May are very pleasant times to go. Allowing visitors to take in the large number of elaborate Easter celebrations. Plus, they can beat the heavy crowds and oppressive heat of Summer.
At the other end of the year, September is also a nice time to go. The weather is still warm and dry and the trees are just starting to turn. This makes it very picturesque. It is also a fairly quiet time to go as most of the tourists have already left.
Other Travel Resources to Spain
If you are considering traveling to the capital of Spain or other parts of the country, you might want to check some of our other guides to Spain. Check the best places to stay in A Coruna or where to stay in Barcelona. You can also read about the cost of living in Madrid or how to get from Madrid to Valencia.
Do you have a trip planned to Spain or are you already in the country? Leave your thoughts and questions in the comment box below.