Vest places to stay in Mostar: find great options for travelers willing to experience the real Balkans, an excellent underrated European destination
If you want to know where to stay in Mostar, this article will list the best locations in this beautiful city in Bosnia and Herzegovina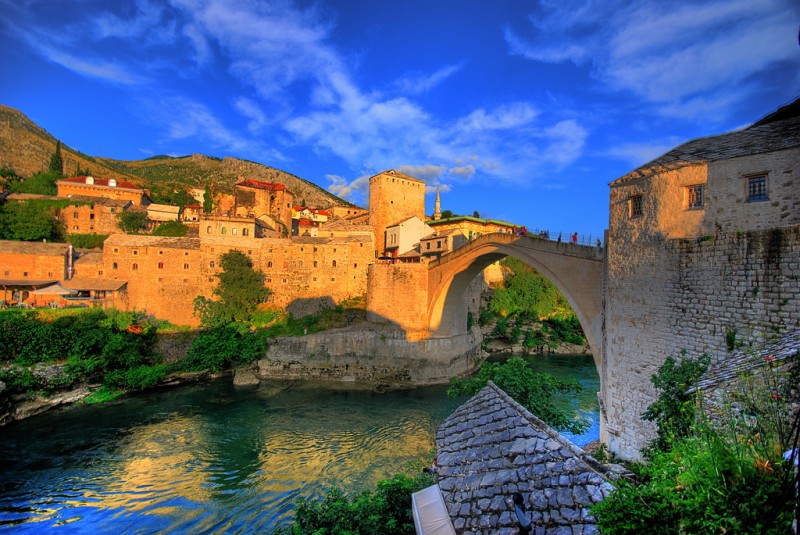 Mostar Bridge, Bosnia and Herzegovina. Photo by Kevin Botto.
Tourism in Mostar
Mostar is a city in southern part of Bosnia of Herzegovina. It rests in the valley of Neretva river, a greenish river that springs under the mountain of Zelengora and flows to Adriatic sea. Picturesque hills, decorated with old houses and sunburned nature are just a few characteristics that make this city unique. Despite the city itself being rather small, the best places to stay in Mostar will put you at a walking distance to its main attractions.
Although the international airport in Mostar is quite small, you can still easily reach it by bus or car. The most interesting and beautiful way to reach it from Sarajevo is by train. You can enjoy beautiful nature and greenery, high mountain and hills, lakes and river on your way.
The most noteworthy landmark of Mostar is definitely its Old Bridge, designed by well-known architect Sinan during Ottoman Empire. The bridge was destroyed during 1990s conflict in Bosnia and Herzegovina and later rebuilt from its original remains. It is under the protection of UNESCO.
However, don't miss its other attractions such as Old bazar Kujundžiluk, Turkish House (Kajtaz) and Koski Mehmed Pasha Mosque. Also, Blagaj tekija, Old Town Počitelj and Stećci (medieval tombstones) in Radimlja, are just within one hour drive.
Best Places to Stay in Mostar
The best areas to stay in Mostar are certainly near the Old Brige (Stari Most) and the Old Bazaar Kujundziluk. These areas are pretty close to one another, and they are the favorite among tourists.
However, All the area along the Neretva River is one of the best places to stay in Mostar. If you prefer, you can choose for an accommodation a bit further away from the bridge and the bazar, if you want to enjoy a calmer atmosphere.
Old Bridge
As mentioned above, the Old Bridge is the most famous attraction and the postcard of Mostar. The construction itself is pretty interesting, and there are may great small hotels around this area.
Old Bazar Kujundziluk
The Old Bazar Kujundziluk is on the left bank of the Neretva and its surrounds are one of the best areas to stay in Bazar. You can really enjoy the real Bosnian lifestyle around the Bazar, which is quaint and full of history.
Budget Accommodation in Mostar
Hostel Lovely Home – a great option to visit Mostar on a budget and stay close to its main attractions.
Hostel Golden Bridge – an excellent hotel in one of the best areas to stay in Mostar. It also offers laundry service.
Reasonably Priced Accommodation in Mostar
Hotel Kapetanovina – an excellent property, right next to the Old Bridge in Mostar.
Pansion City Star – this property has one of the most beautiful and modern interiors in Mostar. It is also very close to the Old Bridge and the Kujundzilu Old Bazar.
Cost of travel in Mostar, Bosnia and Herzegovina
Traveling in the city, like in most of Bosnia and Herzegovina is pretty affordable. Prices for accommodation, transport and food are far lower than those in Western Europe. Even compared to other Central European countries like Croatia or Slovenia, Bosnia is considerably cheaper.
Although you can reach most of the interesting sites in Mostar and walk throughout the city, the taxi is relatively cheap and can take you anywhere you want. Many of the city attractions at a waking distance, so try to focus your stay in the cit center.
Average daily cost is around 100 KM (€ 50) including accommodation, food, transportation. However, if you are a budget traveler you can search for cheap accommodation and restaurants further from the center.
Best Months to Visit Mostar
The climate in Mostar is Mediterranean with hot summers and mild winters. The hottest month is July and coldest January. The weather is relatively dry from June to mid-September.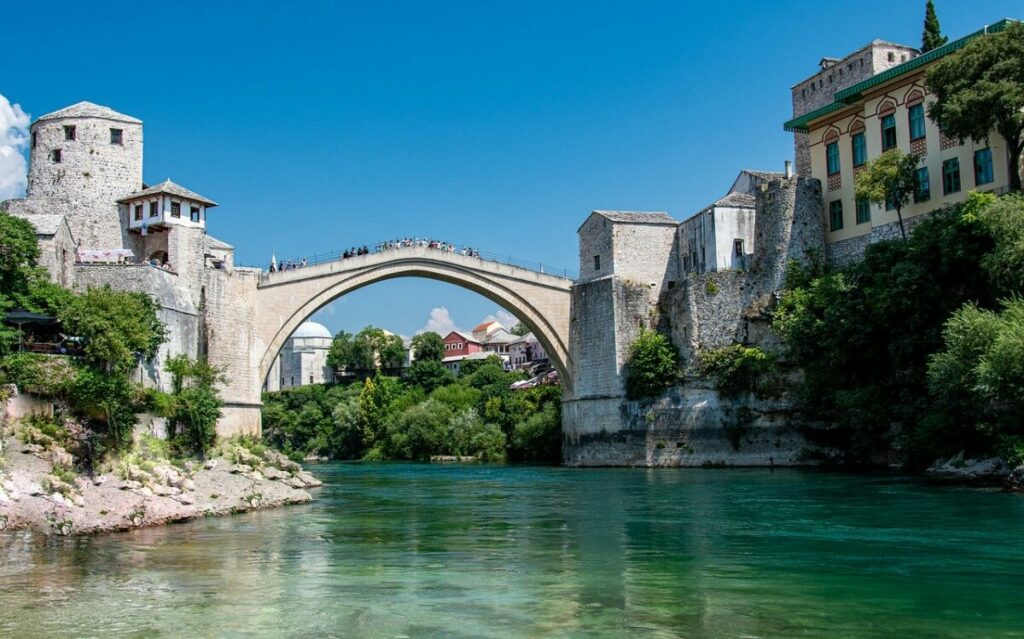 The best time to visit Mostar is in July if you like hot weather and for adventurers, you can try swimming in Neretva's crystal cold waters. This is also the best time to visit because of Traditional diving competition from the crest of the Old Bridge. Do not try this unless you are experienced jumper/diver.
This area is Southern Europe is also an excellent option for a visit in Spring and Autumn. Temperatures in the city are higher than most cities in Northern/Western Europe.
Other Resources for Traveling in the Balkans
If you are traveling in the Balkans you might want to check some of our other guides to the region. Check the best places to stay in Sarajevo and where to stay in Dubrovnik and Zagreb, Croatia.