Where to stay in Venice? This article will provide you with a brief guide on where to stay in Venice and the best months to visit the most romantic Italian city
Venice, or Venezia in Italian, is famous for its picturesque water canals and romantic atmosphere. Check below the our guide on the best places to stay in Venice, as well as our cost of travel analysis for the city.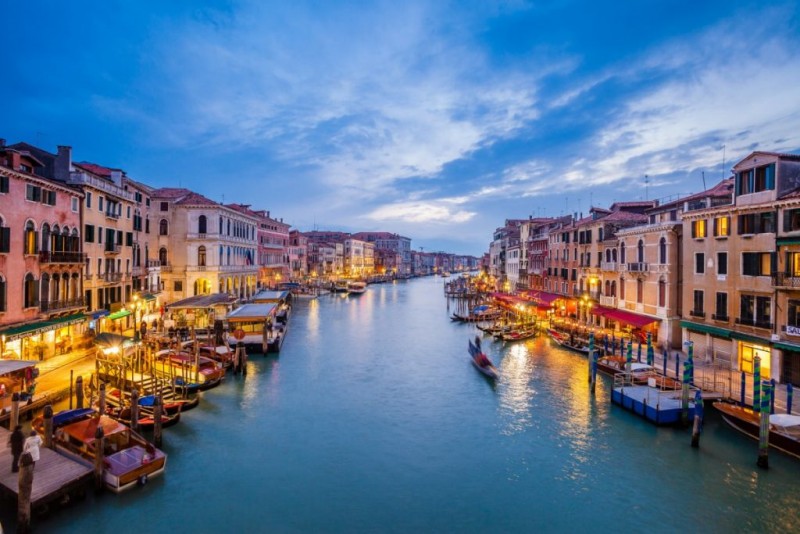 Venice is a city located in the northeastern part of Italy. It is the capital city of Veneto region. It was also the capital of the Venetian Republic, and is certainly one of the most historic and emblematic cities of Europe.
If you are travelling by bus in Europe, book your tickets using Flixbus and GoEuro
. If you are flying, compare and book tickets using Jetradar.
Tourism in Venice: Overview
Venice attracts around 20 million tourists per year. This is not strange taking in consideration its uniqueness and beauty. You can blend among the crowd, walk through secluded alleys, enjoy a gondola ride through the canals or drink a coffee at one of its charming bars or restaurants.
There are a number of places of interest worth visiting in Venice such as Piazza San Marco, Basilica di San Marco, Doge's Palace, Grand Canal, and San Marco Campanile.
Venice is easily accessible by air by a number of airlines operating, but you can also reach it by ship, car, train or bus. No matter where you're coming from, it is relatively easy to journey around Venice. Walking within the city center is a commonality, as everything is within a few minutes of each other. However, it is crucial for you to wear comfortable and practical shoes for a day long excursion through the city.
Famously, Venice offers memorable gondola rides which have enchanted the memories of tourists for centuries. Although this tranquil ride might set you back a good 80 Euros for 40 minutes, it is entirely worth the cost to create lasting memories in Venice.
Rather than taking a traditional bus you might find in Rome, Venice offers its own unique twist to the recipe: a water bus (vaporetto). With nineteen different lines scheduled to operate within the city, this is a truly efficient way to get around. As a bonus, it is only 7.50 Euros for a one hour vaporetto ride.
Best Places to Stay in Venice
When staying in Venice, it is always ideal to stay near the city center. However, this is not always a realistic expectation for you to set. The further you focus in on the island, however, the more tourist-friendly and scenic sights you will find.
Venice is one of the most busy tourist destinations in the world, finding accommodation in the city is not an easy task. For instance, most of the tourists prefer San Marco district because of the sights such as Piazza San Marco and the Basilica. However, this is also the priciest area and you will need a high budget to afford it. Let's check some of the best places to stay in Venice below.
Campo Santa Margherita
For a little slice of an authentically Italian way of life, Campo Santa Margherita is a must-stay. In the morning, you can take your time drinking a cappuccino at a nearby cafe, then wander over to the market in the square. Open every morning, you can purchase anything from succulent fruit to fragrant flowers to freshly caught fish. Nearby benches converge to create a perfect spot for people watching, as musicians play and life happens all around you.
Piazza San Marco
Whenever you think about a classically Venetian locale, Piazza San Marco is likely the first place you will think of, even if its name escapes you. This massive square is known as "the drawing room of Europe" due to its major influence on both Renaissance and modern artists. The surroudings of the St. Mark's Square are the most scenic area to stay in Venice.
The facade of Basilica Cattedrale Patriarcale di San Marco is the overwhelming attraction for most visitors. However, the entire piazza is flooded with hidden gems of the art world and all manner of sights to see.
When visiting the square at any time of the year, you simply must have a little bit of gelato during your visit. Particularly, the nearby La Boutique del Gelato. With easily the best gelato in Venice, and quite possibly the whole of Italy, it is easy for you to make a deliciously cultured memory.
Venezia Mestre Station
As with many cities in Italy, Venice is relatively small in comparison to most renowned European cities. As such, no matter where you find yourself staying, you will have easy access to any significant landmarks or sights within the city. That being said, if budget is a major factor in your stay, you will find it simple to stay in Venice near the Venezia Mestre Station (which is in the city of Mestre) and travel to the center of Venice quickly.
The train station, located on the mainland, is a budget-friendly accommodation which can provide plenty of freedom for you to travel elsewhere.
Budget Accommodation in Venice – €
B&B Casa Luzzi – a great bed and breakfast close to the Venezia Mestre station, with very attractive prices.
Il Veliero Romantico – an affordable accommodation in the Santa Croce area of Venice.
Reasonably Priced Accommodation in Venice – €€
Hotel Alla Fava – a reasonably priced hotel close to the Rialto Brigde, in a privileged location in Venice.
Hotel Rio – a great accommodation option close to the St. Mark's Square (Piazza San Marco).
Luxurious Hotels in Venice – €€€
Bauer Palazzo – a beautiful refined hotel close to the Piazza San Marco.
Hotel Danieli, a Luxury Collection Hotel – a sumptuous hotel with a magnificent interior design, also close to the Piazza San Marco.
Other Towns Near Venice
Finally, there are many towns near Venice that you may want to consider to stay in Venice. Many of them are in fact less than one hour train ride from Venezia Santa Lucia (the main station of Venice's touristy area). One option is Mogliano Veneto, or even the city of Treviso.
Cost of Travel in Venice
Venice is considered expensive according to Italian standards. The hotels on the main island are quite expensive so one should also consider different areas of the city. The same goes for food as well.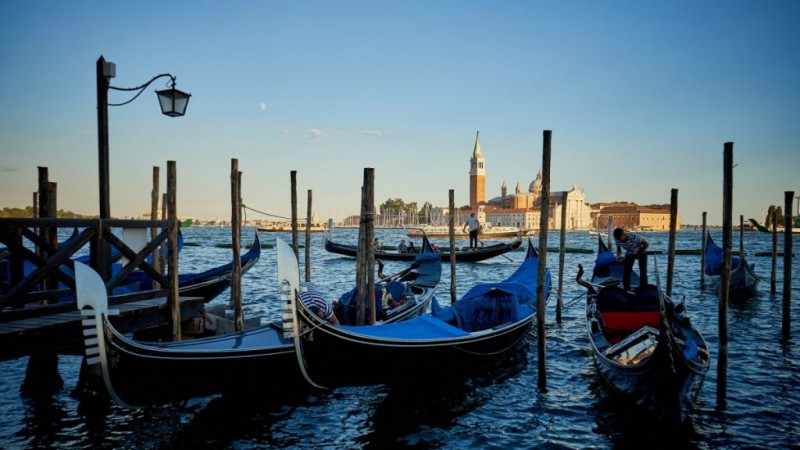 The average daily cost per person is around 100 € including accommodation, food, and transportation. However, if you are budget traveler you can possibly manage it with around 40 € per day. Your cost will also depend on the tourist sites you want to visit. For instance, a gondola ride can set you back 80 € per group, and for museums, you will need around 20-30 € for entrance fees.
Even if Venice is quite expensive, its cost of travel is comparable to those of Rome or Cinque Terre.
Best Months to Visit Venice
Venice is crowded for most of the time during almost every season. However, the summer is the busiest time of the year.
The best time to visit Venice is early spring and late autumn. The temperatures tend to be mild and inviting for strolling around the city. The city is less crowded than in Summer, which is probably an advantage for most types of visitors.
If you wish to enjoy a more quiet and relaxing Venice then the perfect time to visit it is during the winter. However, the weather is quite cold, wet and windy at this time. There is also a time during the colder period when water levels rise causing eventual floods. The best advantage of winter in Venice is that overall prices are considerably lower than the rest of the year. This does not apply to the Venetian Carnival, which usually takes places during late winter.
Other Resources to Travel in Italy
Are you traveling to Venice soon? Check our guides to nearby cities on where to stay in Milan, and where to stay in Ljubljana (Slovenia). Leave your thoughts and comments below.