Where to stay in Montevideo? Check our guide on the best areas in the Uruguay capital, one of the safest and most charming cities in South America
Montevideo is Uruguay's capital and largest city, a well-kept secret in South America. Be sure to check out the following insider tips on where to stay in Montevideo and have a great experience.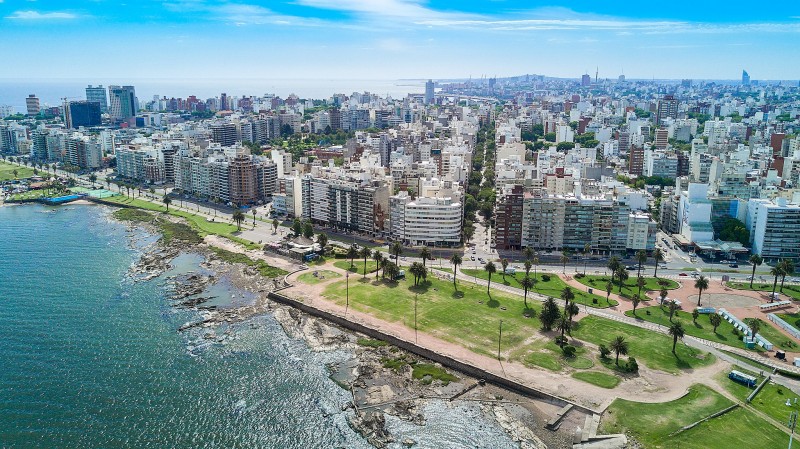 A bit shrouded by Brazil and Argentina, Uruguay may not be such a popular holiday destination, but that changed when Lonely Planet named the little country one of the top places to visit in 2016.
If you plan visiting soon, this guide will help you take the most out of your trip to Montevideo. Keep reading to find out more about the best places to stay, the average costs and when to visit.
Tourism in Montevideo: Overview
Montevideo is the home of over a million Uruguayans, famous for their casual attitude toward life. After all, it's the best city for quality of life in Latin America. Founded between 1724 and 1726, the past and present history and architecture coexist among offices, art deco and neoclassical buildings. On the Río de la Plata, some beaches bear resemblance to Miami or Copacabana.
Montevideo offers many tourist attractions spread across several areas you can visit. Ciudad Vieja, Barrio Sur, Palermo, Pocitos, Punta Carretas, all have plenty of attractions with options for all ages and adaptable to every budget, from the luxury shopping malls and spas in Carrasco to the free museums in Ciudad Vieja. Instead of renting a car, try using public transportation like locals do. Taxis are also reliable and quite cheap.
If you're planning on visiting Montevideo anytime soon, you can't miss Uruguayan symbols such as mate, tango, the carnival and novelist Mario Benedetti. As far as cuisine is concerned, locals take pride in the Uruguayan chivito. The traditional dish, part of the national culture, has veal tenderloin as its main ingredient. Hundreds of people compete to see who can make the most Uruguayan chivito in local and regional contests open to the general public.
Many travelers choose Montevideo looking for a safe, relaxed and laid-back holiday destination, but some areas may be quieter than others. In general, the Eastern area of the city is busy on work days, while the Western region is more peaceful all week. Uruguay's capital city is close to other popular holiday destinations, such as Punta del Este, Piriápolis and a bit further, Colonia del Sacramento. All are only a few hours away by bus, and offer different tourist attractions.
Best Places to stay in Montevideo
Since there is so much to see and do in Montevideo, it's not easy to choose a place to stay. The eclectic city offers a variety of options for a wide range of tastes, and it's important to plan ahead to have a great experience. The Eastern neighborhoods and downtown are both great options for those who want a vibrant experience. Prado, on the other hand, is better for visitors looking to relax.
Ciudad Vieja (Old City)
Ciudad Vieja is great for tourists who want to be out and about. The historical center is at walking distance from downtown, Barrio Sur, Palermo and Parque Rodó. Pocitos and Punta Carretas are also very close via public transport. The accommodation offers include both hotels and hostels. There are several museums within Ciudad Vieja, including the Museum of Decorative Arts Palacio Taranco and the National History Museum.
The Old Town also has many beautiful plazas to sit down and relax, such as Zabala and Constitución. Every day since May, a party leaves from Plaza Independencia to a guided tour around the Salvo Palace, place deeply connected with Montevideo's history and identity.
Although there are plenty of parks and nice restaurants to have lunch, Ciudad Vieja is not the best spot for nightlife.
Punta Carretas
Punta Carretas is perhaps Montevideo's most popular neighborhood for tourists. Also called Punta Brava (Wild Peak), it's located in the dangerous, rocky peak point on the Southern coast of the city. Punta Carretas is known as an upper-middle class neighborhood, so it's no surprise hotels here are more expensive than in other parts of the city.
The nearby neighborhoods are Parque Rodó and Pocitos, with its beautiful beaches. Although it's not so picturesque as the gardens in Prado, Punta Carretas has many tourist attractions, such as shopping malls and a wide range of gastronomic offers.
The area was the host of the local racetrack for several years, and is now home to the Uruguay's Golf Club and the Pittamiglio Castle, which was once architect Humberto Pittamiglio's home. The imposing structure is surrounded by myths and mystery. A legend even says it was once refuge of the Holy Grail.
Pocitos
Pocitos is another upscale neighborhood in Montevideo, close to Punta Carretas. It also enjoys easy connectivity to the old city, and here are some of the best restaurants in the city.
Budget Accommodation in Montevideo – $
Posada Del Gaucho – a budget option in the Ciudad Vieja area, offering dorm beds and private rooms.
Hotel Palacio – an affordable hotel in the Ciudad Vieja district.
Reasonably Priced Accommodation in Montevideo – $$
Holiday Inn Montevideo – a reasonably priced option in the center of the city, one of the best places to stay in Montevideo.
Puerto Mercado Hotel – a modern option in the Ciudad Veja area of Montevideo.
27 Suites – an excellent choice in the Pocitos district, close to the Punta Carretas Shopping Center.
Luxurious Hotels in Montevideo – $$$
Esplendor Montevideo – A Wyndham Grand Hotel – a luxurious option in one of the best areas to stay in Montevideo.
Oliva Luxury Hotel Montevideo – a splendid hotel in the Punta Carretas district of Montevideo.
Cost of Travel in Montevideo
Montevideo is often called the 'Switzerland of South America' because it's the continent's most expensive city to live in. However, it's cheaper as a holiday destination. Tourists spend an average of $200 per day, depending on the season and the kind of trip.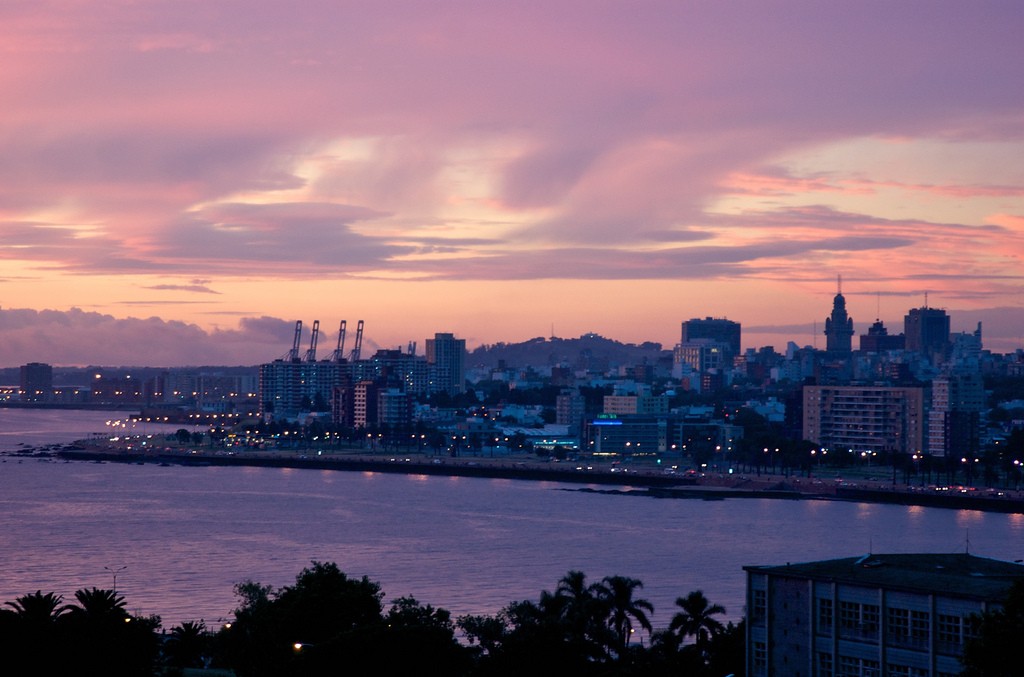 To cut down costs, use public transportation whenever possible. You can also check the local cultural calendar for low-cost activities, such as a bike tours across the city, tango lessons, art workshops or movie screenings at some museums. The local government also offers free events, like guided visits around the botanical gardens, art exhibitions and intercultural celebrations in which the Uruguayans honor other countries.
Best Months to Visit Montevideo
Located on the north shore of the Río de la Plata, Montevideo has a subtropical climate that brings hot summers and cold winters. Autumn and spring, on the other hand, provide for mostly sunny days and nice temperatures to go out and explore the city.
The spring months (September, October, November) are the best months to visit Montevideo. It's great to take walks along the Rambla and stroll around the traditional Sunday fair at Parque Rodó. All throughout the city, the trees that cover the streets make a beautiful scene. The oldest tango international festival, "Viva el Tango", takes place in October.
Montevideo is also very attractive in the summer (December to March) when a nice cool wind blows from the ocean. In February, the carnival takes hold of the city. During two days, comparsas dress up the streets with color, music and dance.
Other Resources for Traveling in South America
Are you traveling to South America? Check our guide on where to stay in Buenos Aires and the best areas to stay in Sao Paulo.