How to invest in real estate in Montenegro? This guide will show you how to buy property in Montenegro, and all the amenities involved in the process
Montenegro is indeed a beautiful country. You may have heard of it, but real estate in Montenegro is an excellent choice if you are looking for both an investment or a living in your property and enjoy the Adriatic Coast.
Budva, Montenegro. Photo by Jorge Fraganillo
Are you considering to invest in real estate in Montenegro? This guide brings an insight on the Montenegro real estate market include important data and how to buy a property in the country.
Montenegro Real Estate Overview
Montenegro is a pretty peculiar European country in many senses. It is one of the smallest countries in the continent, and one of the least populated. It is also one of the youngest countries in the world, a direct consequence from the end of Yugoslavia.
Having gained independence from Serbia just in 2006, Montenegro has experience a tourism boom in the past decade. The most visited area in the country is its Adriatic Coast. Cities and towns like Budva, Kotor, Tivat and Herceg Novi are among the most beautiful.
The Montenegrin coast is also the preferred area in the country for foreign real estate investments. The second most attractive area is its capital, Podgorica.
Despite not being part of the European Union, Montenegro uses the Euro as its currency. This is an important advantage for real estate investors, as property in the country is not influenced by eventual currency devaluations.
Recently Montenegro launched a program for Citizenship by Investment. It can be acquired by a donation to the government, plus the purchase of real estate in the country. Investments range from 350,000 to 500,000 euros.
Can Foreigners Buy Real Estate in Montenegro?
One of the most important things to consider before buying real estate abroad is checking whether the market has limitations for foreign investment.
Luckily in the case of Montenegro, there are no restrictions. Foreign nationals can buy and sell property in Montenegro on the same terms Montenegrin citizens can do it.
Montenegro Real Estate Prices Chart and Analysis
One of the most important aspects one should consider before investing in real estate abroad are the price trends. Below we have the price chart for real estate in Montenegro. The data source in the Montenegro Statistics Office.
It is important to stress that the average price per square meter in Montenegro varies greatly. While the capital Podgorica and the coastal area have the highest demand and prices, the situation is the opposite in the other parts of the country.
Just like Podgorica, the Adriatic Coast of Montenegro has a higher than average demand. Therefore you can expect prices to be higher than this in the coast, especially for properties in Kotor or Budva.
However, as we can see from the chart, the average price per square meter is low for European standards. That makes of Montenegro a highly attractive market, especially if you are considering a property for personal use.
We can also notice that the Montenegrin real estate market prices are pretty stable on a quarterly basis. Considering an average price hovering around € 1000 euros per square meter, it is certainly a bargain.
Montenegro Rental Yield
Currently, Montenegro has one of the highest rental yields in Europe. Several sources indicate a rental yield in the country from 4% to 8% (gross rental yearly income). However, it is important to consider the specifications of the Montenegrin real estate market.
While it is considerably easier to find tenants year round for property in Podgorica, the situation on the coast is highly seasonal. If you are buying to rent, Podgorica might be a better choice.
Montenegro Real Estate Taxes and Fees
The Montenegro real estate taxes are an important aspect if you are considering to invest in the country. You should calculate these costs when buying real estate in Montenegro, to maximize your ROI.
Finally, if the assets you have to invest are not in Euros, you should also consider it when buying property in Montenegro. Even with the optimal exchange rate, you can expect to lose (a relatively small amount of) money when converting your currency.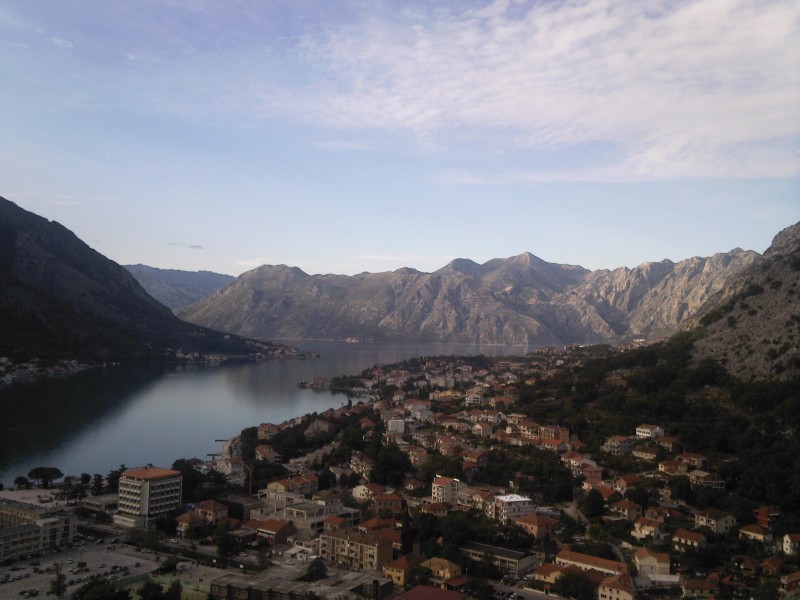 The property transfer tax in Montenegro is of 3%. The real estate agent commission value ranges from 3% to 8%, however this cost is not passed to the seller in most cases.
As a buyer, you can expect to pay around 500 euros in fees when buying property in Montenegro. Once you buy property in Montenegro, you will have to pay an yearly tax, which depends on the location and size of the property.
Capital gains from real estate sales and rental income are taxed at a flat rate of 9% in Montenegro.
Websites to Buy Real Estate in Montenegro
I would suggest learning a few words in Montenegrin to start you search for real estate in Montenegro. Montenegrin is a Slavic language mutually ineligible to Serbian and Croatian. Crna Gora is the name of the country in the local language. Nekretnine stands for real estate and oglasi translate to ads.
Here is a list of the main websites containing Montenegro real estate listings:
patuljak.me : one of the biggest classifieds websites in Montenegro containing a high number of real estate listings.
realitica.com : a rather old looking website, but still one of the most used in Montenegro for real estate listings.
There are many agencies charging above the average prices for foreign investors in Montenegro. If you are considering investing in the country, it would be ideal to know a local and avoid unwanted surcharges.
Montenegro Economic Outlook
Considering its size and population, the economy of Montenegro is also quite small in terms of GDP for European standards. As a young independent country, Montenegro still offers various investment opportunities. That includes its small but attractive real estate market, and other economic sectors.
The GDP per capita in Montenegro is still one of the lowest in the European continent. Since 2010 it has not been able to improve significantly.
Mostly of the real estate boom Montenegro experienced since 2006 has been fueled by foreign capital. Since the independence of Montenegro, international buyers have invested massively in the country.
Montenegro Real Estate Market Forecast
The price of real estate in Montenegro has been quite stable since 2014. There are enough evidences to believe that the trend tends to remain stable or experience a slight price increase.
Montenegro has a lot of positive factors, such as safety and economic stability, which are lacking in other countries in the region like Turkey or Greece.
However, the overall region trend is stable, and Montenegro is no exception to this rule. If Montenegro talks to join the EU advance, however, one can expect a considerable valuation of prices in the Montenegro real estate market.
If you are visiting Montenegro you might want to check where to stay in Montenegro. Otherwise if you want to know more about the local economy, check our post on salaries in Montenegro.