This post feature the best train connections from Warsaw to Krakow, featuring prices and train station directions in both cities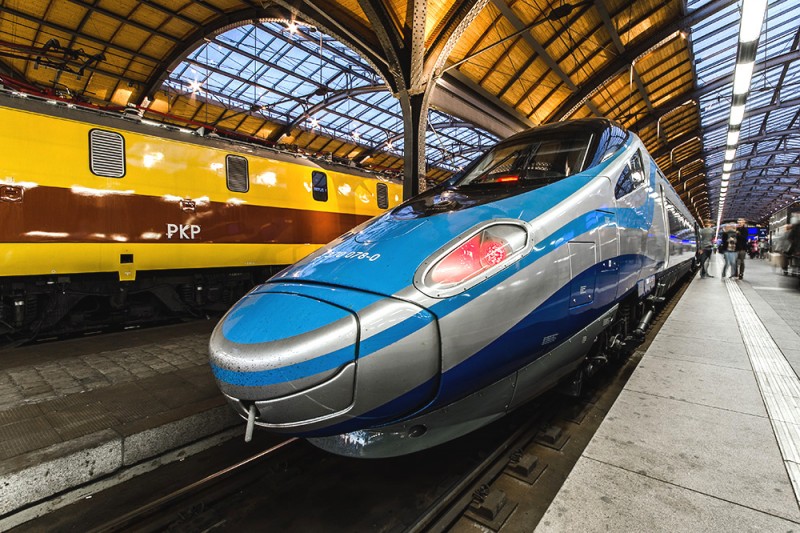 Pendolino High Speed Train in Poland by M. M. CzarneckiIf you are travel by train from Warsaw to Krakow, this post will bring all information you will need to have an optimal travel. It includes information on how to buy tickets and directions from and to the railway stations in Warsaw and Krakow.
The Warsaw Krakow route is the busiest train route in Poland. As Warsaw is the capital and Krakow is one of the most visited cities in Central Europe, this route is used by tourists and locals.
Jump to Section:
Warsaw to Krakow by Train: Overview
Train Stations in Warsaw
Train Stations in Krakow
Traveling time from Warsaw to Krakow
Buy Tickets / Prices from Warsaw to Krakow
Train Travel Resources

How to Travel by Train from Warsaw to Krakow: Overview

Traveling by train from Warsaw to Krakow is probably the best option in terms of price and comfort on this route. You can both travel with Pendolino trains and older PKP trains, both with reasonable prices and good accessibility.
The first Pendolino, which is an Italian train, was delivered in Poland in 2013. The Pendolino train operates several domestic routes in Poland, including the route from Warsaw to Krakow.
Due to the relatively short distance, and lack of airline competition on the route between Warsaw and Krakow, the train is the best option on this route, both in terms of prices and availability.
There are multiple direct trains from Warsaw to Krakow, departing at a rate of roughly one hour, from very early in the morning to late at night.

Train Stations in Warsaw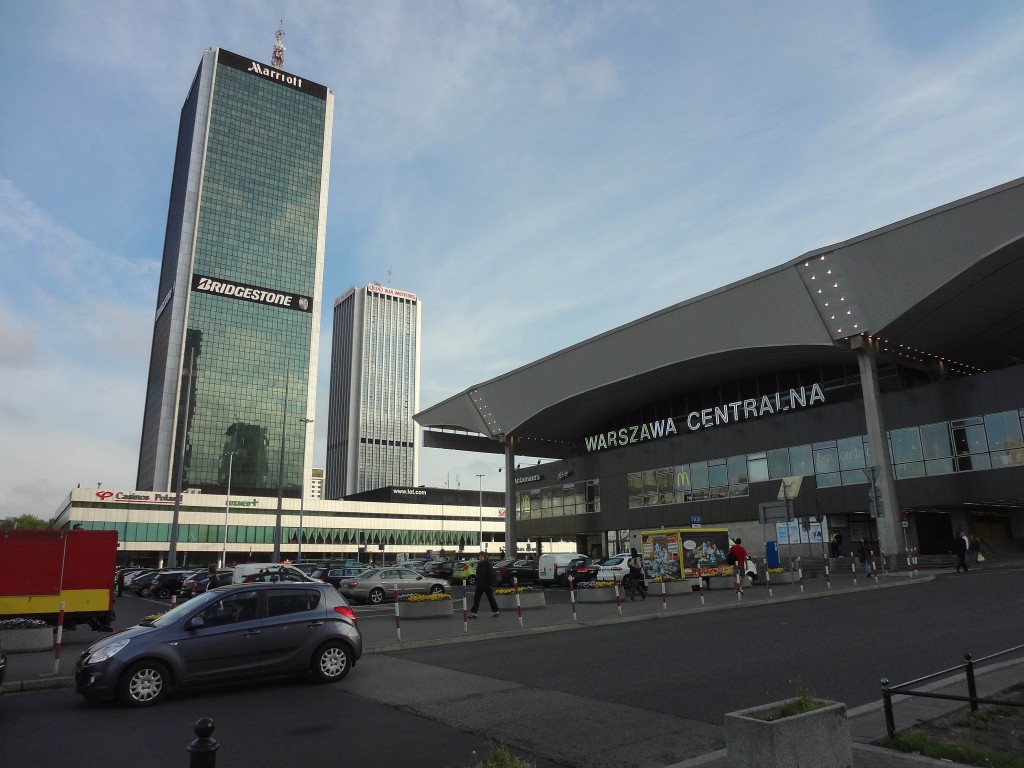 There are three stations from which you can start your train ride from Warsaw to Krakow.
They are Warszawa Wschodnia (Eastern Station), Warszawa Centralna (Central Station) and Warszawa Zachodnia (Western Station). There is no price difference regardless the station you start from, so ideally you should start somewhere near your accommodation.
If you are staying near the Warsaw Central Train station (Warszawa Centralna), you can check accommodations near this station on Booking.com.
If you are staying near the Warsaw Western Station (Warszawa Zachodnia), you can check accommodations near this station on Booking.com.
Train Stations in Krakow

There is just one main station in Krakow (Krakow Glowny) and it will be your point of arrival in the most elegant city of Poland.
If you are staying near the Krakow Main Station (Krakow Glowny), you can check accommodations near this station on Booking.com.

Traveling Time by Train from Warsaw to Krakow

The traveling time by train from Warsaw to Krakow using the fastest direct connection is of 1 hour and 45 minutes. This applies to routes in which the Pendolino train operates, which are the majority of routes.

How to Buy a Train Ticket from Warsaw to Krakow

You can buy most of the train tickets from Warsaw to Krakow on the PKP (Polish State Railway) InterCity website. All prices are in PLN (Polish Zloty). Buying from the Website or at the train station has little to no influence on the final ticket price. The cheapest price using the direct high speed trains is 120 zl (roughly 30 €).
Here is the website to buy train tickets from Warsaw to Krakow.

Train Travel Resources

Booking.com: the most complete website for finding hotels and accommodation anywhere.
Rail Europe: buy train tickets and passes if you are from North America.
Rail Europe World: buy train tickets from a number of countries* outside Europe and North America.
World Nomads: if you are travelling abroad, you can get insurance from World Nomads. With a vast coverage in number of countries and activities, World Nomads is a great option for any kind of traveler.
CheapOair: this is one of my favorite websites for buying airline tickets for flights for any destination in the world. One of the best advantages of CheapOair is that they accept not only the usual credit card payments but also PayPal.
Train Travel Guide: in our railway travel guide, you will learn how to choose and ride the most scenic train routes around the world, always in the most comfortable way with optimal prices to enhance your travel experience.
*Afghanistan, Algeria, Argentina, Australia, Azerbaijan, Bahrein, Bangladesh, Belize, Benin, Bolivia, Botswana, Brazil, Cambodia, Cameroon, Central African Republic, Chile, China, Colombia, Costa Rica, Djibouti, Écuador, Egypt, Ethiopia, Gabon, Guinea-Bissau, Equatorial Guinea, Hong Kong, India, Indonesia, Iraq, Iran, Israel, Japan, Kazakhstan, Kenya, Korea, Kuweit, Kyrgyzstan, Laos, Lebanon, Malawi, Malaysia, Maldives, Mongolia, Morocco, Namibia, Nepal, Nigeria, New Zeland, North Korea, Pakistan, Papua-New-Guinea, Paraguay, Peru, Philippines, Qatar, South Africa, Seychelles, Sierra Leone, Singapore, Somalia, Sri Lanka, Swaziland, Taiwan, Tanzania, Thailand, Tunisia, Turkmenistan, Turkey, United Arab Emirates, Uruguay, Venezuela, Vietnam, Uzbekistan, Zambia.