Best cities to visit in Scotland: let's discover all the mysteries and attractions of this beautiful land in Northern Europe
Our list of the top cities to visit in Scotland covers are cities and towns not to be missed in this beautiful region.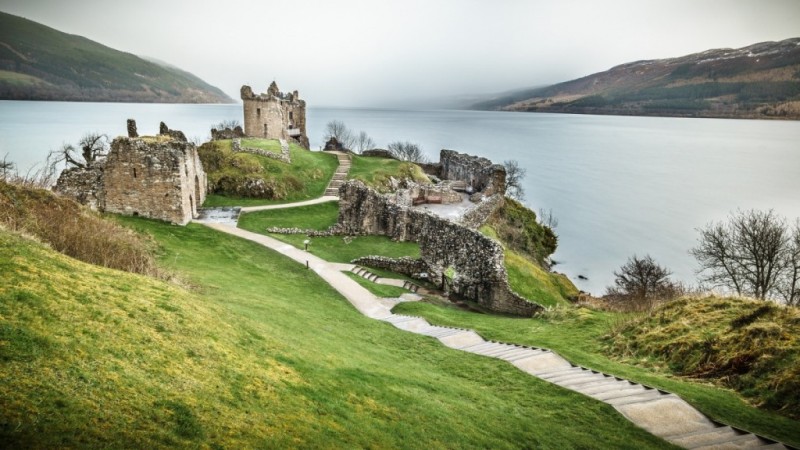 Urquhart Castle, Loch Ness, Scotland. Photo by Giuseppe Milo.Scotland is a country that constitutes part of the United Kingdom, north of the English border. It is a small country with less than 78,000 sq. km and around 5.4million people. Plus, much of the country is uninhabited mountain and around 790 separate islands off the mainland.
Officially, Scotland has 3 official languages, but if you meet someone speaking Scots or Scots Gaelic you'll be lucky. Scots pretty much only speak English (I know it sounds a little contradictory).
One thing that visitors should bear in mind, avoid talking politics. The Scots in recent years have become very politically active concerning independence from England and the United Kingdom. It is a pretty even split of people who are for and against it, although the United Kingdom survived a referendum in Scotland in 2014. However, the even split means that people on both sides and very dedicated to it so it is a subject best avoided.
As a tourist attraction, Scotland has many sites, much of which are historical or natural. Scotland puts a lot of money into building infrastructure, developing sites and building more accommodation at all price levels. The money put into tourism has ensured that there are attractions to suit all tastes.
Kirkwall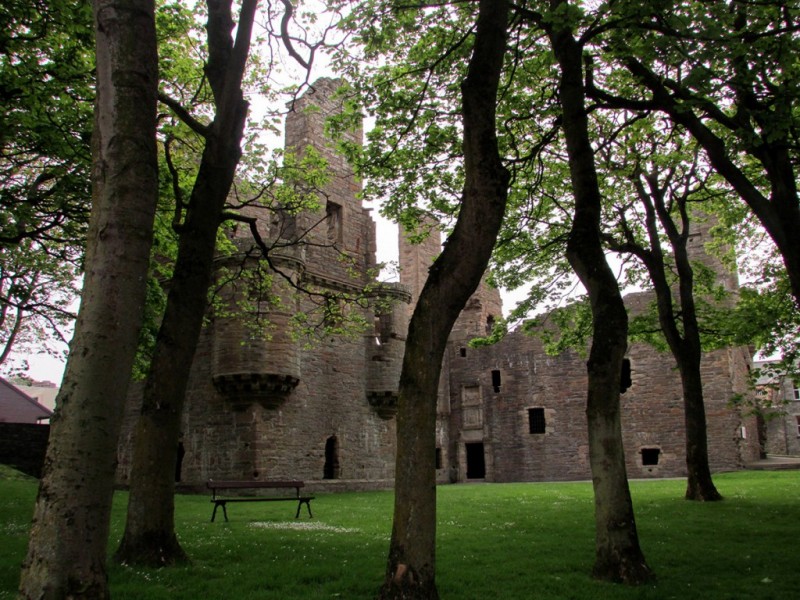 Ok, this isn't technically a city, but Kirkwall is the capital of the Orkney Islands and deserves a places among the best cities to visit in Scotland. It is by far the easiest way to see Orkney and Shetland. The actual town is mostly just residential and full of eateries and accommodation for tourists. Your stay here is best for using as a hub to see all of the historical sites on the island.
Most notably, Orkney is a place for Viking and Neolithic ruins. Skara Brae is the most well-known of these. It is one of the best preserved stone age settlement in Europe. It is also one of the oldest settlements in Scotland, dating to back to well before the building of the Pyramids in Egypt.
Click here to check accommodation options in Kirkwall on Booking.com
Another of the most iconic symbols of Orkney is the Ring of Brodgar. A UNESCO heritage site, built around the same period as Skara Brae. It is a stone ring, similar in essence to Stonehenge, and is the third largest stone ring in Britain. The Ness of Brodgar is nearby to this site. A six acre Neolithic site, discovered in only 2002, it's considered to be one of the most important archaeological sites in Western Europe. There are even the ruins of a Neolithic cathedral.
Orkney also has one of the best preserved burial chambers in Western Europe. Maeshowe is a tomb that is nearly 5,000 years old. It even manages to be both Neolithic and Viking, as the Vikings broke into it and have carved runes telling tales of their many victories all over the walls.
Inverness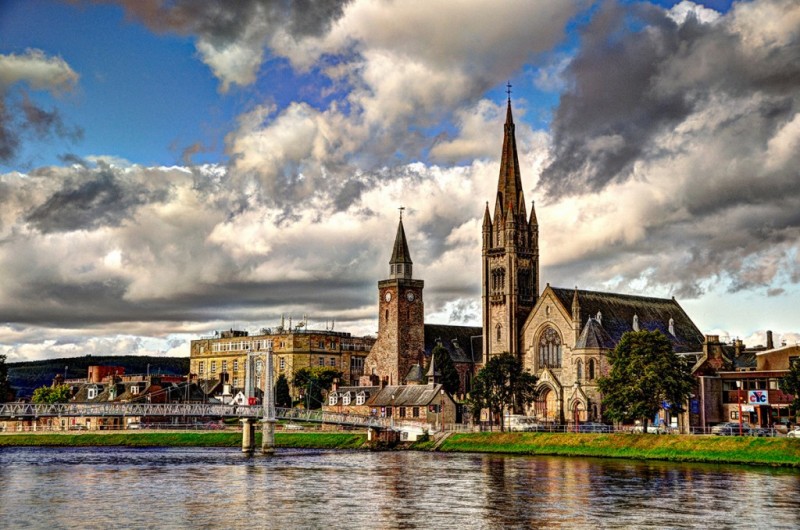 Known as "The Capital of the Highlands", Inverness is Scotland's most northerly city. It is the main access to visiting one of Britain's largest and most impressive mountain range, the Highlands. Inverness is an excellent base to tour from with good attractions within the city and a good road network to travel nearby.
When staying in Inverness, you should really go and visit Loch Ness. You can take boat trips, picnic, nature spot, visit the Loch Ness Visitor Centre and have a go at seeing if you can find the Loch Ness Monster. It's also a very beautiful area for hiking through the mountains and forests.
Click here to check accommodation options in Inverness on Booking.com
Another area to visit from Inverness is the Cairngorms National Park. Another mountain range that has dramatic scenery and visitor attractions. It is a great place to go skiing in winter. It is a place in Scotland that gets snow pretty much every year so you can almost guarantee a good snow-sport season.
If you go in Summer months, you can still take the monorail to the top and look at the views.; you can take a tour around the herd of semi-tame reindeer and you can go to the Highland Wildlife Park near Aviemore. Another thing to do in Aviemore, if you have the time, is the steam train ride. It's short but you get a compartment to yourself and your family, they serve you a traditional afternoon tea and you get a ride in a proper old style steam engine.
In Inverness itself, there is an excellent shopping district and you can take boat tours around the harbour, you might even see some dolphins along the way. The area also has a number of castles and museums, including a great museum on Scottish Picts. Despite its remote location, Inverness is definitely one of the best cities to visit in Scotland.
Aberdeen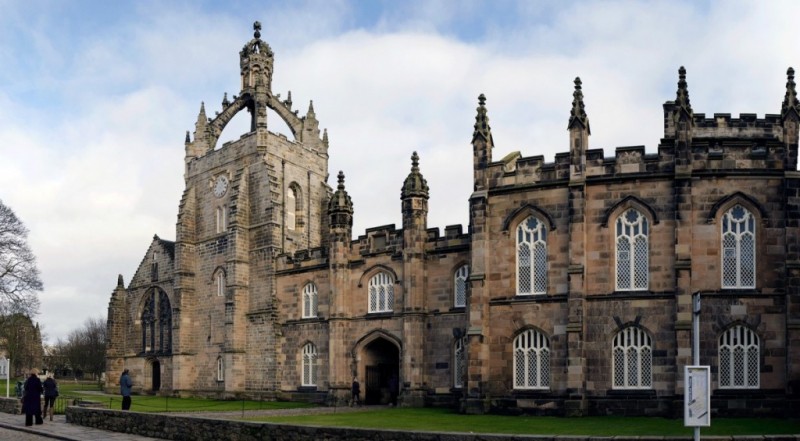 Aberdeen is the third most populated city in Scotland and is famous for its history and its university. Probably the number one attraction in Aberdeen is the Gordon Highlanders Museum. The Gordon Highlanders are a very old army regiment and the museum tells the 200-year-old story of the dramatic endeavours throughout two world wars.
There's also a maritime museum in Aberdeen. The city has a long history with the sea through fishing and the oil industry. It's Aberdeen's main industry and it's an important part of the lives of the people who live there. As a coastal area, it also has a pebble beach and a pleasure beach area.
An important area for Aberdeen as part of their history is the Footdee, although you should really call it the "Fittie". This is an old fishing village and if you want to get a feel for the lives Aberdonian's used to lead, you should go and wander through its narrow streets.
Finally Aberdeen is not only of the best cities to visit in Scotland, but is also among the best ones to live in the UK.
Stirling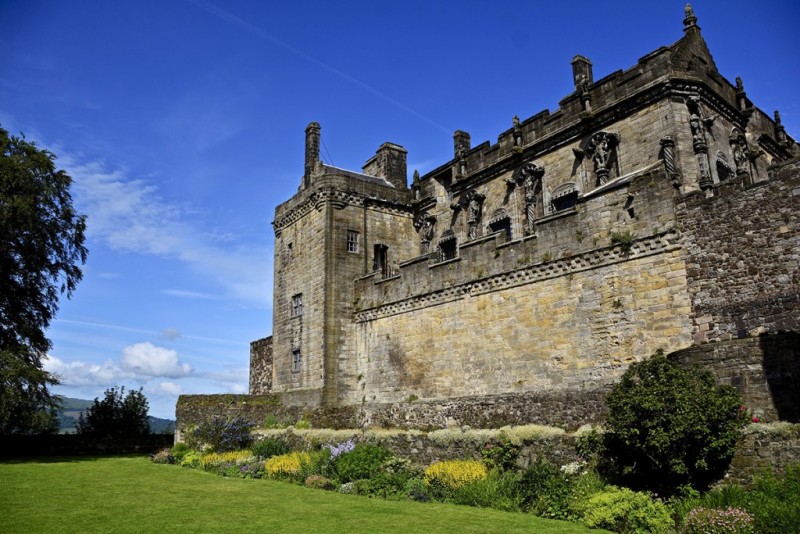 The Gateway to the Highlands. It's been said that whoever holds Stirling held Scotland. Battles have been fought for control of this city over the centuries to this end. Its position on a rocky outcrop surrounded by marshland, has meant that is was an impenetrable fortress and in olden days, this meant that people had to go through Stirling to get into the Highlands from the Central Belt and vice versa.
The city's best known monument is their castle. The Stirling Castle can be seen for miles around and it is a classic example of a medieval castle. It is also a castle that hasn't gone to ruins, despite the sometimes-terrible Scottish weather and a long history of siege's.
Stirling also has a good shopping area just below the Castle Hill. In fact, just outside their main shopping centre is a very good, old-style sweet shop where you can get some proper Scottish classics like Soor Plooms, Scottish Tablet and Barley Sugars.
Dundee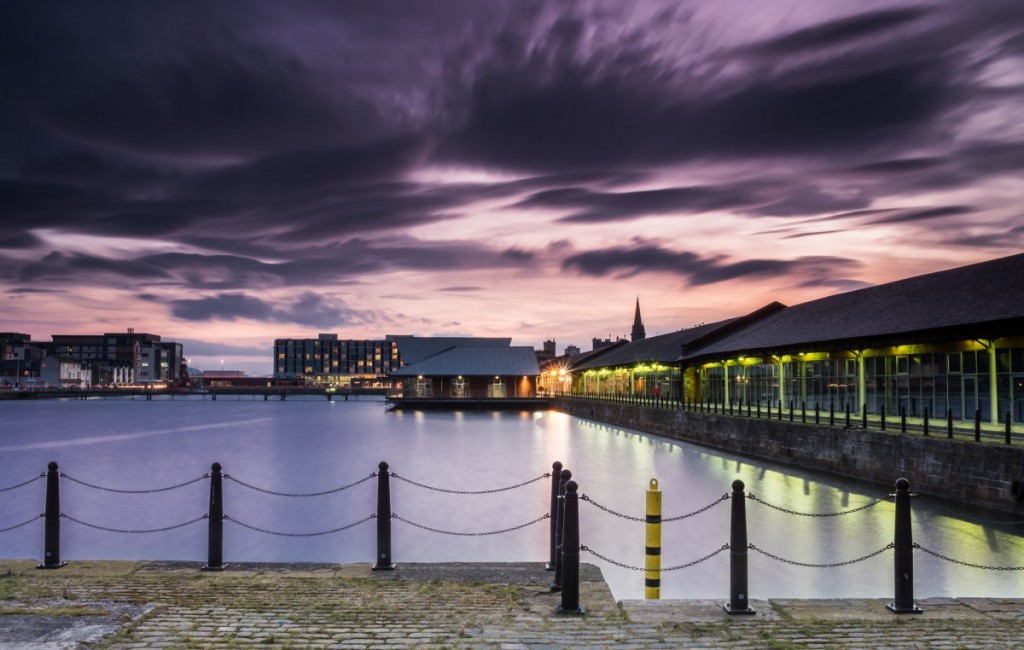 Dundee has a somewhat poorer reputation among the Scots, however, it has some good sites and attractions and they are considered to be quite friendly people there. As a tourist, your biggest issue in Dundee is probably the accent. If you think the Scottish accent can be difficult to understand, Dundee can be difficult to understand even amongst other Scots.
It's strong and they pronounce some things differently from anywhere else. A good example is the word pie, the Dundonians pronounce it pay.
Most Scots visiting the city go shopping for its good shopping centre. However, it's most famous attraction is the RRS Discovery. This ship was taken by Captain Scott and Ernest Shackleton on their expedition to the Antarctic in 1901.
Visitors can explore the ship and wonder around the visitor centre and fascinating museum all about this dramatic adventure.
Dundee also has a great museum about the manufacturing of jute. Contained within an old jute mill, the museum explains the story behind one of Dundee's key trades from the 19th and early 20th century and also shows how the workers lived during this time.
In the area around Dundee, there are more beautiful walks available in the countryside. The area is called Angus, and it is well known for its beautiful landscapes.
If you love nature, just north of the city is the Loch of Kinnordy Nature Reserve where you can go bird watching and explore. For those in search for something a little more active you can go a little east of Dundee and reach the Panmure Golf Course. If you're feeling really adventurous though, there is Paintball Dundee just to the Northwest.
Glasgow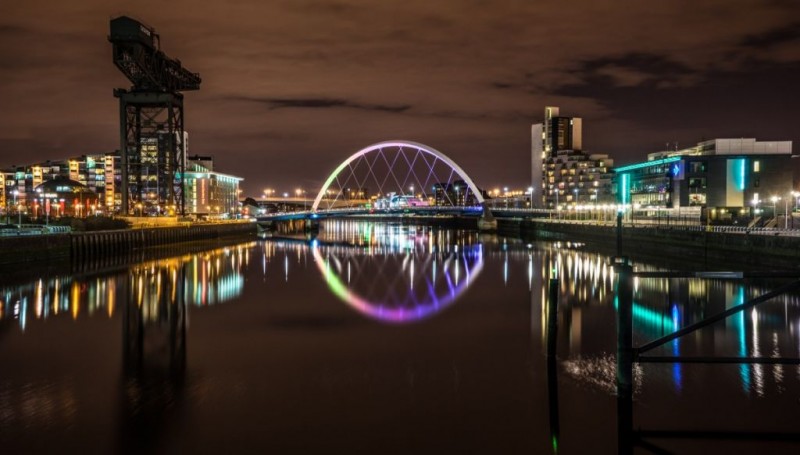 Glasgow is the biggest city in the region, and one of the best cities to visit in Scotland. However, much to the disappointment of the locals, it is not the capital city. That honour belongs to our next entry, Edinburgh. But, that doesn't mean you should discount Glasgow.
The city has many fine attractions. It really depends on what you enjoy. For sports fans, you should really go to the Hampden Experience. A football stadium and the complicated story behind football in Glasgow.
History buffs out there would probably prefer a tour of the city chambers or Glasgow cathedral, both excellent examples of their type. Another option would be Kelvingrove Museum. A natural history museum inside a beautiful, historic building.
And if you are an art lover, Glasgow definitely has somewhere for you. The city was the home of Charles Rennie Mackintosh, a prominent Scottish architect from the art nouveau period. The Willow Tea Rooms on Buchanan Street have done a great job recreating his design for a very fancy dining room. There are also great examples of his work at The Lighthouse, House for an Art Lover and Glasgow School of Art, whose library was designed by Mackintosh.
For the kids, there is a science museum just outside of the city centre. It is a fun day out for adults as well as kids but it can be more on the expensive side, and not the easiest place to get to. Still well worth a look though.
Go further out of the city, into Lanarkshire and you should make a point of visiting New Lanark. It is a living history museum cum wildlife park, with beautiful forests to wander through. This museum is all about the wool and cotton industry and how New Lanark was built to improve the lives of one mill owners' workers. You explore the whole village and it is like a taking a step back in time.
You can also check our Glasgow guide here.
Edinburgh: At the top of the Best Cities in Scotland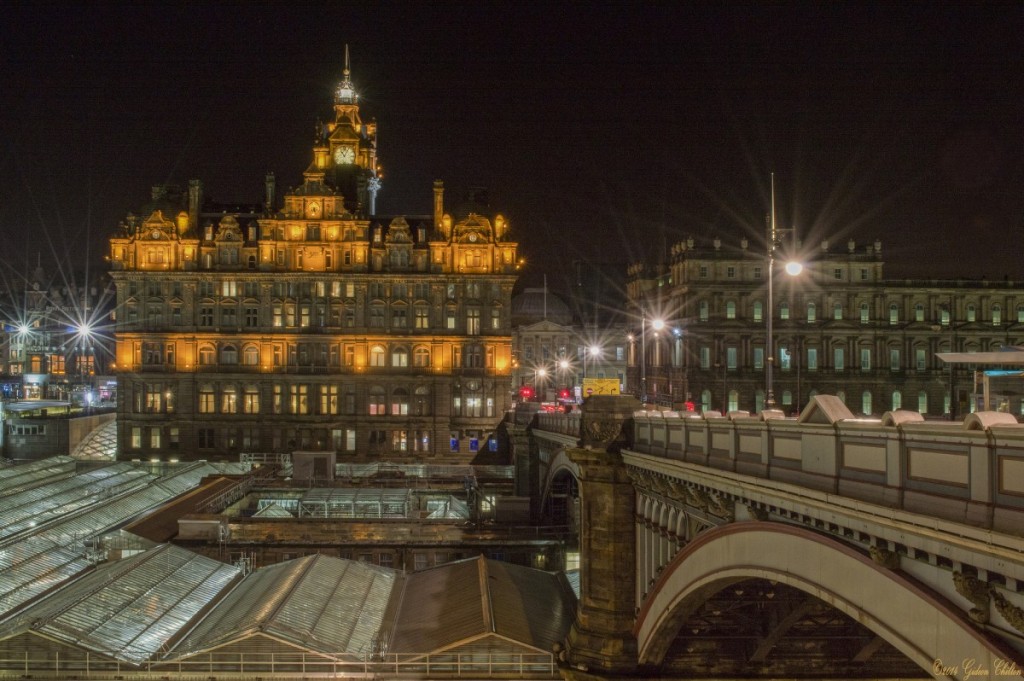 Finally, we come to Edinburgh; the capital of Scotland and probably the best city to visit in Scotland.A small and easy to traverse city with a great deal of history. Edinburgh has its major festivals, the Fringe and the Tattoo, in July and August. However, there are 12 major festivals throughout the year, so you're likely to catch one no matter when you visit.
Obviously, the first attraction to talk about is the castle. It is the most iconic view in the city and is notoriously difficult to get to. Locals often complain about the number of people who ask how to get there, but it is a must-do and a highlight.
The building dates back to the 11th century in the form of a small chapel that you can still get into today.
Click here to check accommodation options in Edinburgh on Booking.com
Mary King's Close is just down the road from the Castle on the Royal Mile (also a must-do). It is an underground street that you can take a tour of. It has great historical significance to the city as it tells the story of the Black Death in Edinburgh.
Other attractions that you will want to see in Edinburgh are the National Museum of Scotland, the Palace of Holyrood House, the National Gallery of Scotland, the National Portrait Gallery (mostly for the impressive building), the Scottish Whiskey Experience, St Giles Cathedral and you should really visit the zoo and take a ghost tour of Greyfriars Graveyard.
You can also check our Edinburgh guide here.
That's it for our list of the best cities to visit in Scotland, enjoy your visit!