Best places to stay in Penang, the picturesque island of multicultural Malaysia, famous for its amazing food and sunny weather.
Are you traveling to Penang, Malaysia and looking for a nice place to stay? Let's analyze the island's best locations and accommodation options for all types of budgets.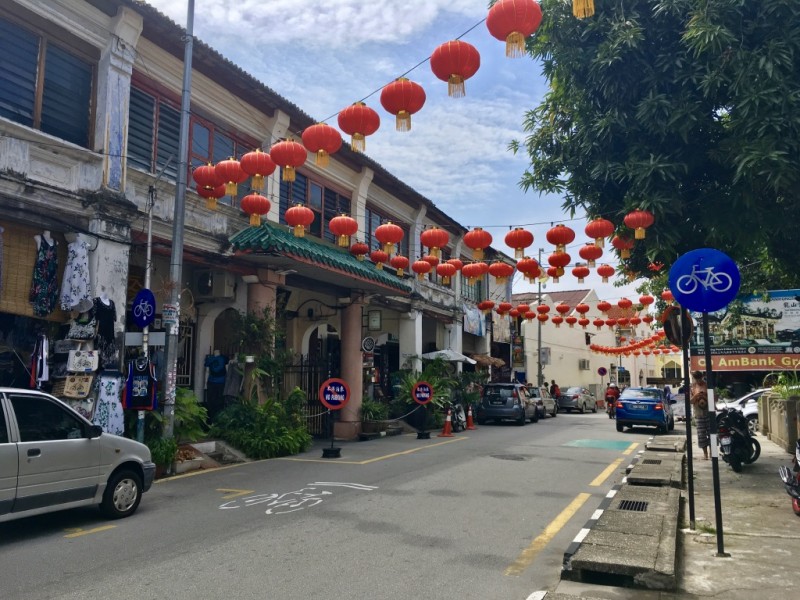 Tourism in Penang, Malaysia
Penang is an island, one of the states in Malaysia and a beautiful place to visit. Why? Penang is a multicultural place with different nationalities living in.
Colorful Penang offers tourists various activities to do and sights to see. Some of the best places to stay in Penang are George Town, its capital, and the area around the town of Balik Pulau. Let's analyze these and other areas in the island.
If you are visiting Penang, I recommend you checking the amazing tour offers available on Klook.com.
George Town, Penang
George Town is the busy capital of Penang and the second biggest city (Greater Penang) of Malaysia. This city is full of street art, amazing cafes, lovely people and history shining from every corner. George Town is full of diversity and excitement. You can find so many different people from many different countries living in here, therefore, the heart of George Town has much to offer.
For those staying or visiting George Town, the Penang Hill is a great stop while visiting the island. It is not far away from the city center a great place to visit if you like nature. The Penang Hill offers a stunning overview of the city and is easily accessible.
You can find many temples in George Town, for example, Kek Lok Si Temple. This temple offers a great view from the hill where it is located, and the temple itself is mesmerizing.
While walking around the harbor, don't forget to visit the Clan Jetties Of Penang. It is a huge floating village with houses and stores. You can find also an amazing temple called Hean Boo Thean Kuan Yin Temple not far from the Clan Jetties.
Little India, George Town
Little India is one part of this lively city and is full of excitement and entertainment. The Lebuh King Street in George Town is a great reference point to the Little India. This area is famous for its colourful streets and Indian stores, obviously.
Those particolored stores are selling Indian goods (you can find sarees for women, shisha for men or other various souvenirs you might like to bring home). Indian spices are also widely available (from Indian pepper to Indian mixed spices ready to use for your Indian dishes).
You can also find stalls selling delicious Indian food (from sweet snacks to Tikka Masala for lunch). Indian food and smell of it are just everywhere around. It will make you hungry and want to try everything during your walk around.
Chinatown, George Town
Chinatown is, as the name say, a place for Chinese culture and products in George Town. This part is, as well as Little India, full of great street food and small stores selling everything from souvenirs to typical Chinese goods. Chinatown is situated on the street Lebuh Campbell. The Chinatown can offer many sights where you can discover more about the colonization of Penang. The Chinese were some of the first inhabitants of the Penang Island.
Balik Pulau
For tourists interested in hiking the mountains, wondering in the national parks or visiting some of many fruit farms you can find in Penang, this place is the right place to be.
is situated on the opposie side of the island from George Town. As already mentioned above, this part of the island is perfect for people who are seeking more natural hidden gems. There is an impressive waterfall hidden just a short drive from Balik Pulau. There are also a nutmeg, goat, and durian farm in this region.
Other locations
Those two locations mentioned above are not the only locations you can stay in Penang. You can also choose to stay in the south of the island. What can the South offer? There are many stunning beaches as well as few fruit farms and we can't forget to mention the Snake Temple. This temple is not far away from the South.
Snake Temple is one of the tourist highlights in the island. This place stands exactly for ts name: temple and snakes. So here goes one advice. if you don't like snakes, please don't visit this place.
For locals, this temple is not just an attraction but also a spiritual place to pray. Unfortunately, this place has changed since there are so many foreign visitors. You can find a few snake shows there as well.
Budget Accommodation in Penang – $
Tido Penang Hostel – a great budget option in George Town, in one of the best areas to stay in Penang.
Reasonably Priced Accommodation in Penang – $$
Chulia Mansion – a reasonably priced hotel in one of the best areas to stay in Penang.
Areca Hotel Penang – a great hotel in a very central area of George Town in the Penang Island.
Luxurious Hotels in Penang – $$$
Eastern & Oriental Hotel – one of the most luxurious hotels in Penang, located in George Town.
Getting around
If you are flying to Malaysia, you can find the International Airport of Penang (IPA) situated on the south of the island. You can find the cheapest flights to Malaysia on Jetradar.
The easiest way to get around the island is renting a car at the airport or taking Grab which is the most comfortable and cheapest option. Download the Grab app, choose your destination and wait for your driver.
For those considering renting a car in Penang, you can compare rental prices on RentalCars. Alternatively you can also rent a can in Malaysia on Easybook.
If you are coming from the Malaysian capital to Penang, check our guide on how to travel from Kuala Lumpur to Penang. Finally, if you are traveling in Southeast Asia, two of the best resources to buy tickets are 12go.asia and BusOnlineTicket.
Cost of travel in Penang
Even if Malaysia is relatively cheap for Western visitors, it is not among the cheapest in Southeast Asia. If you are on a tight budget you can eat street food which is really delicious and cheap as well. One regular meal can cost you around 5 MYR that is around USD 1.3.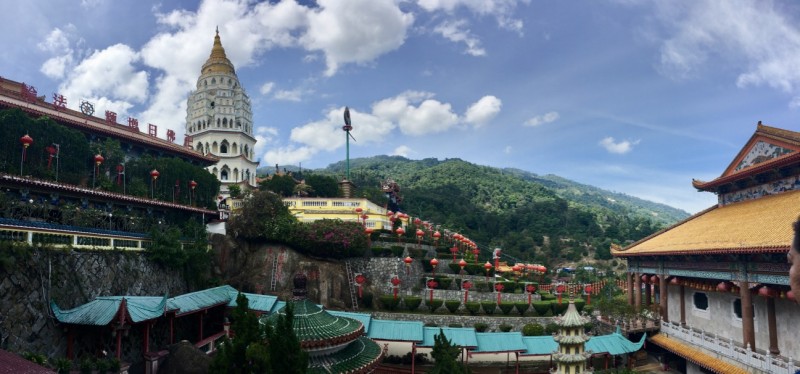 Penang has a relatively good transport infrastructure, however it is far from ideal. A good option is to use the App Grab, which is very popular in Malaysia and it is cheaper than a regular taxi as well. How much does it cost? For example, the way from the airport to George Town will cost you around 18 MYR which is around 4.5 USD.
Best Time to Visit Penang
The weather in the island is warm nearly all year long but some months are just better than the others. May to October is considered as a rainy season, therefore, those months are not the best to visit.
November to January is the right time to visit Malaysia because the weather is very pleasant and conducive for sightseeing. On the other hand, this time of a year is considered as the liveliest part of a year.
February to April might be the best time to visit Penang. Why? Because the Christmas celebration is over and you can usually walk the streets without crowds.
Events and Festivals
The biggest events that are happening in the city are usually connected to food or music. Penang is a state in Malaysia where people go to eat. The most delicious food in Malaysia is right there, in Penang. Even people from Singapore fly to Penang at the weekend to have some delicious treat.
You can find many festivals happening in Penang, for example, Durian festival, International food festival, or Penang Island Jazz Festival. Check this website for more information during your visit.
One more thing: if you want to experience the real Asian culture, you should come during New Year. Now we are not talking about 1 January but the Chinese New Year. The celebration in the island is going to be huge, impressive. and most likely unforgettable.
Other Resources to Travel in Southeast Asia
If you are traveling in Southeasia Asia check also our posts on where to stay in Kuala Lumpur, the best places to stay in Singapore, and where to stay in Bangkok.