Geneva or Zurich, which is the best city to visit? This guide will provide insights on the nightlife, sightseeing, cost of travel and other aspects of visiting these two Swiss cities.
Travelling to Switzerland soon but can't decide which city you want to visit? A choice that a lot of people are faced with is whether to visit Geneva or Zurich. The two biggest cities in this landlocked Alpine country have a lot to offer tourists, and both boast beautiful Old Towns and lakeside locations. But is Geneva or Zurich better?
If you've already travelled to both, you probably already have a clear idea of which you prefer. But how can a first-time traveller decide between Geneva and Zurich? It would be great to visit both, but most people won't have the budget or time for that. This article will focus on important holiday aspects of both cities so you can make an informed decision on which is the best city out of Geneva and Zurich.
Overview of Geneva
Surrounded by the Alps and on the southern shore of one of Europe's largest freshwater lakes, Geneva is certainly picturesque. You can even see Europe's highest mountain, Mont Blanc from here. Although French is the first language here, it's a truly global hub with over 190 language spoken in total. The Red Cross and European UN have their headquarters in Geneva.
Overview of Zurich
German speaking Zurich is the largest city in Switzerland. It's also a world capital when it comes to finance and banking. It's currently ranked as the city with the best quality of life in the world. Zurich has Alpine views, just like Geneva. As well as being famed for banking and finance, it's one of Switzlerand's cultural hubs. There are over 50 museums and 100 art galleries in town.
Geneva vs Zurich: Nightlife
Zurich has plenty of choice when it comes to nightlife, with the bulk of it being located along the Niederdorf. As well as underground bars and clubs, there's a thriving techno scene too. Geneva is quieter and although there is nightlife on offer too, it's expensive and many people prefer nearby Lausanne. Because Niederdorf offers some fun and vibrant places to party, Zurich wins.
Verdict: Zurich
Geneva vs Zurich: Sightseeing
Zurich has some of the best museums and galleries in Switzerland and you shouldn't miss the Landesmuseum. It has several important art collections. Bahnhofstrasse is a great place to walk through and take in the expensive designer shops.
There are lots of day trips close to Zurich too, including Uetliberg and Mount Titliss. Geneva offers some grand and imposing attractions, like the Jet d'Eau fountain and the Broken Chair. There are more unique museums here including the Red Cross and Red Crescent Museums too. Day trips include the Mont-Saleve Cable Car. It's a tough pick, but Geneva edges it!
Verdict: Geneva
Geneva vs Zurich: Old Town
Geneva's Old Town has lots of character and an intriguing history. There are plenty museums, shopping, and of course, cafes for peoplewatching. Don't miss the old Roman marketplace right in the centre Bourg-de-Four square. Zurich's Old Town is also worth a trip – Lindenhof Hill is a public park within the city walls listed as a Swiss Heritage site. There are several historic buildings including the 14th century Brunnenturm. It's a draw!
Verdict: Draw
Geneva vs Zurich: Cost of Travel
Geneva and Zurich are two of the world's most expensive cities, so this is like choosing between a Lamborghini and a Ferrari. The reality is if you can afford to travel well in either city, you probably won't notice a difference. Geneva is slightly cheaper than the European banking capital, so unless you're opening an account, Geneva is the winner.
Verdict: Geneva
Geneva vs Zurich: Food and Restaurants
Both cities offer plenty of opportunities to try traditional Swiss food like fondues. In Zurich, the best local cuisine is on Niederdorf and in the Old Town, hidden away in quaint alleys. Thanks to Geneva's international influence you can eat pretty much anything here. So, once you're sick of raclette, fondue, and schnitzel, you'll easily find an international alternative. Geneva wins!
Verdict: Geneva
Geneva vs Zurich: Transportation
Zurich has a network of trams, buses, and local trains which is free with a Swiss Travel Pass. You can get a Zurich Card which means free travel inside the city walls too. Geneva's public transport system is called UNIRESO and it's also free to use with a Geneva Transport card. Zurich wins as it covers a larger area.
Verdict: Zurich
Geneva or Zurich: Weather
Both cities have mild weather. Winters are relatively cold and don't get much sun, whereas summers are hot and sunny. Geneva is drier than Zurich, which is a little more humid. Geneva wins as it has perfect conditions for winter sports at the nearby ski resorts.
Verdict: Geneva
Geneva or Zurich: Verdict
Verdict: With a score of 4-2 and one draw, Geneva is the winner! However, both cities are great places to visit and offer plenty to see and do.
Verdict: Geneva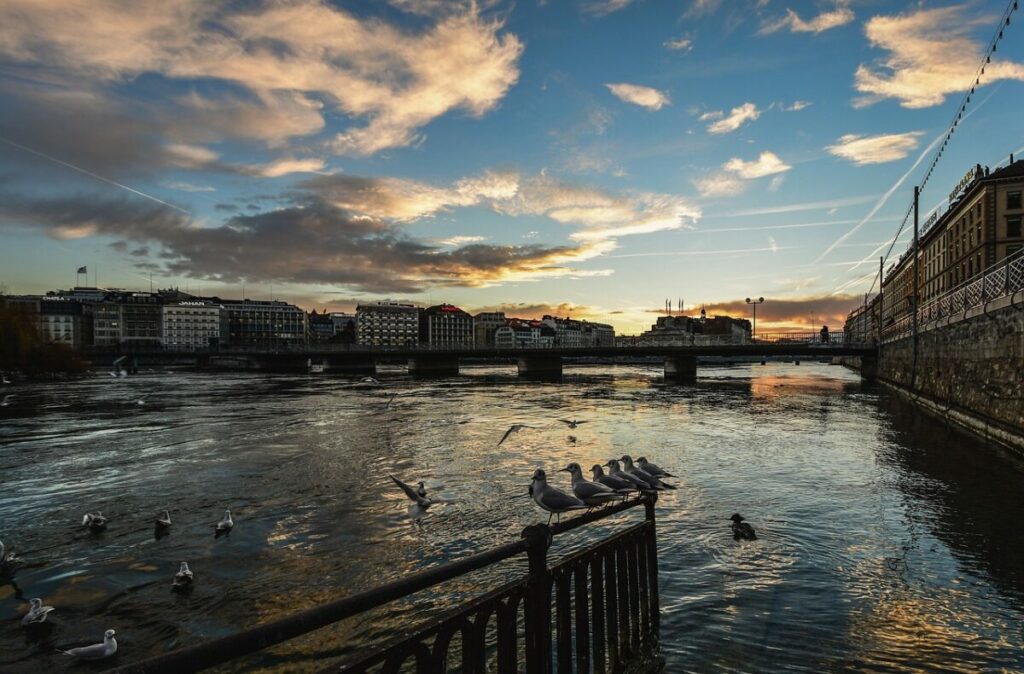 Hotels in Zurich
Hotel Arlette Beim Hauptbahnhof – This hotel is even closer to the main railway station. You will be in the very heart of Zurich meters away from the Limmat river.
Sorell Hotel Rütli – A great accommodation option, located at a walking distance to the ETH University. This mid-sized property is ideal to enjoy all the aspects of the old town without worrying about transportation.
Hotels in Geneva
Hotel Les Arcades – A great choice in one of the best places to stay in Geneva. Good breakfast and quite close to the Cointrin train station.
Hotel International & Terminus – Another great option to stay in the center of Geneva, with easy access to public transport.
Other resources for travelling in Geneva and Zurich
If you traveling in Switzerland you might want to check some of our other guides to this small and alpine European country. Check the best places to stay in Zurich and our guide to where to stay in Geneva.
For those considering to focus your visit on Zurichh you might want to check our post on the cost of living in Zurich, and the how to get from Zurich to Liechtenstein.
Already in Zurich or Geneva? Leave your thoughts and questions in the comment box below.