Belgrade Airport to city center: learn how to get from the airport to the center of the Serbian capital using various means of transport.
For those traveling to Serbia by air, this post will guide you how to get to from the Belgrade Airport to city center, and vice versa by bus, taxi and car.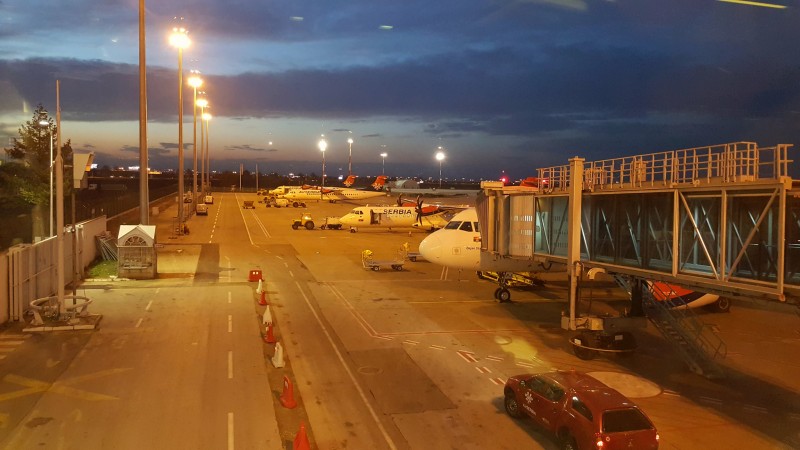 How Many Airports are there in Belgrade?
There is only one airport in the Serbian capital. It is Belgrade Nikola Tesla Airport, founded in 1910. Since then, it kept growing and developing. During the World War II it was used by the Germans. They had destructed it in 1944, while withdrawing from Belgrade.
The airport is located in the area called Surčin, 18 kilometers westward from Belgrade. It was opened for traffic in 1962, with a single Terminal. Another one was added in the 1997, and since 2008, Belgrade Nikola Tesla Airport can be used in full capacity in conditions of extremely low visibility, due to its new equipment.
Air Serbia is the flag carrier of Serbia, with Belgrade Nikola Tesla Airport as its hub. Air Serbia is the legal successor of JAT Airways (Yugoslavian Avio Transport). It is now working in partnership with Etihad Airways, from 2013.
Belgrade Airport Nikola Tesla is known for its good safety record. Statistics show that its airplanes are one of the most reliable in this region. The airport changed its name to Nikola Tesla in 2006, after one of the world's greatest scientists born in Serbia.
If you are flying to Hanoi you can find the cheapest flights on Jetradar.
If you are travelling by bus in Europe, book your tickets using Flixbus. For those using the train, buy train tickets on Trainline.
How to get from Belgrade Airport to the city center?
As we already mentioned, Belgrade Nikola Tesla Airport is located 18 kilometers away from the city center. Comparing to some other European cities, it is relative close to the center. Due to its recent improvements, the Belgrade Airport has become a connection point for many flights, even intercontinental ones.
Belgrade Airport to City Center by Car (or Taxi)
It is really easy to go to from the Belgrade Airport the city center by car. You will need around 20-30 minutes, depending on the traffic. The easiest is through highways E-70 or E-75. The "rush-hour" in Belgrade is before 8 AM and around 4-5 PM.
Although Uber is still not available in Belgrade, fortunately, taxi fares are not that expensive. The start will cost you €1.5 and every additional kilometer from €0.5 to €1, depending on the time. The ride from city center to the airport should not cost you more than €10.
There is a TAXI INFO desk at the airport, located in the baggage reclaim area. There you can safely take a taxi on your name, destination and with appropriate price. Be careful because there are many unofficial taxi drivers, especially waiting for foreign tourists. The scams are quite frequent. Here is a tip: the official taxi registration plate must end in "TX".
When you land, you can immediately rent a car at the airport. There are many Car Rental Agencies. They are located at international arrivals area, at Terminal 2 and Terminal 1 ground floor, at Belgrade Nikola Tesla Airport.
Click here to compare rental prices on RentalCars.com
Another option is pre-arranging a transfer from the airport to the city center. You can hire this service online from GetYourGuide.
The airport's car parking is just across the terminal building, working 24 hours non-stop, with high-security. The price is €5 per day, and around €25 per week. It is frequently used by the Serbs going abroad. They come to the airport with their car, and just leave it there during their trip.
Belgrade Airport to City Center by Bus
The first option you can use is an A1 Mini bus. Its rides from Slavija Square to the Airport (around 20km), in a non-stop route. The ticket is €2.5 per person, and the approximate travel time is 30 minutes. There are buses running every 30 minutes, running 24 hours a day, both during work days and weekends.
Slavija Square (Trg Slavija) is one of the most important points in Belgrade, and one of its major squares. Its location is the intersections of Kralja Milana Street, Beogradska, Makenzijeva and Svetosavska (all the biggest streets in Serbian capital). It is less than 1.5 kilometer away from downtown Belgrade. All three types of public transportation have routes to the square (buses, trolleybuses and trams), so you will easily go to your next destination. There are also many hotels in its surroundings, as well as the National Bank of Serbia.
Your second option is the bus. The route number 72 starts right at the airport. It will take you to the city center (station: Zeleni Venac) for less than €1 (for tickets bought in a kiosk) or €1.5 (for tickets bought in the bus). Approximate travel time is between 30 – 40 minutes.
Another option is the bus 607, that will take you to New Belgrade, a part of the city that is on the same side of the Sava River as the airport. The river separates it from the "old", center of Belgrade. You will need approximately 30 minutes. In New Belgrade, there are many new and modern hotels, since that part became the business center of Belgrade during the last decade.
Belgrade Airport to the City Center by Train
You can travel Serbia by travel to virtually all cities. But, unfortunately, there is no train from the Airport to the city center. Also, there is no metro in Belgrade(yet). The new Government announced an investment project of nearly €10 billion, and the building of Belgrade Metro should start soon, after more than 60 years of waiting.
Hotels in Belgrade
Pension Travelling Actor – a beautiful decorated accommodation option in the Skadarlija neighborhood of Belgrade.
Garni Hotel Aleksandar Palas – a great value for the money in the center of Belgrade. High quality rooms close to the Knez Mihaila street.
Hotel City Savoy – an excellent choice for those willing to stay in the center of Belgrade, close the Skadarska.
Other Belgrade Resources
If you are traveling to Belgrade you may also like some of our other guides. Check how to travel from Belgrade to Timisoara, or from Belgrade to Montenegro (Kotor, Podgorica, etc). Finally, check our guide on where to stay in Belgrade.