Traveling from Ljubljana to Vienna by train is probably the best option to reach the Austrian capital from its Southern mountainous neighbor, Slovenia
Are you visiting Slovenia and Austria? Check how to travel from Ljubljana to Vienna and vice versa by train. This guide includes train stations and how to buy tickets from the Slovenian capital to Vienna.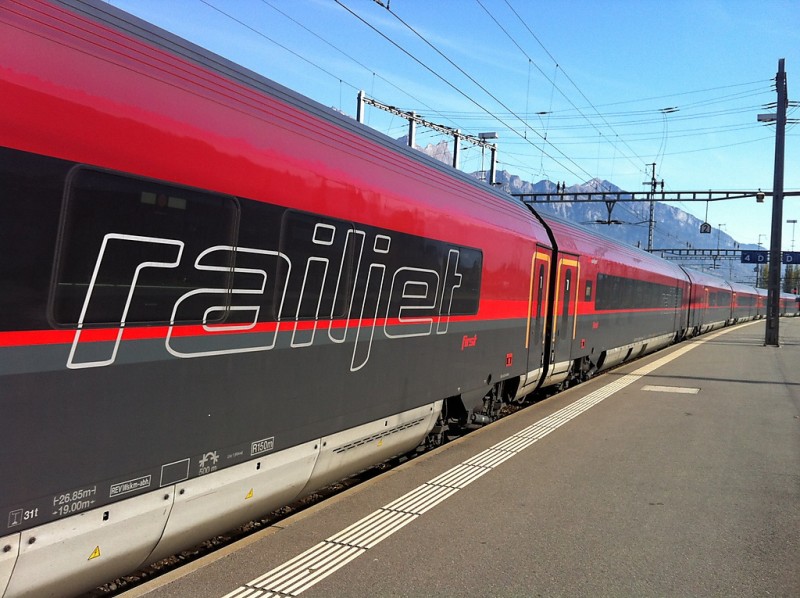 In this post we will analyze the connections from Ljubljana to Vienna by train. It also features information on the train stations in Slovenia and Vienna, as well as traveling time and how to buy tickets between these two European capitals.
Jump to Section:
Ljubljana to Vienna by Train: Overview
Train Stations in Ljubljana
Train Stations in Vienna
Traveling time from Ljubljana to Vienna
Buy Tickets / Prices from Ljubljana to Vienna
Train Travel Resources

Ljubljana to Vienna Train: Overview

Traveling from Ljubljana to Vienna by train is probably the best choice, considering the options available. There are direct flights connecting Ljubljana to Vienna but the number of flights is limited. You may also want to consider the bus, which can be an option, but it is certainly less comfortable.
Traveling by train from Ljubljana to Vienna can be done in a few direct connections per day, or changing trains once. You will usually change trains in Maribor, Slovenia or in Villach, Austria.
Ljubljana to Vienna
There are many daily trains connecting Ljubljana to Vienna, however just a few of them are direct ones. The direct train connection between Ljubljana to Vienna is operated by EuroCity trains which start at Ljubljana Railway Station and end their journey at Vienna Main Station (Wien Hbf).
As mentioned above, the journeys involving at least one connection will require you to change trains in Maribor or Villach. In Maribor you will usually change for a Railjet train coming from Zagreb to Wien. The same happens in Villach, where you will take a Railjet that operates domestic routes within Austria.
If you are traveling at night, you will change trains at Villach. You will take a train operating the route from Venice to Vienna, arriving early in the morning.
The routes and timetables may change, depending on a number of factors, but you can check them at the Rail Europe website.
Ljubljana to Vienna Airport
If you want to reach the Vienna Airport, coming from Slovenia, you will have to switch trains at the Vienna Main Station (Wien Hbf). Once there you can get another Railjet to the Vienna Airport (Wien Schwechat).
The trip takes about 16 minutes, and I recommend buying your ticket with the final destination as the Vienna Airport. This way you will probably save money and time by not having to buy a separated ticket to the Vienna airport separately at the Vienna main station.

Train Stations in Ljubljana

The Ljubljana Railway Station (Železniška postaja Ljubljana) handles all major international train routes from and to Slovenia, including the one to Vienna. Ljubljana still counts with other smaller stations, but they are mostly used for daily commuters and domestic trains.
The Ljubljana Railway Station is centrally located, and at a walking distance to the old town and most of the city's attractions. The station itself is rather small, considering it is a capital city, but it has a few facilities. It is very safe, however it doesn't offer many entertainment options.
If you are coming from another city in Slovenia or nearby countries and traveling to Austria, check our trains from Ljubljana guide for more information.

Train Stations in Vienna

There are two train stations in Vienna. One is the Vienna Main Railway Station (Wien Hauptbahnhof) and the other is Vienna Meidling (Wien Meidling).
If you are traveling from Slovenia to Vienna, virtually all trains will call at Vienna Meidling and at the Vienna Main Railway Station. The Wien Meidling station is located Southwest from the Vienna Main Railway Station. Therefore, most trains coming from the Southwest of Austria stop at this station, before arriving at the Wien Hbf.
The Vienna Meidling Station is much smaller than the Vienna Main Station. Considering this, it will just make sense for you to end your journey at the Meidling station if you are staying in its vicinity.

Traveling Time: Ljubljana to Vienna Train

The direct EuroCity train from the Slovenian capital to Vienna completes its journey in 6 hours and 2 minutes. If you take at least one connection, you can expect your journey to be usually from 6 to 8 hours.

How to Buy a Train Ticket from Ljubljana

There are some options to buy your train tickets from Ljubljana do Vienna online. The best way to buy tickets for this train route is on the Trainline website.
Alternatively you can book it directly from the ÖBB website.
Hotels in Ljubljana
Adora Hotel – Certainly of the best options to stay in Ljubljana. All the main attractions of Ljubljana Old Town and the Ljubljana Castle are easy accessible from this hotel.
Hotel Emonec – One of the best reasonably priced hotels in Ljubljana, steps away to the Triple Bridge, one of the most beautiful locations of the city.
Hotels in Vienna
Hotel Kärntnerhof – a great hotel in the Innere Stadt area in one of the best places to stay in Vienna.
Mercure Grand Hotel Biedermeier Wien – an excellent option to stay in the Landstraße district of Vienna.
Train Travel Resources

Booking.com: the most complete website for finding hotels and accommodation anywhere.
RentalCars: compare rental car prices around the world, including in Ljubljana and Vienna.
World Nomads: if you are travelling abroad, you can get insurance from World Nomads. With a vast coverage in number of countries and activities, World Nomads is a great option for any kind of traveler.
CheapOair: this is one of my favorite websites for buying airline tickets for flights for any destination in the world. One of the best advantages of CheapOair is that they accept not only the usual credit card payments but also PayPal.
Train Travel Guide: in our railway travel guide, you will learn how to choose and ride the most scenic train routes around the world, always in the most comfortable way with optimal prices to enhance your travel experience.