How to open a US bank account as a non-resident non-citizen in 2023? Check our guide below on banking in the US even if you live abroad
Do you want to open a US bank but you a non-resident and non-citizen of the United States? This guide will explore some options based on my personal experience on opening an account in the USA.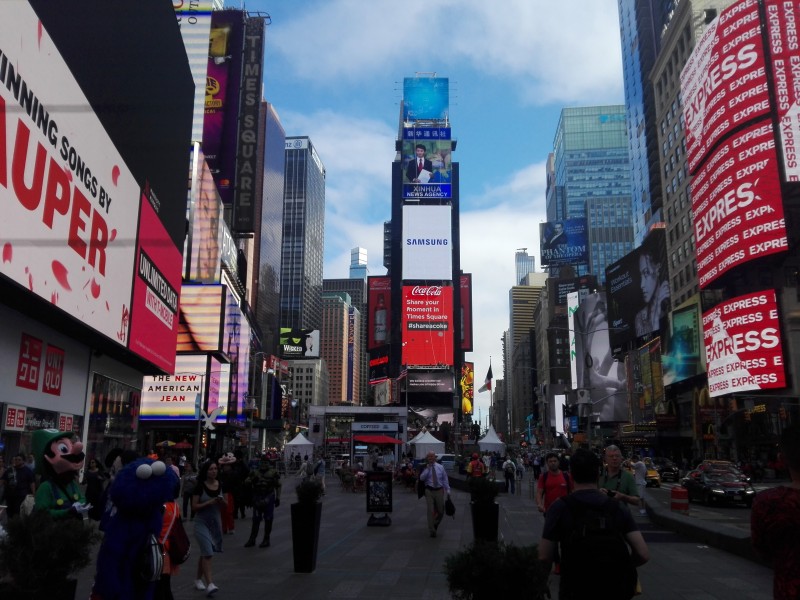 ---
Our Recommended Provider
We've found that TransferWise is a convenient and cheap banking alternative for expats. You can create a free account online in minutes, which gives you your own US bank account details to receive US dollars for free.

With a TransferWise account your money will always be converted at the mid-market exchange rate, making them up to 8 times cheaper than banks for managing your money overseas. You can also hold more than 50 currencies until you need it, for free.
---
Banking in the USA as a Non-Resident / Non-Citizen
Before we start, it is important to know that banking regulations change constantly. The information below is just based on my experience. I strongly suggest you getting in touch with the bank and the branch you are planning to open the account before visiting it.
There are many reasons why one may want to open a bank account in the United States as a non-resident and non-citizen. Among many other examples, we can mention a few, such as if you visit the US often and you want to reduce bank and card fees when spending in the country. If you work online and often receive payments from US companies, this might be also the case. Finally you may want to buy real estate or do other types of investments in the country.
But, opening a bank account in the United States is not the most simple procedure. The first problem most foreigners encounter is lacking an SSN. Most banks will require a Social Security Number to open a bank account in the US. Non-residents and non-citizens in most case do not have an SSN and this limits access to US banking retail services.
So, what to do if you don't have an SSN and still want to open a bank account in the US? Let's explore the options.
Is it possible to open a US bank account as a non-resident?
The good news is that it is possible to open a US bank account as a non-resident and non-citizen. However, just some banks accept this type of customers, and the requirements may even change from state to state, or even between branches.
Even if you do not have the access to the banking market on the same terms as an US citizen, you can still get a personal or corporate bank account in the US as a non-citizen. Let's explore the options for both personal and corporate bank accounts.
How to open an US bank account with SSN?
It is still possible to open an US bank account without an SSN. But, just a few banks will accept you. You can either visit a bank in the US (and ideally pre-arrange a meeting at a branch to make sure they accept customers with no SSN). Your, you can use the EMI solution (instructions below).
Personal Bank Account in the US as a Non-Citizen and Non-Resident
Essentially if you want to open a personal bank account in the US as a non-citizen, you will have a few options. The requirements will change from bank to bank, from state to state and even from branch to branch. Therefore, if you are coming to the US and your main purpose is getting a personal bank account, check your options before hand.
As of 2023, at least two banks will require you to open a bank account as a non-resident and non-citizen. TD Bank and Bank of America allow you to do it, however, it will depend on the state and on the branch you will apply.
According to TD Bank support all you need to do is bring your passport to a branch. However, after visiting two branches in the State of New York, the requirements also included an utility bill with your name to an US address. I was informed that in New Jersey there is no such requirement, however double check with the branch you plan to visit.
The other option is Bank of America. Depending on the branch and state, it is possible to open a US Bank Account with just your passport and a US address. You don't need to show any utility bill on your name, just be able to receive mail in that physical address. Citibank also offers solutions for non residents. Wells Fargo announced it will close all non-resident accounts without a permanent US address as of 2023.
Some banks may also require a proof of address and / or a debit card from your country of origin.
Currently from my research JPMorgan does not accept non resident non citizen retail clients.
It is important to stress that for opening a bank account in the US it is required to come personally to a branch in virtually all cases.
Corporate Bank Account in the US as a Non-Resident
Another option is to open a company in the United States and get a corporate bank account. This option is especially convenient for those who do business and get online payments with companies in the USA.
The price is incredibly affordable. When you incorporate an US company, it will have an EIN (which is the SSN for companies, roughly speaking). With the EIN, your options for banking are more varied. Usually he companies offering incorporation services for foreigners can also provide some guidance on how to open a corporate bank account.
Getting an ITIN
If you are an non-resident and non-citizen of the USA, you can apply for an ITIN. The ITIN is a processing number issued by the IRS for individuals who are ineligible for an SSN (which is the case of most non-resident non-citizens). With an ITIN some banks will allow you to open a bank account, using the ITIN instead of the SSN.
Wise (Formerly TransferWise) Borderless Account
The TransferWise Borderless Account is another option to get an US account number without going to the US physically. It is in my opinion, the best option if you are a physical person or running a small online business and want to get payments worldwide.
The Transferwise Borderless Account also provides you with UK, European and Australian bank details, so it is definitely a great option if you work online, or just send and receive money from many countries.
Click here to open a TransferWise (now Wise) account
Payoneer Alternative
In some cases, you will not need a US bank account, and getting a Payoneer card will be enough for your needs. Through Payoneer, you will get an USD debit card and many onlne companies sent direct payments to Payoneer. This way you can keep your funds in USD, and pay/withdraw using your Payoneer card direcly. However, it doesn't have a number of functions a US bank account has.
Click here to get your Payoneer card
As we can see, it is still possible, but not simple to open a bank account in the United States as a non resident in 2023. Make sure you get your documents right, before visiting the bank.
Other Resources for doing Business in the US
If you are traveling to USA any time soon you may want to check some of our guides to the country. Check where to stay in Chicago or the best places to visit in Vermont. For those looking for the cheapest flights available, check Jetradar.
If you are looking for banking internationally check our guides on how to open an UK bank account or an European bank account for non residents.
Do you have a US bank account or are you planning to open one? Leave your thoughts and questions in the comment box below.