Where to Stay in Minsk? If you are visiting Belarus this article is a great insight to the capital and largest city in this Eastern European country
This guide on where to stay in Minsk is ideal for those traveling to this rather unusual capital in Eastern Europe. It also includes a cost of travel and when to visit the Belorussian capital.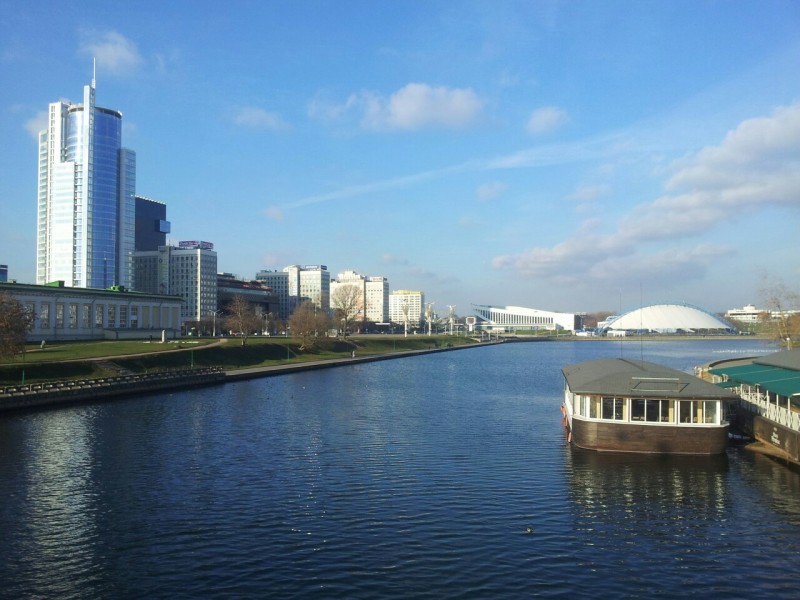 Tourism in Minsk: Overview
Minsk and Belarus are certainly not among the top European travel destinations. However, the country has taken steps to improve its image abroad, through a number of investments and events in the country.
As of 2017, the Government of Belarus relaxed its visa policy considerably, which is one of the most strict in Europe for Western visitors. Now citizens of the European Union and a number of countries can stay up to five days without visa in the country, as long as they have arrived via the Minsk International Airport.
You can check the official Belarus website, with thorough information about traveling in the country. It has a well written version in English, as well as Russian, and even Chinese.
Best Places to Stay in Minsk, Belarus
Some of the best places to stay in Minsk are the area near the Minsk Passazhirsky train station and the area around the Nemiga Metro Station. The Independence Avenue (праспект Незалежнасці), is also a great option, especially in its most central area.
Minsk Passazhirskii Station
The Minsk Passazhirsky is the main railway station in the Belorussian capital, with excellent domestic and international connections. Minsk has a rather central location in the geography of Belarus, therefore, most international trains passing through Belarus also call at Minsk.
The area of the station is one of the best places to stay in Minsk, as it is also pretty central. The Lenin Square (Площадь Ленина) metro station is just nearby, and it also offers the convenience of the Galileo shopping mall.
If you are traveling by train to Belarus, check our article on trains from Minsk.
Nemiga (Nyamiga) Metro Station
The area around the Nemiga or Nyamiha (Няміга) Metro Station is also one of the best places to stay in Minsk. It is also a very central area, with great attractions to check nearby. It is a somewhat upper class area of Minsk, and right next to the River Nemiga, from which the station has its name.
Budget Accommodation in Minsk – $
Hostel Tower 31/18 –  a hostel offering great value for the money close the Victory Square (Ploshcha Peramogi) Metro Station.
Reasonably Priced Accommodation in Minsk – $$
Hampton by Hilton Minsk City Centre – an excellent option close to the Minsk Passazhirskii Train Station.
Garni Hotel – a great hotel in the city centre close to the Palace of the Republic, one of the best areas to stay in Minsk.
Hotel Monastyrski Minsk City Centre – another excellent hotel to stay in the center of Minsk.
Luxurious Hotels in Minsk – $$$
DoubleTree by Hilton Minsk – a luxurious option close to the Nyamiha Metro Station.
Europe Hotel – a splendid hotel in very centre of Minsk.
Cost of Travel in Minsk
Overall, Minsk is a relatively affordable city, especially if you are coming from the West. However, food and accommodation prices are quite similar to those on its European Union Neighbors, as Poland or Lithuania.
Transportation is by far the cheapest cost you will have while traveling in Belarus. Public transport is among the cheapest in Europe, with Minsk offering one of the cheapest metro rides in the world. Taxis are also pretty cheap, and so is petrol when compared to the European Union.
Accommodation in Minsk has similar prices to those in most Central and Eastern European countries. Minsk attracts a lot of Belorussians from other regions, pushing short and long term rentals prices up.
Best Months to Visit Minsk and Belarus
Minsk and most of Belarus have a humid continental climate, with rather significant temperature changes throughout the year. While winters can be pretty harsh, summers tend to have hot days with pleasant temperatures on its short nights.
Minsk is has a quite pleasant weather from April to September. Springs are ideal for evening walks, as the days become longer, closer to Summer. Summer can have excessively hot days, therefore it will depend on your preference. Autumn in Minsk is extremely beautiful, with most trees covering the city with beautiful yellow and orange leaves.
The months of January and February should be definitely avoided, as they are the coldest and wettest. However late December and the New Years' eve are a nice option, if you want like Christmas fairs and decorations. Most Belorussians follow the Eastern Orthodox Church and celebrate both Christmas and the New Year, however Christmas is celebrated in early January.
Other Resources for Traveling in Belarus and Eastern Europe
If you are traveling around Central and Eastern Europe you might want to check some of our other guides to the region. Check where to stay in Kiev and the best places to stay in Vilnius.
Already in Minsk or Belarus? Leave your comments and thoughts below.