Where to stay in Santiago? Let's discover the best areas to stay in the Chilean capital, one of the most interesting cities to visit in South America
Are you looking for the best neighborhoods to stay in Santiago, Chile? This guide will cover Santiago, the biggest city and the capital of Chile, with more than 5.6 million people calling the city home.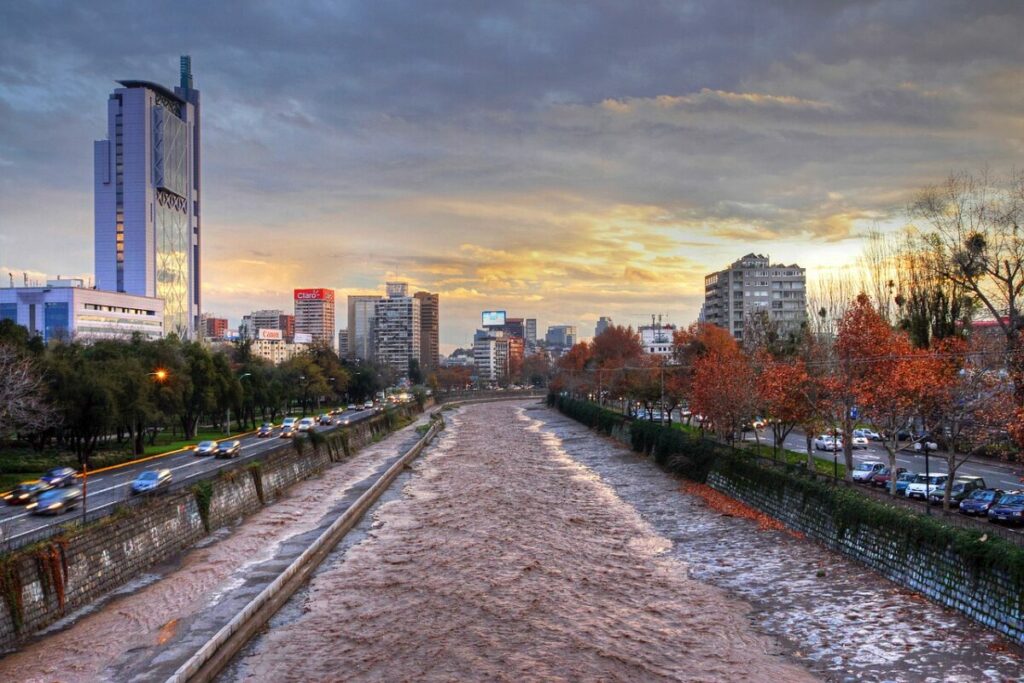 Many people use Santiago as a destination for a stop over and spend more than a couple of days in the city. However, there's plenty in the city including great restaurants, a number of parks, and some exciting and vibrant neighbourhoods to stay in.
Travel in Santiago: Overview
Santiago doesn't have a huge amount to offer tourists, but it's where many people arrive into when starting a trip in Chile. It's known for its modern architecture, laidback lifestyle, and the seemingly hundreds of parks that are dotted all around the city. There are even book cafés and exchanges in them where you can relax with a novel in the fresh air. As the city is flat, sightseeing by bike is a great way to see Santiago, whether on a tour or independently.
Away from the parks, the main tourist attractions include the colonial architecture of the Plaza de Armas, the exquisite seafood of the Mercado Central, and the plethora of museums in the historical centre. If you want to get out of the city, considering booking a vineyard tour, where you can learn about how Chilean wine is produced. Even better, you might be able to do a tasting!
Santiago is a great base for day trips to Valparaíso, Viña del Mar, and Cajón de Maipo. If you're planning on staying in Chile for a longer trip, it's a great transport hub for buses and flights to Patagonia, San Pedro de Atacama, and other notable destinations around the country. You can also easily cross the border into Argentina with transport from here.
Best Areas to stay in Santiago
There are lots of excellent areas to stay in Santiago, with each neighbourhood offering its own character and personality. Lastarria is a Bohemian area full of European architecture, while the historic centre has the majority of Santiago's tourist attractions. Las Condes is home to high-end hotels and restaurants, perfect if you have more cash to spare on your trip.
Although there are so many neighbourhoods to choose from, in this article, we'll be focusing on Bellavista and Providencia.
Bellavista
If you're a culture vulture, look no further than Bellavista, one of the city's coolest Bohemian neighbourhoods. Here, you'll find art galleries, theatre, and lots of cultural treasures, including La Chascona, the house of poet Pablo Neruda. It is currently a museum and thousands of visitors flock to it to learn about his life.
This area is great for souvenirs to take back to your friends and family, crafts fairs and artisanal shops offer memorable gifts that are a little different to the usual tourist tat.
Patio Bellavista is at the centre of the district, a complex which is home to restaurants, cafés, and shops. It's a great place meet fellow travellers or relax on your own with a coffee.
Bellavista is just over the river from Providencia and is connected to the rest of Santiago by line 2 on the metro. There is a wide range of choice when it comes to accommodation.
Providencia
Providencia is a great option when staying in Santiago mainly for its location. It is within walking distance to the historic centre, but it also has much offer in terms of leisure activities. You'll find the largest commercial and business complex in Santiago in this district – the Costanera centre. It offers shops, cinemas, restaurants, and more in the Santiago tower, which is 300m high!
There's great nightlife here, with a range of bars and clubs which are open until the early hours, so it's great if you want to party. You'll also find the Cerro San Cristobal here, which offers excellent panoramic views of the city and is a great place to enjoy walking or cycling.
In terms of public transport, the area is well connected with 4 metro lines and buses which travel all over Santiago. If you want a taxi, it's easy to hail a cab here too.
Providencia is a safe and friendly district with lots of different accommodation options, including hostels, hotels, and private rentals.
Budget Accommodation in Santiago – $
Kombi Hostel – a cosy hostel to stay in Zaragoza, in the Bellavista district.
Reasonably Priced Accommodation in Santiago – $$
Tinto Boutique Hotel – a stylish option in the Providencia area of Santiago.
Hotel Boutique Castillo Rojo – a picturesque accommodation option in the Bellavista district.
Luxurious Hotels in Santiago – $$$
Crowne Plaza Santiago – a great high class option with easy access to the historic center, one of the best places to stay in Santiago.
The Ritz-Carlton, Santiago – a luxurious hotel in one of the best areas to stay in Santiago.
Cost of travelling in Santiago
Santiago is noticeably more expensive than other South American capital cities. However, this isn't surprising as it has excellent infrastructure, a great public transport system, and there are a lot of well-maintained public parks.
The average price of daily travel in Santiago is $161, which includes accommodation, food, and activities. However, it's possible to see the city on a budget. By booking hostels and eating at markets or preparing your own food at your accommodation you can easily offset costs.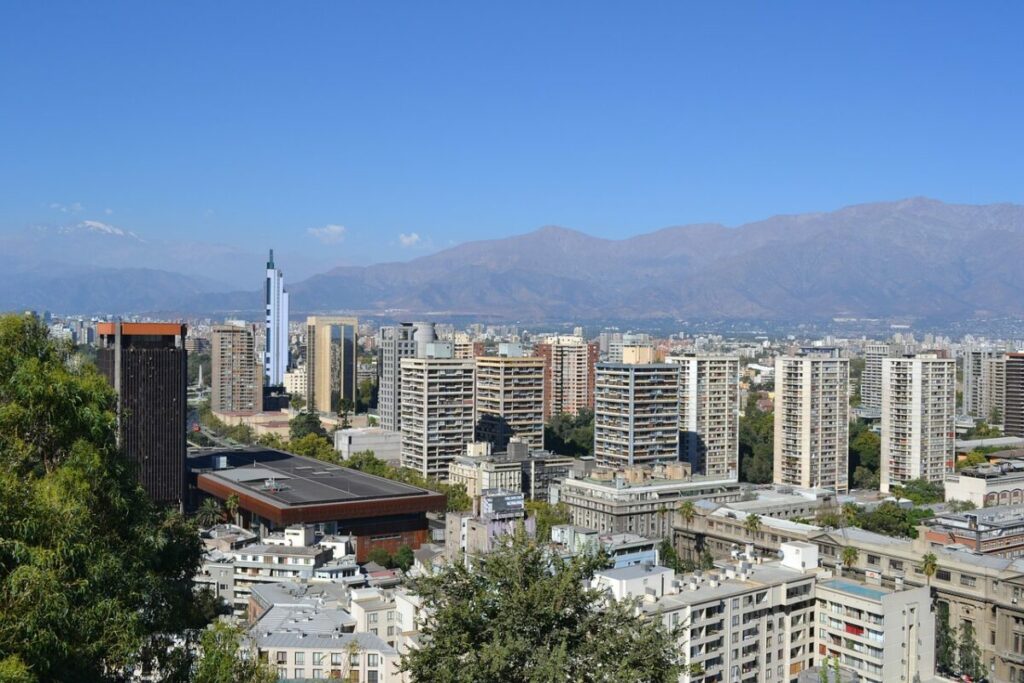 When to Visit Santiago, Chile
Santiago is a destination to be visited year round. Summers are warm in Santiago, but days are rarely too hot, and most of them are ideal for outdoor activities. The city also has a pretty dry climate, so rainfall will rarely influence your travel plans.
Autumn and Spring are good options to visit Santiago, especially if you want to stay in the city itself. Winter can be chilly at times in Santiago, but temperatures rarely go below freezing. Winter can also be a good option if you want to do skiing in the relatively close to the city ski resorts like La Parva or Valle Nevado.
For those coming in Summer, you can enjoy the seaside city of Valparaiso. The distance between the two is of slightly more than 100km.
Other Resources to Travel in Chile and South America
For those planning to visit Chile soon, you might want to check some of our guides to the country. Check the average and minimum salary in Santiago, and how to get a job in Chile. You can also read our post about the best places to stay in Buenos Aires or where to stay in La Paz.