Where to stay in Vientiane? Follow this comprehensive guide on the best places to stay in Vientiane including the cost of travel and when to visit Laos.
Traveling to Southeast Asia? Discover Laos and its capital in this guide to the best places to stay in Vientiane.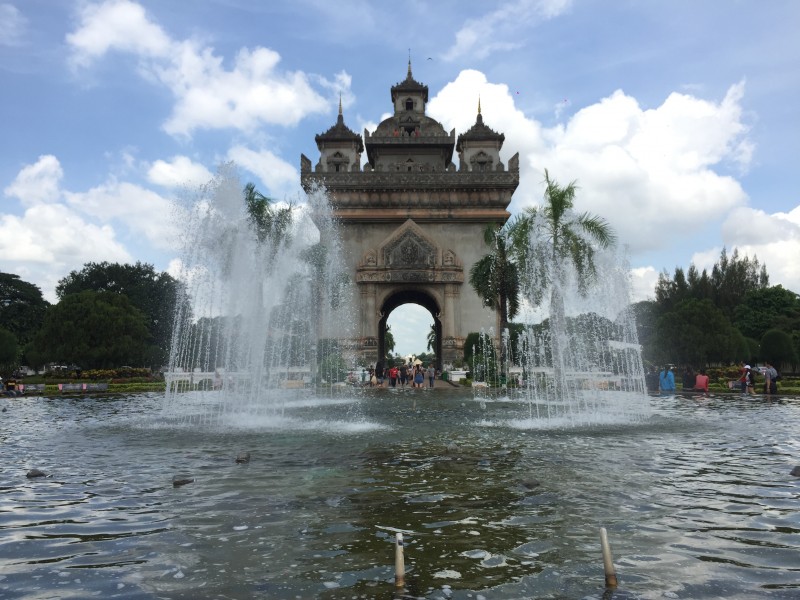 Tourism in Vientiane Overview
Vientiane is the capital of Laos and a very unique city compared to others in the southeast Asia. Unlike the other capitals, it is not a bustling metropolis, it is more laid back and feels more like a big town than a capital city. However, that is quickly changing as the tourism industry grows and more people are visiting it every year.
There are multiple ways to get to Vientiane, by plane or over land from Thailand, Cambodia or Vietnam. The most common is to arrive at Wattay International Airport just outside the city. There are many international flights from major countries in Asia such as Thailand, China, Vietnam, Cambodia and Malaysia. If you want to search flights to Laos check jetradar.
The city straddles the Mekong River right along the Thailand border and has a beautiful promenade along the river. The city is filled with small cafes and bars and offers great Laotian food and many other styles of Asian cuisine. There are also countless temples and historic landmarks to see in and around the city.
If you are coming to Vientiane and you want to book transfers or activities, check Klook.com
or GetYourGuide.
Best Areas to Stay in Vientiane
The city of Vientiane is quite small and as such there are a few areas best suited for tourists and they are all quite close to one another.
Riverside
There are quite a few hotels along the river that offer amazing views at a premium price. There are also some five star hotels all along the river that cater to high end travelers but they are still close to local food and sights.
Also, the riverfront is home to Chao Anouvong Park, which is the location of the biggest night market in the city. Most of the hotels along the river are a short walk from this park.
About a block from the riverfront is the area of Ban Haysoke, which is home to hostels and moderately priced hotels. There are dozens of options here from dorm beds to ensuite hotel rooms and all are reasonably priced.
This area is really the best of both worlds as it is close to both the river and some of the more popular sights in the city. You can also rent bicycles in this are for quite cheap to explore the city without wearing out your feet.
Nam Phou Fountain
The area surrounding Nam Phou fountain is also a popular place for low to mid range travelers to find accomodation. There are lots of options in the area and the streets are lined with cafes and small eclectic shops.
This is the closest of the three neighborhoods to most of the famous temples and sights in the city and it is a short walk to all of them. You can also rent bicycles here of both low and high quality for decent prices.
Budget Accommodation Options in Vientiane
Phonepaseuth Guesthouse – One of the best budget options for your stay in Vientiane, in a very central location.
Reasonably Priced Accommodations in Vientiane
Best Western Vientiane – a good option in a convenient location in one of the best places to stay in Vientiane.
ibis Vientiane Nam Phu – a great hotel close to the Nam Phou fountain and at a walking distance to many of Vientiane's important sights.
Luxury Hotels in Vientiane
Settha Palace Hotel – one of the most luxurious hotels in Laos, in a central location in Vientiane
Cost of Travel
Both Vientiane and Laos in general are quite inexpensive when it comes to travel. Vientiane is a bit more expensive than other cities in Laos because of the airport and influx of tourists. Accommodation is the most expensive thing in Vientiane but both food and travel is quite cheap if you stick to local fare.
As the tourism industry grows in Vientiane there are more and more options for accommodation to fit any budget. The prices here are cheaper than other capital cities in Southeast Asia but not by much. Both high end travelers and budget travelers can find numerous options in the city to meet their accommodation needs.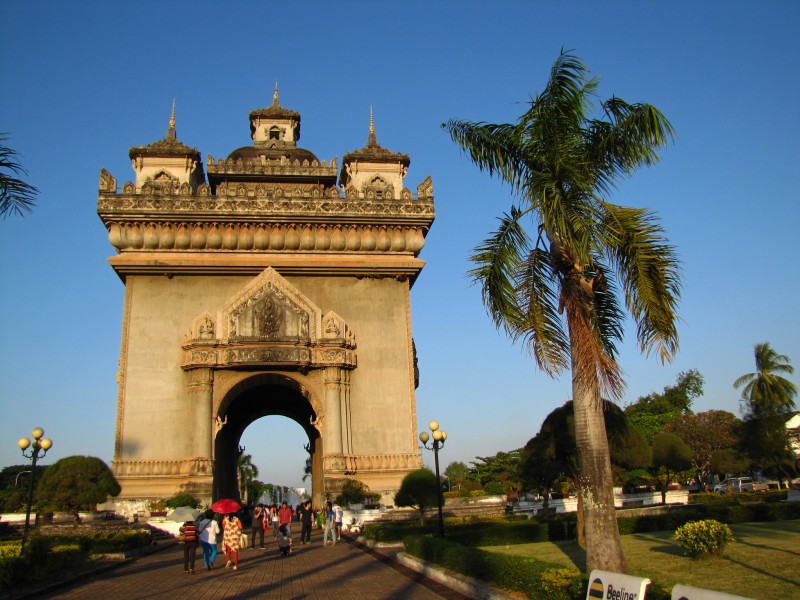 Getting around the city is very cheap because of its small size. There are tuk tuks and taxi everywhere but most tourists opt to walk or rent a bicycle to get around the city. There are also bus lines but most tourists find them unnecessary and complicated for most of their needs.
Food in Vientiane in often inexpensive and local restaurants are widely available. An average meal at a local restaurant costs around $2USD and Laos is known for having great salads such as green mango or larb. There are lots of meals you can get for around 15,000-20,000kip in and around the city.
When to Visit Vientiane and Laos
Rain season in Laos is generally between May and October so the best time for travel here is October to April. However, rain season in Laos is not like in other parts of Asia, the rain is quick and hard. It comes and goes for short periods throughout the day and will not ruin your time.
If you plan on doing any river travel then the best time to visit is between November and January when the river is high enough to make travel easy.
Boun Pi Mai is the Laotian new year and it occurs in April of every year and there are country wide celebrations. Another festival worth seeing is Boun Bang Fai (rocket festival) which was a yearly way to ask for rain in pre buddhist times. It is celebrated with fireworks and celebration throughout the country.
Other Resources to Travel in Laos
Continuing to explore Laos after Vientiane? Check our guides on how to travel from Vientiane to Vang Vieng and to Vientiane to Luang Prabang. If you want to know more about the country's economy, check the average and minimum salary in Vientiane.